A (Black) Gat in the Hand: Hardboiled Fantasy – Garrett, PI
A (Black) Gat in the Hand: Hardboiled Fantasy – Garrett, PI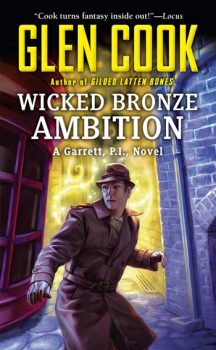 "You're the second guy I've met within hours who seems to think a gat in the hand means a world by the tail." – Phillip Marlowe in Raymond Chandler's The Big Sleep
(Gat — Prohibition Era term for a gun. Shortened version of Gatling Gun)
The extremely talented Glen Cook is best known for his excellent dark fantasy series about a mercenary group, The Black Company. In 2018, Fletcher Vredenburgh wrote a FOURTEEN-part deep dive into the series. If I ever write anything even half as impressive here at Black Gate, I'm going to ask them to actually pay me. I love The Black Company series, and cannot recommend it enough.
Cook has written several other fantasy and sci-fi series' – none of which I have read. They are all well-regarded. But the other one I have read from start to finish – more than once – is his Garrett, PI series. I think that every Writer (or in my instance, lower case 'w' writer) has that ONE series they wish they had come up with and written. For me, it's the Garrett books.
They are light years away in tone and style of The Black Company. And also from what I understand of The Dream Empire and The Instrumentalties of the Night series.' However, they are identical to the Black Company in regards to quality of writing. Garrett is the ore-eminent fantasy PI (private investigator).
Cook has written a series of books that appeals to fans of the hardboiled PI, notably practiced by Raymond Chandler; fans of the humorous fantasy world best typified by Terry Pratchett's Discworld and to those who have read Rex Stout's Nero Wolfe mysteries. The fact that Cook has masterfully combined all three of these elements is admirable in the extreme. And the reason I wish I had come up with something like this.
I am a gargantuan Nero Wolfe fan. And it's possible I've written more about him (fiction and non-fiction) than just about anyone alive except the official continuator, Robert Goldsborough. For Cook to incorporate elements of Wolfe, Archie, Fritz, Lily – and even the Brownstone! – into a funny fantasy PI series is absolutely wonderful. The hardboiled aspect is common for private eye fiction. And using humor instead of straight fantasy gives it another element. Just a brilliant troika (I know – not proper usage, but I wanted to use that word.).
Garrett is a former Marine who spent five inglorious years serving in the seemingly endless war between his nation of Karenta, and Venagata. They battle over a region called The Cantard, home to most of the world's silver mines. And silver is the resource that fuels sorcery. And since Karenta is ruled by the magic-using Storm wardens, no cost in human capital is too great to rule The Cantard. Garret doesn't have any family (his brother didn't survive his five in the Cantard) and is a Philip Marlowe-type loner in the first book.
He's now a private investigator in the city of Tunfaire, which is populated by humans, dwarves, pixies, ogres, trolls, and various other races. It's a melting pot similar to Pratchett's Ankh-Morpork.
In the opening scene of the first book, Sweet Silver Blues, Cook parodies the typical 'hung-over PI with a client at the door' trope. It's actually the most over the top hardboiled prose of the entire series. Don't let it put you off. And I think it's fun.
Bam! Bam! Bam!

It sounded like someone was knocking with a sledgehammer. I rolled over and cracked a bloodshot eye. I couldn't see a figure through the window, but that wasn't surprising. I could barely make out he lettering on the grimy glass:

GARRETT
INVESTIGATOR
CONFIDENTIAL AGENT

I had blown myw ad buying the glass and wound up being my own painter.

The window was as dirty as last week's dishwater, but not filthy enough to block out the piercing morning light. The damned sun wasn't up yet! And I'd been out till the second watch barhopping while I followed a guy who might lead me to a guy who might know where I could find a guy. All this led to was a pounding headache.

"Go away!" I growled. "Not available."

Bam! Bam! Bam!

"Go to hell away!" I yelled. It left my head feeling like an egg that had just bounced off the edge of a frying pan. I wondered if I o8ught to feel the back to see if the yolk was leaking, but it seemed like too much work. I'd just go ahead and die.

Bam! Bam! Bam!

I have a little trouble with my temper, especially when I have a hangover. I was halfway to the door with two feet of lead-weighted truncheon before sense penetrated the scrambled yolk.

When they are that insistent, it's somebody from up the hill with a summons to do work too sticky to lay on their own boys. Or it's somebody down the hill with the word that you're steeping on the wrong toes.

In the latter case the truncheon might be useful.

I yanked the door open.

For a moment, I didn't see the woman. She barely came up to my chest. I eyeballed the three guys behind her. They were lugging enough steel to outfit their own army, but I wouldn't have been shy about wading in. Two of them were about fifteen years old and the other was a bout a hundred and five.

"We're invaded by dwarfs," I moaned. None of them was taller than the woman.

"Are you Garrett?" She looked disappointed in what she saw.

"No. Two doors down. Good-bye." Slam! Two doors down was a night-working ratman who made a hobby of getting on my nerves. I figured it was hist urn in the barrel.

I stumbled toward bed with the vague suspicion that I had seen those people before.
I'm hooked!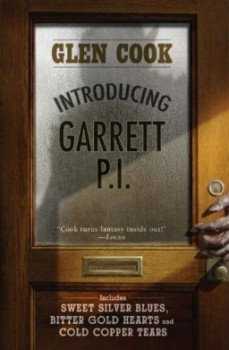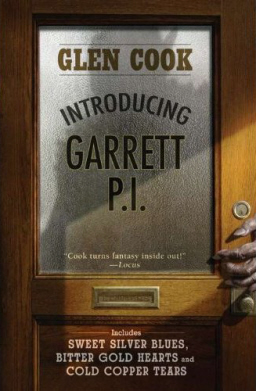 Garrett is generally lazy, stubborn, and with a pretty solid code of honor. When he's got enough cash (and beer) to get by, he actively avoids taking on new clients. He's like Travis McGee in that way (you know about McGee, of course, since John D. MacDonald is my favorite author of all time).
Dames of all stripes figure into the stories: usually causing him trouble. Morley Dotes, a lethal half-dark elf with far less morals, often assists him. Dotes is just an associate in the first book, but gradually grows into a friend: more-or-less. Albeit, a friend with his own interests. Which he doesn't always share with Garrett. I'd say it's a stretch to compare Dotes with Lon Cohen – but he is an outsider who Garrett brings in to help. And who he can rely on. Though, he is rightly suspicious of his motives.
Cook absolutely knows the mystery and hardboiled genres. He uses and pokes fun at them throughout the fourteen book series. For example, early in book two, Bitter Gold Hearts, Garrett examines the shoe of a Storm warden's kidnapped son:
'I gave the shoes the full eyeball treatment. It never works out, but you always look for the speck of rare purple mud or the weird yellow grass stain that will make you look like a genius. I didn't find it this time, either.'
That's absolutely a jab at Sherlock Holmes's ability to deduce that a client walked from the Waterloo station because only in the ongoing construction there can a particular type of tar be found in all of London and the like. As Holmes would say, "A distinct touch!"
Garrett, like McGee, Philip Marlowe, and other detective knight-errants, works for a client, but often goes above and beyond out of a sense of chivalry and duty. Of course, that often gets him into loads of trouble. Heck, you could say that trouble is his business (ha ha ha!), though he'd prefer his business to be staying out of it. Garrett will always go the distance to get the job done. His ethics and morals are his bedrock. It's his inability to repay a debt that results in a tough case in book four, Old Tin Sorrows.
Much of his success is due to his partnership with The Dead Man. Who isn't actually a man, but a dead Loghyr: a race whose spirits and minds stay alive after the body dies. So, four hundred pounds of dead genius occupies a chair in Garrett's house, lending his powers, expertise, and sarcasm. The Dead Man is very clearly Nero Wolfe. And it's an excellent characterization for the series.
Dean (housekeeper and cook), Tinnie Tate (a girlfriend), Saucerhead Tharpe (hired muscle and friend), Deal Relway (Secret Police), Pular Singe (a ratgirl) and many, many more characters come and go. It's quite a cast of characters.
Most of the adventures take place in TunFaire, though in the first story, Garrett and Dotes head off to deal with vampires and centaurs in The Cantard. Tunfaire isn't as much of a living organism as Ankh-Morpork, though the social structure and divisions play a big part in the stories and in Garrett's outlook on life. It's far more than just a zany collection of fantasy tropes.
Rex Stout's Nero Wolfe is my favorite detective series of them all. I re-read it over and over – and am delighted every time. Cook is most certainly a Wolfe fan, as Garrett (Archie Goodwin), The Dead Man (Wolfe), Dean (Fritz) and Tinnie (Lily Rowan) are clearly influenced by Stout's series. But I see them as more homage than copy.
Likewise, the Travis McGee books all have a color in the title. All of the Garrett books are named with an adjective, a metal and a plural noun. That certainly can't be just a coincidence.
You don't have to read the books in order, but it certainly helps to do so. Characters and relationships evolve over the course of the series (though Garrett is at war with horses from book one!). I don't think you would get as much out of it if you didn't mostly follow it in order.
I've read The Black Company series three-times through, and consider Cook to be a first–class writer. I don't know that anybody could do a better job with the fantasy PI genre than he has done with the Garrett books. If you enjoy light fantasy, hardboiled mystery, or Nero Wolfe, you absolutely should read this series.
I re-read the first two books for this post and if I had the time, I absolutely would continue on with all the rest. Of course, you'd probably only be reading posts about them until I was done. The series did fall off a little in the last couple books, but I still enjoyed them.
The aforementioned Fletcher Vredenburgh and I plan on doing a joint commentary on Old Tin Sorrows; likely to cover multiple posts and range far and wide. We can't get enough of Garrett.
You absolutely should check it out. And in The Best of Glen Cook, there is the lone Garrett short story which I am aware of. And it's a combination homage/parody of the movie version of The Maltese Falcon. That's a bonus!

Prior posts in A (Black) Gat in the Hand – 2022 Series (12)
Asimov – Sci Fi Meets the Police Procedural
The Adventures of Christopher London
Weird Menace from Robert E. Howard
Spicy Adventures from Robert E. Howard
Thrilling Adventures from Robert E. Howard
Norbert Davis' "The Gin Monkey"
Tracer Bullet
Shovel's Painful Predicament
Back Porch Pulp #1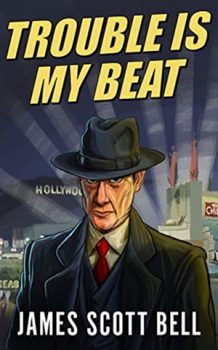 Wally Conger on 'The Hollywood Troubleshooter Saga'
Arsenic and Old Lace
David Dodge
Prior posts in A (Black) Gat in the Hand – 2021 Series (8)
The Forgotten Black Masker – Norbert Davis
Appaloosa
A (Black) Gat in the Hand is Back!
Black Mask – March, 1932
Three Gun Terry Mack & Carroll John Daly
Bounty Hunters & Bail Bondsmen
Norbert Davis in Black Mask – Volume 1
Prior posts in A (Black) Gat in the Hand – 2020 Series (19)
Hardboiled May on TCM
Some Hardboiled streaming options
Johnny O'Clock (Dick Powell)
Hardboiled June on TCM
Bullets or Ballots (Humphrey Bogart)
Phililp Marlowe – Private Eye (Powers Boothe)
Cool and Lam
All Through the Night (Bogart)
Dick Powell as Yours Truly, Johnny Dollar
Hardboiled July on TCM
YTJD – The Emily Braddock Matter (John Lund)
Richard Diamond – The Betty Moran Case (Dick Powell)
Bold Venture (Bogart & Bacall)
Hardboiled August on TCM
Norbert Davis – 'Have one on the House'
with Steven H Silver: C.M. Kornbluth's Pulp
Norbert Davis – 'Don't You Cry for Me'
Talking About Philip Marlowe
Steven H Silver Asks you to Name This Movie
Cajun Hardboiled – Dave Robicheaux
More Cool & Lam from Hard Case Crime
A (Black) Gat in the Hand – 2019 Series (15)
Back Deck Pulp Returns
A (Black) Gat in the Hand Returns
Will Murray on Doc Savage
Hugh B. Cave's Peter Kane
Paul Bishop on Lance Spearman
A Man Called Spade
Hard Boiled Holmes
Duane Spurlock on T.T. Flynn
Andrew Salmon on Montreal Noir
Frank Schildiner on The Bad Guys of Pulp
Steve Scott on John D. MacDonald's 'Park Falkner'
William Patrick Murray on The Spider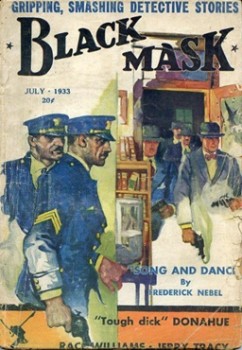 John D. MacDonald & Mickey Spillane
Norbert Davis goes West(ern)
Bill Crider on The Brass Cupcake
A (Black) Gat in the Hand – 2018 Series (32)
George Harmon Coxe
Raoul Whitfield
Some Hard Boiled Anthologies
Frederick Nebel's Donahue
Thomas Walsh
Black Mask – January, 1935
Norbert Davis' Ben Shaley
D.L. Champion's Rex Sackler
Dime Detective – August, 1939
Back Deck Pulp #1
W.T. Ballard's Bill Lennox
Day Keene
Black Mask – October, 1933
Back Deck Pulp #2
Black Mask – Spring, 2017
'Max Allen Collins & The Hard Boiled Hero'
A (Black) Gat in the Hand: William Campbell Gault
A (Black) Gat in the Hand: More Cool & Lam From Hard Case Crime
MORE Cool & Lam!!!!
Thomas Parker's 'They Shoot Horses, Don't They?'
Joe Bonadonna's 'Hardboiled Film Noir' (Part One)
Joe Bonadonna's 'Hardboiled Film Noir' (Part Two)
William Patrick Maynard's 'The Yellow Peril'
Andrew P Salmon's 'Frederick C. Davis'
Rory Gallagher's 'Continental Op'
Back Deck Pulp #3
Back Deck Pulp #4
Back Deck Pulp #5
Joe 'Cap' Shaw on Writing
Back Deck Pulp #6
The Black Mask Dinner
---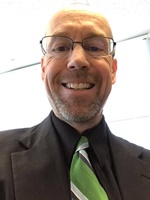 Bob Byrne's 'A (Black) Gat in the Hand' made its Black Gate debut in 2018 and has returned every summer since.

His 'The Public Life of Sherlock Holmes' column ran every Monday morning at Black Gate from March, 2014 through March, 2017. And he irregularly posts on Rex Stout's gargantuan detective in 'Nero Wolfe's Brownstone.' He is a member of the Praed Street Irregulars, founded www.SolarPons.com (the only website dedicated to the 'Sherlock Holmes of Praed Street') and blogs about Holmes and other mystery matters at Almost Holmes.
He organized Black Gate's award-nominated 'Discovering Robert E. Howard' series, as well as the award-winning 'Hither Came Conan' series.
He has contributed stories to The MX Book of New Sherlock Holmes Stories – Parts III, IV, V, VI and XXI.
He has written introductions for Steeger Books, and appeared in several magazines, including Black Mask, Sherlock Holmes Mystery Magazine, The Strand Magazine, and Sherlock Magazine.