A (Black) Gat in the Hand: The Murdering Spinsters
A (Black) Gat in the Hand: The Murdering Spinsters
"You're the second guy I've met within hours who seems to think a gat in the hand means a world by the tail." – Phillip Marlowe in Raymond Chandler's The Big Sleep
(Gat — Prohibition Era term for a gun. Shortened version of Gatling Gun)
In Brooklyn during World War II, a pair of black widows were luring men to their deaths. They preyed upon older, lonely men without family or close friends. With a "Room for rent" sign hanging in the front window of their idyllic-looking home, they fed arsenic-laced wine to their victims. A male relative who lived with them buried the bodies in the basement, with no one the wiser. The women were in fact little old ladies: think Aunt Bee as a serial killer.
But a nephew came over and found a body in window seat – the thirteenth victim. He slowly realized that his two loveable old aunts were killers. Then, his brother, a murderer on the lam from the police, showed up with his lackey in tow. It's a hardboiled, true crime story that curiously, is largely forgotten today.
Just kidding! It's actually Arsenic and Old Lace, a smash stage play that became a popular movie starring Cary Grant, Raymond Massey and Peter Lorre. The play ran on Broadway for 1,444 performances and is still in wide use today.
Jack Benny and Ronald Reagan reportedly turned down the lead, while Bob Hope wanted the part but Paramount refused to lend him, so he missed out on a hit. Cary Grant was under contract to Columbia and Warner Brothers had to arrange for the use of him. To take advantage of Grant's schedule, it was filmed in 1941 but not released until the play's run had ended in 1944.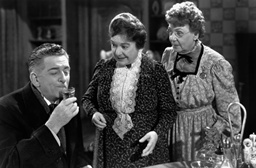 The screenplay was written by Philip and Julius Epstein, the dialogue wizards responsible for the witty parts of Casablanca. I don't know which lines come from the original play and which the Epsteins added, but there's plenty of funny stuff, such as "Insanity runs in my family. It practically gallops."
The three Brewsters starring on Broadway (Josephine Hull, Jean Adair and John Alexander) were all given eight weeks off from the play to appear in Frank Capra's film. However, Boris Karloff, the main attraction of the play as evil brother Jonathon Brewster, was not. The producers feared attendance would drop without their star, so they refused to let him make the movie.
Raymond Massey, whose first credited screen appearance was as Sherlock Holmes in The Speckled Band (further proving the fundamental interconnectedness of everything…), took the role. The multiple references to Jonathon looking like Karloff in the film are a running gag and even funnier when Karloff himself reacts to them in later television versions.
It's Elementary – Of course, you already knew about Massey's turn as Holmes, having read this Black Gate post…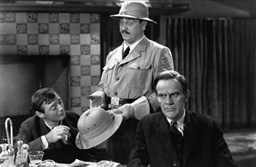 Peter Lorre is Dr. Einstein, the drunken plastic surgeon who has operated on Massey's face several times to help him avoid detection by the police. During the most recent update, he had been liquored up and recently seen a Karloff movie, so that affected the job he did on Massey. Lorre is almost likable, which isn't easy to pull off in that part!
Alexander's 'Teddy Roosevelt' Brewster is Mortimer's cousin. He thinks he's actually the famous president and whenever he goes up the stairs he blows a bugle, yells "Charge" and sprints up as if it were San Juan Hill. After the two old ladies have killed someone, they tell Teddy that the man died of Yellow Fever and instruct him to bury the body in the basement (the Panama Canal). Alexander is pretty entertaining in the part.
Priscilla Lane, who co-starred in the Cagney/Bogart classic, The Roaring Twenties, plays Grant's love-interest, but it's not a very significant part.
Grant's character finds himself trying to get rid of his evil brother while keeping his two aunts from being arrested for murder. He hits upon having Teddy committed to a mental hospital, blaming the murders on him. And he has to deal with the fact he's supposed to be heading off on his honeymoon at the same time.
Grant did not like his performance. Capra insisted he perform the role 'over the top,' and Grant sold it. It's obvious and full of double takes, but it works. He's quite funny and it doesn't matter that he plays the role in such a heavy-handed manner.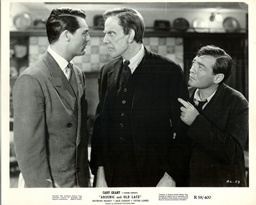 There's lots of humor throughout. The movie starts with a scene at a Brooklyn Dodgers game and the outrageous behavior of fans of 'Dem Bums' is on display. One of the tombstones in the cemetery next to the Brewsters' house says 'Archie Leach.' That's Grant's real name. Once Grant discovers the body, he spends the rest of the movie juggling developments. Jack Carson, who plays a young policeman taking over the Brewsters' beat, is quite befuddled by Teddy's antics.
Arsenic and Old Lace has aired on American television multiple times. Versions in 1949, 1955 and 1962 (Tony Randall played Grant's role) included Boris Karloff in his stage role.
While I'm sure intentions were good, the 1969 television attempt (which you can see here) is rather disappointing. It was updated from the forties to the sixties, which makes the Roosevelt tie-in irrelevant, and the laugh track doesn't help things at all. The cast isn't bad, with Bob Crane (Hogan's Heroes) replacing Grant and Fred Gwynne (good old Herman Munster) as bad brother Jonathon.
The Brewster sisters were well cast with silent film star Lillian Gish and stage legend Helen Hayes in the roles. It's not a terrible thing to watch, but it certainly pales in comparison to the original.
This movie has all the elements of a serious noir. But I love how it turns that totally upside down. Arsenic and old Lace is my favorite comedy movie and I highly recommend seeing it. Just make sure you stay away from elderberry wine…
Prior posts in A (Black) Gat in the Hand – 2022 Series (10)
Asimov – Sci Fi Meets the Police Procedural
The Adventures of Christopher London
Weird Menace from Robert E. Howard
Spicy Adventures from Robert E. Howard
Thrilling Adventures from Robert E. Howard
Norbert Davis' "The Gin Monkey"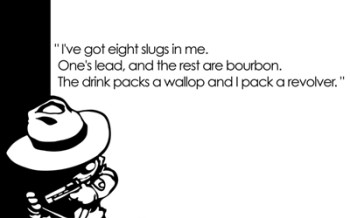 Tracer Bullet
Shovel's Painful Predicament
Back Porch Pulp #1
Wally Conger on 'The Hollywood Troubleshooter Saga'
Prior posts in A (Black) Gat in the Hand – 2021 Series (8)
The Forgotten Black Masker – Norbert Davis
Appaloosa
A (Black) Gat in the Hand is Back!
Black Mask – March, 1932
Three Gun Terry Mack & Carroll John Daly
Bounty Hunters & Bail Bondsmen
Norbert Davis in Black Mask – Volume 1
Prior posts in A (Black) Gat in the Hand – 2020 Series (19)
Hardboiled May on TCM
Some Hardboiled streaming options
Johnny O'Clock (Dick Powell)
Hardboiled June on TCM
Bullets or Ballots (Humphrey Bogart)
Phililp Marlowe – Private Eye (Powers Boothe)
Cool and Lam
All Through the Night (Bogart)
Dick Powell as Yours Truly, Johnny Dollar
Hardboiled July on TCM
YTJD – The Emily Braddock Matter (John Lund)
Richard Diamond – The Betty Moran Case (Dick Powell)
Bold Venture (Bogart & Bacall)
Hardboiled August on TCM
Norbert Davis – 'Have one on the House'
with Steven H Silver: C.M. Kornbluth's Pulp
Norbert Davis – 'Don't You Cry for Me'
Talking About Philip Marlowe
Steven H Silver Asks you to Name This Movie
Cajun Hardboiled – Dave Robicheaux
More Cool & Lam from Hard Case Crime
A (Black) Gat in the Hand – 2019 Series (15)
Back Deck Pulp Returns
A (Black) Gat in the Hand Returns
Will Murray on Doc Savage
Hugh B. Cave's Peter Kane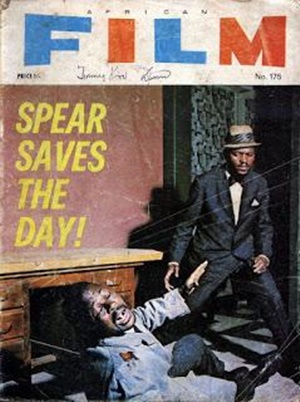 Paul Bishop on Lance Spearman
A Man Called Spade
Hard Boiled Holmes
Duane Spurlock on T.T. Flynn
Andrew Salmon on Montreal Noir
Frank Schildiner on The Bad Guys of Pulp
Steve Scott on John D. MacDonald's 'Park Falkner'
William Patrick Murray on The Spider
John D. MacDonald & Mickey Spillane
Norbert Davis goes West(ern)
Bill Crider on The Brass Cupcake
A (Black) Gat in the Hand – 2018 Series (32)
George Harmon Coxe
Raoul Whitfield
Some Hard Boiled Anthologies
Frederick Nebel's Donahue
Thomas Walsh
Black Mask – January, 1935
Norbert Davis' Ben Shaley
D.L. Champion's Rex Sackler
Dime Detective – August, 1939
Back Deck Pulp #1
W.T. Ballard's Bill Lennox
Day Keene
Black Mask – October, 1933
Back Deck Pulp #2
Black Mask – Spring, 2017
'Max Allen Collins & The Hard Boiled Hero'
A (Black) Gat in the Hand: William Campbell Gault
A (Black) Gat in the Hand: More Cool & Lam From Hard Case Crime
MORE Cool & Lam!!!!
Thomas Parker's 'They Shoot Horses, Don't They?'
Joe Bonadonna's 'Hardboiled Film Noir' (Part One)
Joe Bonadonna's 'Hardboiled Film Noir' (Part Two)
William Patrick Maynard's 'The Yellow Peril'
Andrew P Salmon's 'Frederick C. Davis'
Rory Gallagher's 'Continental Op'
Back Deck Pulp #3
Back Deck Pulp #4
Back Deck Pulp #5
Joe 'Cap' Shaw on Writing
Back Deck Pulp #6
The Black Mask Dinner
---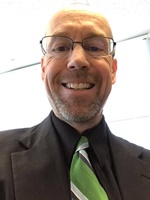 Bob Byrne's 'A (Black) Gat in the Hand' made its Black Gate debut in 2018 and has returned every summer since.

His 'The Public Life of Sherlock Holmes' column ran every Monday morning at Black Gate from March, 2014 through March, 2017. And he irregularly posts on Rex Stout's gargantuan detective in 'Nero Wolfe's Brownstone.' He is a member of the Praed Street Irregulars, founded www.SolarPons.com (the only website dedicated to the 'Sherlock Holmes of Praed Street') and blogs about Holmes and other mystery matters at Almost Holmes.
He organized Black Gate's award-nominated 'Discovering Robert E. Howard' series, as well as the award-winning 'Hither Came Conan' series.
He has contributed stories to The MX Book of New Sherlock Holmes Stories – Parts III, IV, V, VI and XXI.
He has written introductions for Steeger Books, and appeared in several magazines, including Black Mask, Sherlock Holmes Mystery Magazine, The Strand Magazine, and Sherlock Magazine.