A (Black) Gat in the Hand: Black Mask — Spring, 2017
A (Black) Gat in the Hand: Black Mask — Spring, 2017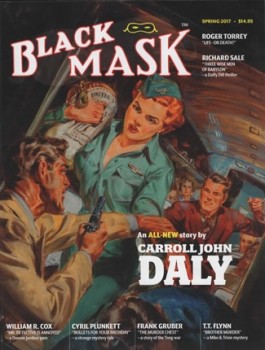 "You're the second guy I've met within hours who seems to think a gat in the hand means a world by the tail." – Phillip Marlowe in Raymond Chandler's The Big Sleep
(Gat — Prohibition Era term for a gun. Shortened version of Gatling Gun)
In the Fall of 2016, Altus Press revived the legendary Black Mask magazine, reprinting stories from the old pulps with a mix of new hardboiled tales; including a cover story from my talented friend Paul Bishop. Altus also relaunched two other classic pulps: Argosy (which only lasted one issue) and Famous Fantastic Mysteries (just two issues). However, the fifth issue of Black Mask will be out this Fall (with an essay from yours truly).
Today in A (Black) Gat in the Hand, we're going to look at each of the entries in the second issue of the new Black Mask, from the Spring of 2017. And this issue starts big!
Carroll John Daly's "Murder for a Stuffed Shirt" is a previously unpublished tale!
Carroll John Daly was the biggest star at Black Mask in the twenties and thirties. Putting Race Williams on the cover guaranteed increased sales. When he fell out of favor at Black Mask, Daly took Williams to Dime Detective, where he also created Vee Brown (I have a tough time buying into Brown, a hardboiled special DA operative and also a wealthy composer of hit sentimental songs. I wrote about Daly's creation of the hardboiled genre with "Three Gun Terry Mack" here.
But this issue of Black Mask contains a never-before-seen Daly story, uncovered by his grandson. It feels very much like a pre-hardboiled piece and not one person is shot! It's different than any other Daly story I've read and I liked it.
"Mr. Detective is Annoyed" by William Robert Cox originally appeared in the March, 1938 issue of Captain Satan. Cox had over 130 stories published in the pulps under his own name, plus more using various pseudonyms. He wrote eighty novels, many westerns and was the creator of Cemetery Jones and the Maverick Kid.
The story is one of four to feature Donny Jordine, who doesn't like to sit around and wait for the machinery of justice to creak along. He makes things happen on his own. "Mr Detective is Annoyed" isn't a bad story, but it didn't leave me wanting more Jordine.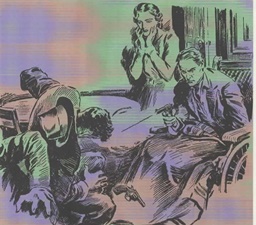 Roger Torrey's "Life – or Death?" is from the April, 1940 Double Detective. John Morgan is a former police officer who lost the use of his legs in a shootout. But, as we see, he is far from helpless. I'm not crazy about the story itself, but Torrey can write hardboiled well.
He broke into the pulps with the January, 1933 issue of Black Mask and quickly became a favorite of editor Joseph 'Cap' Shaw, appearing eight times that year. Even among pulpsters, Torrey was a heavy drinker and fell out of favor with editors around 1940. He spent his last several years writing for the 'lesser' detective pulps until he died of alcohol-related causes in 1946. He was only 45 years old.
Torrey is largely forgotten today but he wrote fast-paced hardboiled yarns; often with Irish protagonists. In just over a dozen years of writing, he turned out nearly 300 stories and one novel – 42 Days for Murder.
Cyril Plunkett's "Bullets for your Birthday" is also from the April, 1940 Double Detective. Plunkett had over 150 stories in the pulps in the thirties and the forties, though it doesn't appear that he ever made into Black Mask or Dime Detective. Joe Carson, put out to pasture by the police department on the day before his fifty-second birthday, is the kind of protagonist you find yourself rooting for. Not a bad story.
"A Room to Die In" by Dale Clark (real name, Ronal Kayser) is also from the April, 1940 Double Detective. Clark is not particularly well-remembered today, but his hotel detective, Mike O'Hanna appeared in Black Mask twenty-nine times in the forties. Clark appeared in the pulps over 220 times.
This story is a bout country deputy sheriff Dan Haley finding strange goings-on in the boarding house he stays at while attending a big city convention. This one felt pretty hayseed and didn't do much for me at all.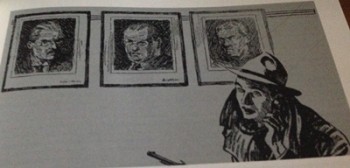 Richard Sale's "Three Wise Men of Babylon is from the April 1, 1939 Detective Fiction Weekly and featured his New York Chronicle Reporter, Daffy Dill. Dill appeared in sixty stories, mostly for the long-running Detective Fiction Weekly. Dill is constantly on the go and gets along well with Lieutenant 'Poppa' Hanley. This story moves along quickly and involves several murders. I liked it and wouldn't mind reading more about Dill's adventures.
Sale sold over two hundred stories to the mystery pulps and was one of Detective Fiction Weekly's stars. He also appeared frequently in Double Detective (home of Richard Foster's 'Green Lama'). Sale deserves to be sought out and read.
Steve Fisher's "Princess of Death" originally appeared in the September, 1935 issue of The Mysterious Wu Fang. Captain of Detectives Mark Turner only appeared in one other story and this cop tale, about machinations in Honolulu's Asian district, is an atypical Fisher effort.
Fisher's stories had been rejected several times by Joseph Shaw, who preferred the more direct hardboiled approach of Raoul Whitfield and Roger Torrey to Fisher's subjective, less rough style. However, when Fanny Ellsworth replaced Shaw in 1936, Fisher broke through at Black Mask. He also enjoyed success in the slicks and as a Hollywood movie and television script writer (he cowrote Bogie's Dead Reckoning). His novel, I Wake Up Screaming, is a noir classic.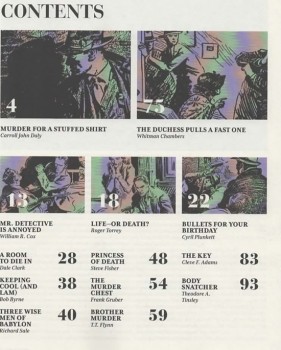 "The Murder Chest," by Frank Gruber, also originally appeared in the September, 1935 issue of The Mysterious Wu Fang. Gruber, incidentally, was close with Steve Fisher and convinced Fanny Ellsworth to let Fisher into Black Mask. "The Murder Chest" features detective Jud Stanton investigating suspicious doings in San Francisco's Chinatown. The ridiculous variation on the 'sleight of hand' trick ruined this story for me.
Gruber, author of many westerns, wrote an autobiography entitled The Pulp Jungle that is considered an excellent account of life as a pulpster.
T(homas) T(heodore, Jr.) Flynn's "Brother Murder is from the December 2, 1939 Detective Fiction Weekly. It was one of sixteen stories featuring Mike Harris and Trixie Meehan of Los Angeles' Blaine (Detective) Agency. This may well have been my favorite story in this issue of Black Mask. Harris, a tough shamus, infiltrates the walled compound of a cult out in the hills beyond Hollywood. It's the longest story in this issue and it's a good one.
Flynn appeared in Dime Detective more times (80) than any other writer and his racetrack investigator, Mr. Maddox, was a popular series. He was a very prolific pulpster whose work appeared in four decades and Altus Press has collected the Maddox stories. Flynn also frequently appeared in Detective Fiction Weekly, but he never cracked Black Mask for some reason. Though a 1948 Maddox story was reprinted in a 1950 issue of Black Mask (UK). And of course, this story over a half-century later!
"The Key," by Cleve Adams, was in the July, 1940 Black Mask and is one of four Lieutenant Canavan stories – all of which appeared in that magazine. Canavan is a tough cop in the absolute hardboiled sense. The story feels like a bit of a throwback to the Race Williams style. It's okay.
Some of Adams' work is considered racist and misogynistic: especially his Rex McBride novels. I haven't read anything other than this story, so I don't know firsthand. He did create the first female hardboiled private eye, Violet McDade; a morally flexible, former circus fat lady! And the second lady shamus was her partner, Nevada Avarado.
Theodore A. Tinsley's "Body Snatcher" was also from Black Mask: this time the February, 1936 issue.   Tinsley penned twenty-five stories about the popular gossip-columnist from the Daily Planet (Wonder if he knew Clark Kent?).  Tracy is tough but he has a heart of gold and is never out for himself. "Body Snatcher' sees him helping out a former Broadway star packed off to retirement. It's not a bad story and much better than "South Wind," which I followed it up with. The dripping southern accents in that one were too much for me.
Tinsley was the first writer not named Walter B. Gibson to pen a story about The Shadow. He also created pulp's most popular female detective, Carrie Cashin, who appeared in over three dozen stories.
And "Keeping Cool (and Lam)" is quite possibly the finest essay I've read in years. I'm kidding!! I wrote it. But it's worth a read for the info on super pulpster Erle Stanley Gardner and his lesser-known (but in my mind, better) series about detectives Bertha Cool and Donald Lam.
If you figure the cost at just over a buck a story (plus my essay!), this issue is definitely worth the price. Next in this line, we'll be looking at the Fall, 2017 issue. Which I am NOT in…
Previous entries in the series:
With a (Black) Gat: George Harmon Coxe
With a (Black) Gat: Raoul Whitfield
With a (Black) Gat: Some Hard Boiled Anthologies
With a (Black) Gat: Frederick Nebel's Donahue
A (Black) Gat in the Hand: Thomas Walsh
A (Black) Gat in the Hand: Black Mask – January, 1935
A (Black) Gat in the hand: Norbert Davis' Ben Shaley
A (Black) Gat in the Hand: D.L. Champion's Rex Sackler
A (Black) Gat in the Hand: Dime Detective – August, 1939
A (Black) Gat in the Hand: Back Deck Pulp #1
A (Black) Gat in the Hand: W.T. Ballard's Bill Lennox
A (Black) Gat in the Hand: Day Keene
A (Black) Gat in the Hand: Black Mask – October, 1933
A (Black) Gat in the Hand: Back Deck Pulp #2
Other hard-boiled related ramblings I've done at Black Gate:
A Century of John D. MacDonald
A Man Called Spade
Asimov's The Caves of Steel
Carroll John Daly & the Birth of Hard Boiled
Cool & Lam are Back!
Erle Stanley Gardner on Mysteries
Gideon Lowry – Key West Private Eye
Glen Cook's Garret – PI
Hard Boiled Holmes (my best pre-Black Gate work. Click on over!)
Hard Case Crime Q&A
John D. MacDonald – A Writer's Writer
Lester Dent's Master Plot Formula
The Maltese Falcon in Film
Michael Stone's Streeter
Richard Diamond – Private Eye
Robert E. Howard Goes Hard boiled (Steve Harrison)
Shovel's Painful Predicament
---
Bob Byrne's A (Black) Gat in the Hand appears weekly every Monday morning at Black Gate.
His 'The Public Life of Sherlock Holmes' column ran every Monday morning at Black Gate  from March 2014 through March 2017 (still making an occasional return appearance!). He also organized Black Gate's award-nominated 'Discovering Robert E. Howard' series.
He is a member of the Praed Street Irregulars, founded www.SolarPons.com (the only website dedicated to the 'Sherlock Holmes of Praed Street') and blogs about Holmes and other mystery matters at Almost Holmes.
He has contributed stories to The MX Book of New Sherlock Holmes Stories – Parts III, IV,  V and VI.
And coming soon, look for another Robert E. Howard series with an all star cast!