The Public Life of Sherlock Holmes: A Century of John D. MacDonald
The Public Life of Sherlock Holmes: A Century of John D. MacDonald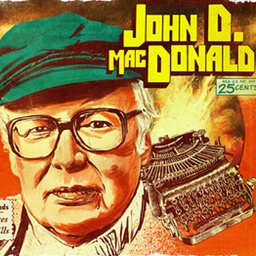 It's no surprise, given the title of this column, that I've written more Sherlock Holmes-related posts than about any other topic. What is surprising to me, given that I know myself fairly well, is that I've only done one post about John D. MacDonald. You can read some stuff I've written about him over on my own blog, Almost Holmes, here and here and here. But perhaps because I haven't been able to delve deeply enough into re-reading and analysis, I've not come back to him at Black Gate. Until today.
Yesterday marked the one hundredth anniversary of John MacD's birth. When MacDonald died in December of 1986 of heart-related problems, he was one of the most influential and popular authors in America. Thirty years later, while he is still respected and cited by many writers, including John Jakes, Randy Wayne White and others, he's somewhat forgotten. Which is both sad, and something that I would like to ponder on for a future post as well.
A quote from Stephen King:
"John D. MacDonald has written a novel called The End of the Night which I would argue is one of the greatest American novels of the twentieth century. It ranks with Death of a Salesman, it ranks with An American Tragedy,"
A quote from me, Bob Byrne (I admit, I don't quite have the cachet of that King fellow):
"John D. MacDonald is one of the greatest writers of the twentieth century: In any genre. He was a skillful storyteller and a first-rate social commentator."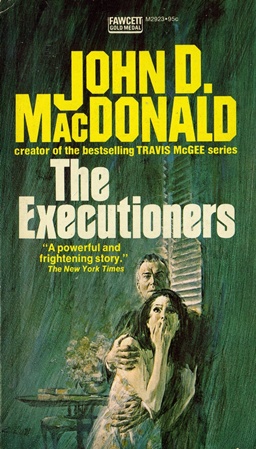 I have every book he wrote, except one (a novelization of a screenplay about Judy Garland. Err…). The man was a master.
He is best known as the creator of Travis McGee, who is classified as a private eye, even though I think that's not really an accurate characterization. And also for the two Cape Fear movies, which were based (though reworked a bit) on his novel, The Executioners.
I categorize MacDonald's works in four categories (five really, with "Other" for his nonfiction works). The McGee books, which all feature a color in the title, have aged fairly well. He wrote twenty-one of them over twenty-one years. Which is pretty impressive: especially when you consider he was also writing other novels throughout the period, many of which are quite good.
It's McGee that brings most people to MacDonald and I think that the series is justifiably accorded a great deal of respect in the mystery (private eye) genre.
A second category, which is just as easy to identify, is his science fiction output. In the late forties and early fifties, he was a prolific sci-fi author, penning about fifty short stories and two novels. I'm not a huge fan of the genre and these stories are among my least favorite of his works. This category includes his odd novel, The Girl, the Gold Watch and Everything, which was a television movie starring Pam Dawber and Robert Hayes. It's certainly fantastic, but I never really though of it as science fiction.
The third category consists of his non-McGee novels, and many of my favorites can be found here. His first, The Brass Cupcake, is his truest attempt at the hardboiled genre. Judge Me Not is Hammett-esque and a book I plan on doing a separate post on. Where Is Janice Gantry reads like a test-run for Travis McGee.
And of course, he pulled no punches regarding his thoughts about development in Florida with books like Flash of Green and Condominium. I think that a majority of the novels in this category (which were often Gold Medal Originals) are his best works. I urge you to seek them out.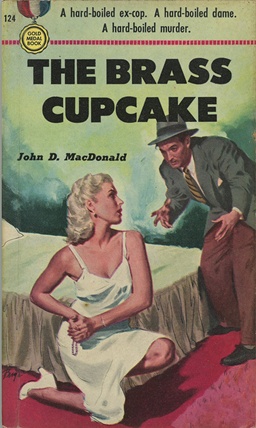 The fourth category is his approximately four hundred short stories. MacDonald started out near the end of the pulp era, and he taught himself to write by cranking out and submitting short story after short story: he kept thirty in the mails at a time when he first decided to make his living as an author. His agent during this period was Joe "Cap" Shaw, the legendary former editor of Black Mask magazine.
In 1950, MacDonald wrote fifty-four short stories and one novel (his first, The Brass Cupcake, which was published the following year. Cap Shaw had convinced him to turn the novella into a full-length story). In 1951, he wrote twenty-nine stories and four novels. He would continue writing short stories, but he had made the transition to novelist.
There are only five collections of MacDonald's short stories, which to me, is quite inadequate. While there is certainly a fair amount of chaff, due to the sheer volume, there's an awful lot of wheat. You can find his short stories in various anthologies with works from other authors, but that can be an expensive way to gather only a few tales. Fortunately, some otherwise difficult-to-find short stories have started appearing in electronic format, though I'd like to see a faster pace.
In 1966 (the year before I was born), fifteen stories, the first appearing in 1949, were collected in End of the Tiger and Other Stories. My favorite is "The Trap of Solid Gold."
MacDonald had started down the path of following his father into the business world. He went to the University of Pennsylvania's Wharton School of Business, but he quit during his sophomore year. He would then enroll at Syracuse and get a BS in Business Administration two years later in 1938. Only a year later he would pick up his Masters from the Harvard School of Business Administration.
Upon graduation, he worked at a couple of jobs in the business world, which did not go particularly well. His heart wasn't in it. So in 1940 he enlisted in the military, serving in the procurement area. MacDonald ended up overseas to New Delhi, India, before becoming a part of the Office of Strategic Services (OSS), which we know today as the CIA. He was discharged in 1945 and became a full-time author the following year.
While always being reticent, even secretive, about his OSS experiences (justifiably so), MacDonald frequently drew on his wartime service for his early short stories. His very first published story was "Interlude in India." He wrote it while overseas, mailed it to his wife Dorothy and she sold it to Story magazine. It's about an American officer involved in an affair while stationed in, of course, India. There's a little of this story present in "A Romantic Courtesy," from End of the Tiger.
In End of the Tiger, "The Fast, Loose Money" is about two ex-servicemen who made a bundle of illicit money while serving in Calcutta and continued their dishonest ways back in the States. This one's got an O. Henry twist at the finish.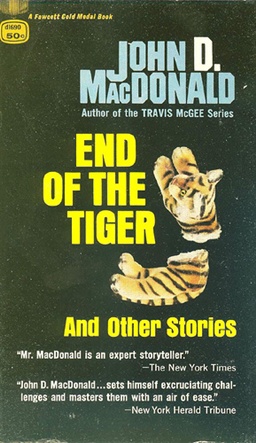 Another common topic he drew on from his life, both in short stories and novels, was the less attractive side of the business world. Cancel All our Vows, Contrary Pleasure, Area of Suspicion, A Man of Affairs, A Key to the Suite: these are some of the non-McGee novels (that's Category Four…) that delve into the personal and professional corruption of the private sector.
End of the Tiger's "The Trap of Solid Gold" tells a probing tale of the business world and I think it's one of MacDonald's best. Thirty-two year old Ben Weldon is Assistant to the Vice President in Charge of Unit Control for National Directions. He is slated to be President of the company when he turns 55. His annual salary is $23,500 in a year when the median family income is $6,500. That's a pretty hefty salary! Except…
He and his wife Virginia (Ginny) have three small children, an expensive house, belong to the country club, dine out with important business clients, help support his aging mother in Indiana, etcetera. And the cost of this lifestyle, which the company expects their rising star to maintain, is eating away at their marriage as they struggle to make ends meet.
Money is stretched so thin that Ben visits a wonder-CPA he has heard about. Ben explains away all the expenses and why he just can't reduce them. If he shows any sign of financial weakness in his personal life, his express train to the top may be derailed (MacDonald peppers boat analogies throughout the story).
Finally, the frustrated accountant, Semmins, who has laid everything out with methodical precision, explains to Ben that he's caught in a trap. The company, which is just one of this breed, pays him a lot of money, but expects him to spend nearly all of it in keeping up appearances. There's little left for all of life's other bills. Ben needs to escape the trap, but he "can't." Ben entered hoping he could find a way out. He doesn't.
"What will you do?"

"Try to squeak by, I guess. Cut every corner we can. Try to hold on. You see, the stakes are big."

"Sure," Semmins said. "You sit in this great big poker game and you've got twelve dollars and you sit there, folding every hand, waiting for a royal flush, and while you're waiting they ante you to death. Isn't there some guy over there who is interested in you enough to sit down and go over these records with you?" He sighed. "I suppose not. All I can say is good luck."
A son gets his hand crushed on a school field trip and the district won't pay for the medical bills. His mother dies and wills her home to someone else. The car breaks down. Ben borrows all he can and the marriage frays at the edges, then towards the center. The bank refuses to lend them any more money with a 'holier than thou' speech. The Weldons nearly have the 'divorce ultimatum' discussion.
Ben must choose whether or not to reclaim some money he voluntarily paid into his retirement fund and make a reasonable approach to the company President for a bigger salary. He is certainly entitled to do these things, but they would also ensure that his ascent to the top of the company will be stalled. He will no longer be the heir apparent. Someone else will be groomed.
MacDonald presents the Weldon's situation as a case study of the seemingly beneficial but underneath almost ruthless practice going on in the business world. It's a personal story, but it's a damning indictment of corporations. On a macro level, it's bigger than the Weldons. But on a micro level, it's an in depth story about marriage. The second paragraph opens:
"Marriage is a small brave ship, and embarkation is valiant and hopeful. But the channel is narrow, the set of the tide tricky, and the buoys and markers forever shrouded in mist."
A boring log line for this story would be, 'A rising young executive struggles to maintain appearances in the face of mounting expenses.' Yawn. But because John D. MacDonald was a great writer he weaves a first class story out of such thread.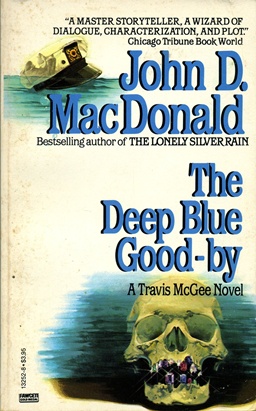 I won't tell you the ending, which I think MacDonald handled satisfactorily and leaves you room for reflection. But "The Trap of Solid Gold," in about 20,000 words, is a fine example of John D. MacDonald's ability to craft a story.
In 1966, "The Trap of Solid Gold" was featured as an episode of ABC Stage 67 (now that 26-show series was an unusual one!). Cliff Robertson (probably best known as Peter Parker's Uncle Ben to the younger generation) played the boss and Dustin Hoffman, who would break out in The Graduate later that same year, was the superstar accountant, JJ Semmons (Semmins in the story).
I think this is an enduring theme and could very easily be adapted today into a successful movie. And to mention another topic certainly worthy of a post – A sultry Virginia Madsen starred in the 1993 television movie, Linda. It was the last time a MacDonald work has been adapted to the screen (the DeNiro/Nolte Cape Fear had come out two years prior). That's two MacDonald properties in the past thirty years. There's simply no excuse for that.
Fox's big budget version of the first McGee novel, The Deep Blue Goodbye, to star Christian Bale and helmed by Leonardo DiCaprio was scheduled to begin shooting in May of 2015. But Bale tore his ACL and it appears that the project is dead. Alas.
"The Trap of Solid Gold" was also used by Steve Scott for the name of his excellent blog. It is, simply, the best resource for John D. MacDonald online. He posts weekly, and it's always a thoughtful, informative read. You can search on a topic at his site and you'll come away with more than you thought you wanted to know. Go ahead and type in the name of a favorite MacDonald book or topic.
Sarasota, Florida, where MacDonald lived for the last thirty-six years of his life and achieved his fame, has been celebrating JDM since the beginning of this year and the Sarasota Herald-Tribune ran a thirty-installment series, John D and Me, featuring authors reflecting on MacDonald and influence. Big names and not, it's a nice tribute to the man.
I'll finish up by mentioning Bill Crider. Bill is a prolific author, primarily in the western genre, and a big MacDonald fan. He is also one of the nicest guys I've run across in the writing business. He is battling an aggressive form of cancer and I'll just ask that you spare a few moments and say a prayer for him.
---
You can read Bob Byrne's 'The Public Life of Sherlock Holmes' column here at Black Gate every Monday morning.
He founded www.SolarPons.com, the only website dedicated to the 'Sherlock Holmes of Praed Street' and blogs about Holmes and other mystery matters at Almost Holmes.
He is an ongoing contributor to The MX Book of New Sherlock Stories series of anthologies, with stories in Volumes III, IV and the upcoming V.