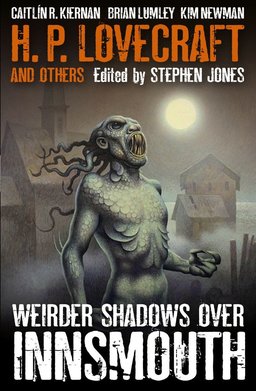 Three weeks ago we invited Black Gate readers to win a copy of the new Lovecraft-inspired anthology Weirder Shadows Over Innsmouth, by suggesting who should be writing Lovecraftian horror today.
To make it challenging, all entries had to be a single sentence.
We received a near-record number of entries for this contest, too many to print here. But I've selected 20 of the more interesting, and reproduced them below.
Two winners were randomly drawn from a list of all qualified entries, and those two lucky readers will both receive a copy of Stephen Jones's new horror anthology Weirder Shadows Over Innsmouth, on sale now in trade paperback and digital formats from Titan Books.
First up is Jeffery Helms:
The writer I would most like to see write a Lovecraftian horror story today is Scott Snyder, whose comic work has elements of history, folklore, myths, and horror.
That's certainly a fascinating choice. Scott Snyder's work on American Vampire and Batman has garnered a lot of attention, and I'd like to see what he could do in Lovecraft's back yard, too.
---