"You're the second guy I've met within hours who seems to think a gat in the hand means a world by the tail." – Phillip Marlowe in Raymond Chandler's The Big Sleep
(Gat — Prohibition Era term for a gun. Shortened version of Gatling Gun)
Today, I'm going to talk about two streaming sites for your hardboiled/noir lock down needs. And then, a third site with a show I really dig. First, up:
WATCH TCM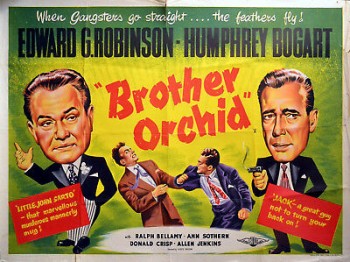 I have recently spent a lot of time on Watch TCM. It can be streamed free on your PC and Smart TV, and you can download the app for mobile devices.
Most movies running on TCM (Turner Classic Movies), are posted on Watch TCM within several hours of airing. Some which they sell, like Casablanca and Key Largo, are not posted, and movies generally drop off after a week. You can watch any movie listed, as many times as you want, free. If you have TCM through your cable provider, you can watch the east coast and west coast feeds live. So, if you miss something on the east coast, you can still catch it later on the west coast. This is good for the ones that don't end up posted.
I'm obviously a hardboiled/noir fan, and May's Star of the Month is Edward G. Robinson. Which has resulted in a plethora of movies in that genre, plus other non-genre movies from stars like Robinson, Bogart, and Ida Lupino.
Thursday is Star of the Month day, and in less than 24 hour period from last Thursday afternoon, the following movies were posted:
All Through the Night (Bogart), The Hard Way (Lupino), The Return of Doctor X (Bogart), The Whole Town's Talking (Edward G. Robinson), A Slight Case of Murder (Robinson), Larceny, Inc (Robinson), The Amazing Dr. Clitterhouse (Robinson, Bogart), and Brother Orchid (Robinson, Bogart).
And the previous Thursday's haul remained up until Friday, and it had some VERY good stuff as well. Last Monday's post was about a bunch of the movies showing through the rest of May. Check it out.
Of course, there's far more than hardboiled/noir, which is my favorite area. As I type this, there are two Marx Brothers movies, and one from The Bowery Boys. They had a musical day, so Yankee Doodle Dandy and several others are up. I will always watch Mister Roberts when I can. There are relatively 'newer' classics, such as Network, and Coma, as well. It's not just all old black and white movies.
---