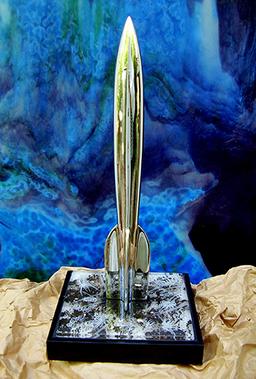 I promised to read all the short fiction Hugo nominees, and report on them, so here you go.
I'll begin by mentioning that I haven't come close to reading the novel nominees: I have only read Ancillary Sword, by my almost-neighbor Ann Leckie, and while I quite enjoyed it I thought it not as good as Ancillary Justice. A middle-book thing, in some ways – in other ways, I think this post by lightreads gets at some of the problems I had pretty well.
I'm also about halfway through The Three-Body Problem, by Cixin Liu –- I'm not sure what to think yet. There's some neat ideas, but some of them seem distinctly pulpy, and the writing is a bit dodgy. We'll see how it works out in the end.
Novellas
So, to the novellas. The final list of nominees is:
Big Boys Don't Cry, Tom Kratman
"Flow," Arlan Andrews, Sr.
One Bright Star to Guide Them, John C. Wright
"Pale Realms of Shade," John C. Wright
"The Plural of Helen of Troy," John C. Wright
---