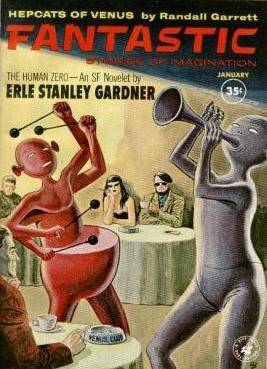 A Goldsmith era Fantastic, again, also from the stash I picked up at Sasquan. This one has a cover by Lloyd Birmingham, illustrating, rather faithfully, Randall Garrett's "Hepcats of Venus" (a story probably published at about the last time one could have published it). The cover also advertises an Erle Stanley Gardner (of Perry Mason fame) SF story, "The Human Zero." Interior illustrations are by Virgil Finlay, Leo Summers, and one Kilpatrick. I don't recognize the last one, by name or style, and the ISFDB shows only 5 appearances by him or her, all in Amazing or Fantastic in 1961/1962.
The features are as usual for Fantastic on the scant side – Norman Lobsenz' editorial and the letter column, According to You. The latter features a long letter by Mrs. Alvin A. Stewart on the subject of her dislike for David Bunch, in the process rehashing an ongoing debate. There are letters praising two serials in previous issues, James White's Second Ending (which is excellent) and Manly Banister's Magnanthropus, which I haven't read, though I found the sequel (Seed of Eloraspon) to be fitfully enjoyable but far from a masterwork, and on the whole kind of preposterous. Paul Zimmer (presumably Marion Zimmer Bradley's brother, and an author in his own right, Paul Edwin Zimmer) thought Magnanthropus the best serial Fantastic ever published. (Zimmer also takes a swipe at Bunch.) On the other hand, Fred Patten (a name to conjure with in fandom!) thought Magnanthropus a tremendous letdown after Second Ending.
I have to say I somewhat miss lettercols with that sort of spirited discussion of the stories in previous issues.
---