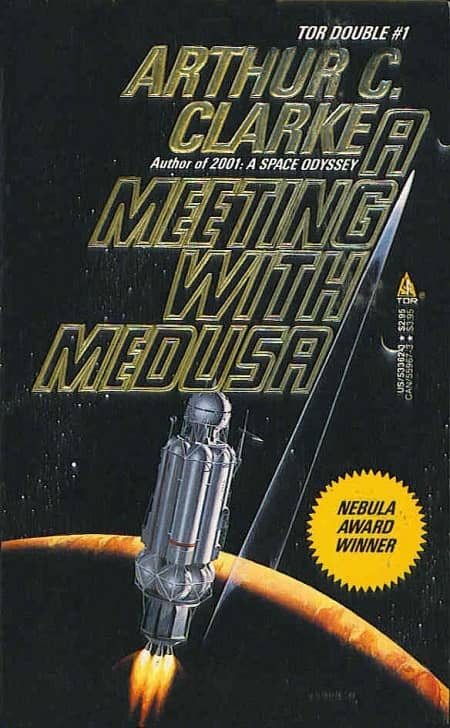 Tor Double #1, October 1988. Cover by Vincent Di Fate
Arthur C. Clarke, of course, was a towering figure in SF circles – when I began reading SF, there was an indisputable "Big Three": Isaac Asimov, Robert A. Heinlein, and Clarke. And, indeed, that's how I saw things at that age. Curiously, Heinlein was not really central to my earliest reading, and I didn't read the bulk of his juveniles until a couple of decades later (though I had read his adult work in my teens.) But Clarke and Asimov were among the "adult" SF writers I first discovered, and I was reading novels like Against the Fall of Night when I was 12.
Clarke was born in 1917. He began publishing SF in 1946 with "Rescue Party" (a story that still gives me a thrill.) He made his mark in SF in the next decade or so with many further fine stories and with novels like The City and the Stars and Childhood's End. He made his mark in the wider world when the movie 2001 appeared in 1968 – Clarke had written the original story ("The Sentinel") upon which it was based, and he also worked with Kubrick on developing the story for the movie, and wrote the "novelization." He had moved to Sri Lanka in 1956, partly because of his interest in scuba diving, but also possibly because he was gay, and homosexual activity was still illegal in England. He was knighted in 1998, at which time disturbing stories accusing him of pedophilia surfaced. He was cleared by the Sri Lankan police, and died a decade later.
"A Meeting with Medusa" first appeared in Playboy in December 1971. (I'm not sure why it was still eligible for the Nebula ballot in 1973 – this was before the "rolling eligibility" period of the Nebulas.) I'd have reproduced a cover image of its first place of publication, but Black Gate is a family website, as so well evidenced by the Margaret Brundage paintings we sometimes feature! I should also mention that this was a period when Playboy published a fair amount of excellent SF — for example, Ursula K. Le Guin's "Nine Lives", just a couple of years earlier.
---