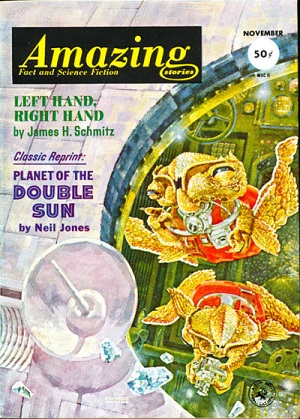 The cover to this issue is by George Schelling. Interiors are by Schelling, Virgil Finlay, Jack Gaughan, Leo Morey, and Leo Summer. The editorial is about using computers to determine national policy.
S. E. Cotts' book review column, the Spectroscope, reviews three anthologies: The Sixth Galaxy Reader, The Best from F&SF, 11th Series, and Groff Conklin's Worlds of When. Cotts is disappointed in the two magazine-based collections, suggesting that in neither case was there enough first rate material for a book. She is happier with Conklin's anthology, reserving the highest praise for Fritz Leiber's "Bullet With His Name."
I think Cotts was pretty much correct about the Galaxy Reader, which is weak, but dead wrong about the F&SF book — in particular, she failed to note the brilliance of Avram Davidson's "The Sources of the Nile," one of the greatest SF stories of all time. She also reviews Robert Silverberg's The Seed of Earth, and is fairly well pleased with it (noting that it features a cliched setup) — and I pretty much agree with her judgment there.
The science article is the fourth in Ben Bova's series about extraterrestrial life, this time dealing with the possibility of life around fairly nearby stars. Dr. Bova recently sent me a note crediting Isaac Asimov for his chance to write this series — it seems Goldsmith had asked Isaac to do a series about extraterrestrial life, but he demurred and suggested Bova as an alternative.
The letters are from Charles Dixon (complaining about Edgar Rice Burroughs), J. J. Tilton (responding in an annoyed fashion to S. E. Cotts, who had criticized him for criticizing her for disliking Heinlein's Stranger in a Strange Land), and Larry Shellum, also mad at Cotts, this time for a recent review of a Damon Knight anthology.
The stories are:
Novelets
"Left Hand, Right Hand," by James H. Schmitz (12,200 words)
"The Planet of the Double Sun," by Neil R. Jones (15,300 words)
---