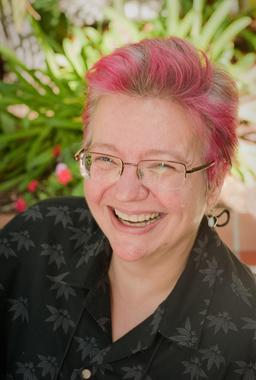 Ahead of her trip to the Midwest for writerly things, this Nebula and World Fantasy awards nominee offers up two Pro-Tips for the blog this week. Chicagoans will have the chance to hear Cat Rambo read from her debut fantasy novel, Beasts of Tabat, at Gumbo Fiction Salon on Wed. Oct. 7th.
I have trouble finding the right starting point for my story. Got any suggestions?
Start writing in the middle of it and worry about the beginning later. Often the beginning is something I don't finalize till the very last end of the draft, and often looking at how the story ends will provide me with ideas for an ending that returns in some way to a moment, location, theme, or other structure from the beginning and helps create a sense of closure. At the end of a story, you need to hear the click of its door swinging shut, and part of creating that is opening the door into it in the right way.
What's one thing I can do to improve my writing?
Read it out loud. This is perhaps the single best piece of advice I can give any writer other than get your butt in the chair and start writing. Reading out loud will help you create something that sounds good in a reader's head, as well as to catch all sorts of errors, typos, and ungraceful things.
---