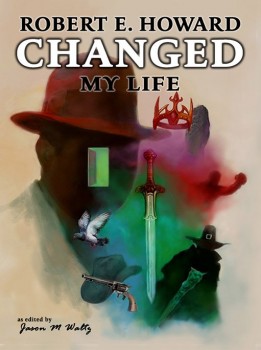 Author C L Werner is one of a number of authors to provide an essay for publisher Rogue Blades Foundation's release later this year of the book Robert E. Howard Changed My Life. Below Werner writes of Howard and the influence of sword and sorcery literature.
I have a curious relationship as regards sword and sorcery, because for me this tribe of fantasy fiction was encountered only after spending my formative years with what would be termed "high fantasy" in modern parlance. The Tolkien epics, the Arthurian sagas, and a good deal of Dungeons & Dragons during its heyday in the mid to late 1980's when there was an emphasis on a grand scale for narratives, as demonstrated by the Dragonlance novels. I didn't really get a proper introduction to sword and sorcery until much later, after moving to Arizona in 1993. That was when I first read the actual stories (or at least the Lin Carter/L. Sprauge deCamp revisions of them) of Robert E. Howard and his creations Conan the Cimmerian, Solomon Kane, and Kull of Atlantis.
Now I'd had a peripheral awareness of Robert E. Howard's characters before, through comic books and the Conan movies (and that really cool stunt show Universal Studios had back in the 1980s), but my belated discovery of the actual stories really had a profound effect on me. While I did enjoy The Lord of the Rings and The Hobbit, I was always off-put by The Silmarillion and became jaded on many versions of the Arthurian tales. My investment in Dragonlance also waned over time, and I think the culprit can be found in an inability to be engaged by protagonists who are so far beyond relatability. Elf lords who can single-handedly cross swords with a balrog or wizards who can one-shot a dragon become, sadly, not as engaging as a character who has limitations to what they can do and how they can do it. In Howard's stories, Conan or Solomon Kane get knocked about by the bad guys, put through the ringer by the ordeals they face. Certainly these characters overcome incredible odds and mighty foes, but these triumphs always felt like they were earned rather than an inevitable, foregone result. The reader experiences the struggle to prevail alongside the hero and in a more visceral way than often can be found in narratives that are operating to some legendary scale of warring gods and unfolding prophecies.
---