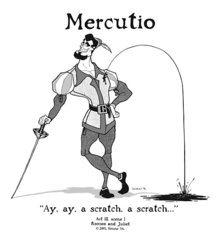 I'm sure most of you know this, but just in case: There's a character in the play Romeo and Juliet that Shakespeare kills off. He's a friend of Romeo's named Mercutio. It's his murder that leads to Romeo's killing Juliet's cousin, and everything goes down hill from there. So you can see how important Mercutio is from a plot/narrative point of view.
There's something special about this particular character, though. He's very witty, very quick, has some great lines/scenes. Actors of my acquaintance say they love to play him. He's so popular, in fact, that the story is Shakespeare killed him off (instead of one of Romeo's other friends) because he was a more interesting character than Romeo himself. After all, the play's not called "Mercutio and Juliet" – though now that I think about it, that would have made a great play too, but probably not a tragedy.
Are secondary (or even tertiary) characters always doomed to die when they are more interesting than the lead? In fact, isn't it necessary that the audience likes and cares about characters before you kill them? Certainly it happens that way in a movie, or in a novel for that matter. We're always being told (and we tell others) that you have to make the audience/reader invest emotionally in characters that you plan to kill.
---