Researching the Habits of Highly Prolific Authors (and I could use your help!)
Researching the Habits of Highly Prolific Authors (and I could use your help!)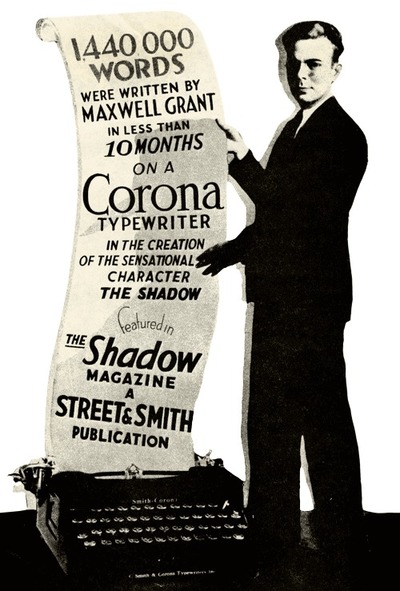 Almost exactly a year ago, I wrote an article here on Black Gate about the habits of prolific authors. The research I did for that post sparked an interest in me that's only grown. Now I'm working on a book-length study of how some of the great writers of the 20th century managed to write hundreds of books, most of them while hammering away on manual typewriters. There are lots of books on increasing your word count, but none, as far as I know, focus on the actual methods of the most productive writers.
I've set myself some limitations. First, to be given a chapter in the book, the writer must have written at least 300 books. They must also have enough biographical material that I can gain insights into their work methods. Also, they must be dead so that I can look at their careers as a whole, they must have been active in the 20th century so their work is more applicable to the modern era, and they must have written in either of the two languages I am comfortable reading — English or Spanish.
At the moment I have the following list: Isaac Asimov, Walter Brown Gibson, Corín Tellado, Marcial Lafuente Estefanía, Lauran Bosworth Paine, Ursula Bloom, Enid Mary Blyton, Barbara Cartland, and John Creasey. Some writers who don't quite fit the bill but who have something worth quoting are given passing mention. Frank Gruber is a good example. His book The Pulp Jungle is essential reading for anyone who wants to know the inner workings of a true wordsmith.
I've broken some of my ground rules to include a chapter on Brazilian writer Ryoki Inoue. While he writes in Portuguese and is still alive, he's one of the most prolific, and certainly fastest, writers of all time.  He could churn out a 198 page novel over the course of a grueling all-nighter. More often he takes it easy and allows himself a few days, even a week. He's written more than 1,000 books. While he hasn't had anything translated into a language I can read, there are several good interviews with him in English that discuss his method, and it would be a shame to not include such a dynamo.
I've already learned some fascinating things, such as the fact that Walter B. Gibson, better known as Maxwell Grant, the author of The Shadow, kept a typewriter in every room of his house, each with a page in it of a work in progress. Thus he never had an excuse not to be writing! Some writers, like Isaac Asimov, spent most of every waking day at work, while others, like Barbara Cartland, kept to strict hours of intense creativity and took the rest of the day off. All of them laughed off the concept of writer's block as a myth.
I am at the early phase of my work on this book, and I'd like your help. Right now I'm cloistered in the Bodleian Library here in Oxford and focusing on the British writers. This being a copyright library I have access to virtually all their work. The American writers are a bit harder for me to track down. So I have a few questions for you:
Isaac Asimov wrote several books on the writer's life. Which one gives the most insight into his method?
Walter Brown Gibson, author of most of the The Shadow books, wrote an article for the March 1941 issue of Writer's Digest titled, "A Million Words a Year For Ten Years." Does anyone out there have access to this article?
Is there any writer I've missed who absolutely deserves his or her own chapter?
If you're a writer, what would you like to know about these hyper-prolific writers?
Thanks!
---
Sean McLachlan is the author of the historical fantasy novel A Fine Likeness, set in Civil War Missouri, and several other titles, including his post-apocalyptic series Toxic World that starts with the novel Radio Hope. His historical fantasy novella The Quintessence of Absence, was published by Black Gate. Find out more about him on his blog and Amazon author's page.