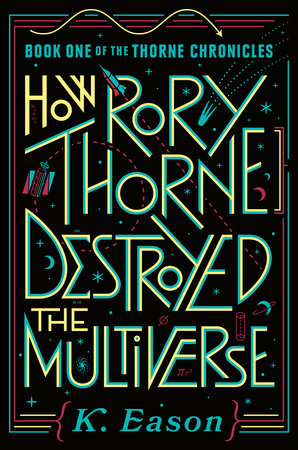 Young Adult fiction is populated with fast-paced novels that sweep readers into adventure from the very first page, only letting up when the final page reads The End. Their prose shows in gorgeous detail, transporting readers into whole new universes, rather than merely telling what's going on. Novels that feature heroines begin when they are old enough to be the targets of romance; starting when they are younger not only provokes no interest, but also threatens to confuse booksellers, who must decide where to shelve them. According to many writing experts, passive voice must be scoured from the pages. The first chapter should be comprised exclusively of action; exposition kept to a minimum, and sentences clipped short. The author must avoid entire discursive paragraphs like, say, this one.
Eason's How Rory Thorne Destroyed the Multiverse is marketed as a Young Adult Hardcover. But it violates these contemporary writing conventions.
We begin before Princess Rory Thorne is born. Indeed, while she is still in the womb. Our heroine, who will cause many kerfluffles throughout her childhood, creates her first by being born a girl, when everyone had planned for her to be a boy.
Shortly after Rory's birth, thirteen fairies descend onto the palace for Rory's Naming Ceremony, even though no one really believes in fairies anymore, and the only reason they were invited was as a nod to tradition, silly as it may be. But still, the thirteen fairies suddenly appear in the ballroom, coming from out of nowhere. The first eleven give Rory various gifts, some of which are obviously quite useless, like playing the harp.
The thirteenth fairy gives Rory the ability not just to tell when people are lying, but also to hear the truths they are covering up.
---