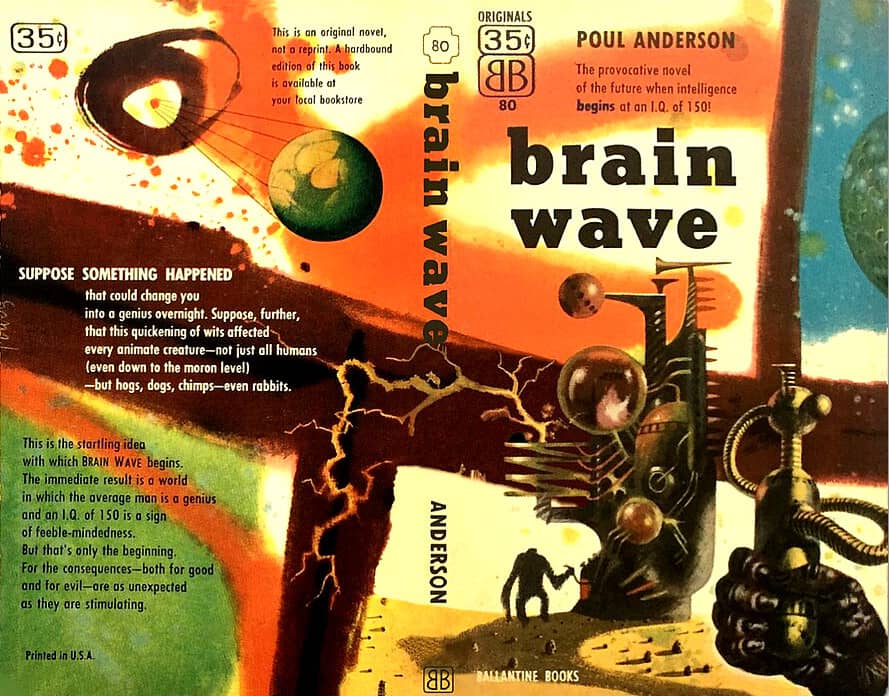 Brain Wave by Poul Anderson; First Edition: Ballantine Books, 1954
Cover art by Richard Powers
Brain Wave
by Poul Anderson
Ballantine Books (164 pages, $0.35, paperback, June 1954)
Cover by Richard Powers
Poul Anderson was a prolific writer of both science fiction and fantasy from the late 1940s to his death in 2001. He was especially known for a couple space opera series, one about the Psychotechnic League and others about Dominic Flandry and Nicholas Van Rijn (I have not read any of these). But his best novels, reputedly, were his singletons, like Brain Wave (1954), The High Crusade (1960), Three Hearts and Three Lions (1961), and Tau Zero (1970), and later works like The Avatar (1978) and The Boat of a Million Years (1989), from decades when everyone's novels got much longer.
Brain Wave was Anderson's third novel, after juvenile SF Vault of the Stars in 1952 and fantasy novel The Broken Sword earlier in 1954. The first part of Brain Wave appeared in Space Science Fiction in 1953, but the magazine went out of business before serializing the remainder.
I reread this book recently not to extend a series of reviews of first — or almost-first — novels, but because I wanted to revisit its striking premise. I think I'll revisit Tau Zero soon, for the same reason.
---