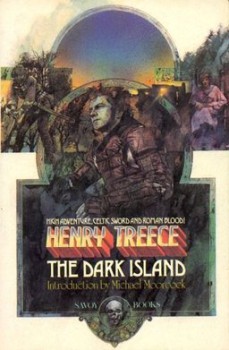 Britain is a dark island of mists and woods. It lies farther north than any other known land, so that the sun is seldom seen there. The people of this island are brave in battle but fearful of their gods and priests.
Arminius Agricola, Ambassador to Camulodunum, A.D. 25 – A.D. 30
The first written of Henry Treece's Celtic Tetralogy, the second chronologically, and the third to be reviewed by me, The Dark Island (1952) is a story of 1st century AD Britain. I've previously reviewed The Great Captains and Red Queen, White Queen here at Black Gate. The fourth is The Invaders. Together, they present one of the most artistically successful attempts to portray ancient Britain and its people. Treece's ancient Britons are the inhabitants of a dark and violent world, where signs and portents are seen in every event. For them, the gods and their blessings and curses are real. Fiercely independent as they believe themselves to be, even kings and princes bow down before the blood-soaked hands of the Druids. Under their direction human sacrifices to the gods are a regular occurrence. It is a world alien to us today and Treece presents it without condescension or sentimentality, and as completely believable.
The Dark Island is a story of trying to hold on to ideals in the face of overwhelming forces. Gwyndoc, cousin of Caradoc (better known as Caractacus), is a prince and a warrior. He was raised to be loyal, brave, and to fear the gods. In the wake of the Roman invasion, the shattering of the British army at the Battle of the Medway, and the easy acquiescence of most of the population to Roman rule, holding true to his ideals becomes difficult and self-destructive.
Gwyndoc and Caradoc are as close as brothers when they are young. They come of age during the golden days of the rule of Caradoc's father, Cunobelin (more commonly known as Cymbeline). While Caesar's invasions of Britain in 55 and 54 BC failed, Roman commerce and culture have made great inroads there. The merchants of Camulodunum and the tribal kings and princes have become richer than ever before. Their sons are educated by Roman tutors. Times are peaceful and plentiful.
---