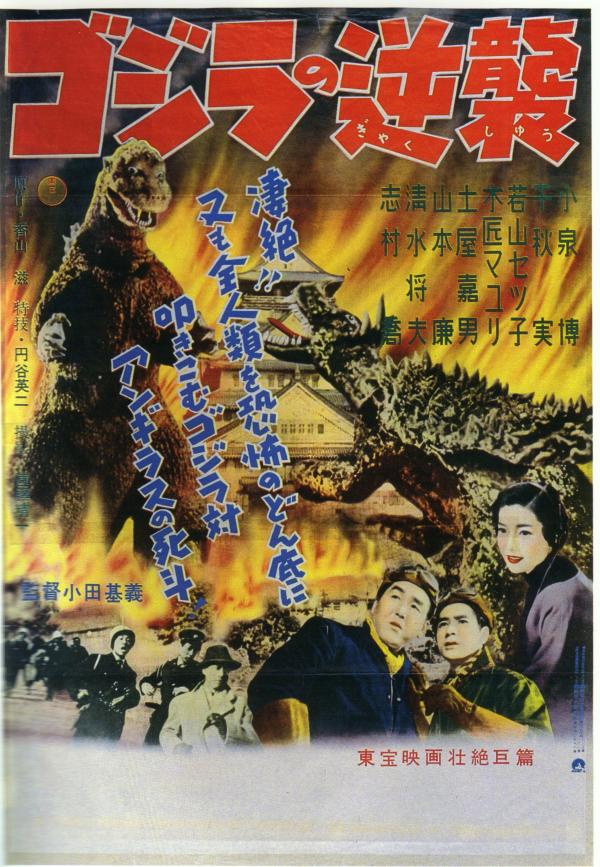 It was disheartening to sum up the recent Godzilla anime trilogy, the only Japanese Godzilla films I never plan to rewatch. Even with the Hollywood mega-millions epic Godzilla: King of the Monsters only a few months away, the feeling of deflation within my favorite movie franchise made it necessary for me to plug a bit of hope into my schedule immediately. Not by watching a great Godzilla film, mind you, but by watching a mediocre Godzilla film. Why? Because it's the best way to remember how even lesser entries in the series can offer some enjoyment. Like watching Godzilla actually move. This is a radical concept the anime filmmakers let slip past them.
Thus I present Godzilla Raids Again, a middle-of-the-road G-movie that's mostly faded into obscurity despite its prime position as the first Godzilla sequel.
To date, Toho Studios has released thirty-two feature-length Godzilla films. In any series with such longevity, a few installments slip off the pop culture radar. But it's almost never the second movie that suffers this fate. The first sequel to a smash hit, regardless of quality, is a major event. The many films that come after are where the grayness of oblivion sets in.
Yet Godzilla Raids Again, released in 1955 only six months after the original, is one of the least seen of the Showa Era Godzilla movies. Many viewers outside Japan are unaware it exists. If they are, they may not know it's a Godzilla film at all because it was released in the US and much of the rest of the world as Gigantis the Fire Monster. Godzilla's name not only vanished from the title, it vanished from the dubbing. Not until 2006 did a North American DVD containing both the Japanese and US versions bring the film out with the classic monster's name reattached. The DVD producers digitally superimposed the title Godzilla Raids Again over the spot where Gigantis the Fire Monster once appeared … although the dubbing with the name "Gigantis" remained.
How Godzilla became Gigantis and then pulled a cultural vanishing act is quite the tale. But let's first look at the actual Godzilla Raids Again, which is its own strange story and a stopgap moment in the early history of the Japanese giant monster (kaiju) film.
---