No one will sing songs in our memory. We are the last of the Free Companies of Khatovar. Our traditions and memories live only in these Annals. We are our only mourners.

It is the Company against the world. Thus it has been and ever will be.

from The Black Company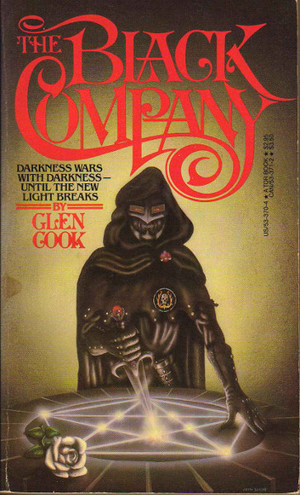 You never know, when you pick up a book, the impact it will have on your life. In 1984, my friend Carl tossed me a copy of The Black Company (1984), a book I'd end up rereading half a dozen times over the next thirty-five years. It turned out to be the first book in what eventually grew into a ten book series (eleven actually, as the first new Black Company book in eighteen years, Port of Shadows, is to be published in September) and one of my favorite works of epic fantasy. Several of Cook's other books are better written, better plotted, and more cohesive than The Black Company, but none of them has left as indelible a mark on me as this one.
The setup of the novel is this: a mercenary company unknowingly signs on to the service of Sauron's wife the Lady, a great and powerful sorceress. Her empire has risen up in rebellion against her and her minions, the Nazgul Taken. Assassinations, intrigue between world-shaking sorcerers, and massive battles unfurl in a world notable mostly for its corruption, constant deceit, and an assumption that nothing ever really goes right. Never an especially good bunch of guys, by the book's end, several important members of the company have grasped the awfulness of their employer and have started to have second thoughts about remaining in her pay. That may not sound original in 2018, but back in 1984, villains as protagonists was mind-blowing.
The novel is presented as a volume from the annals of the Black Company, a notorious band of sell-swords, as written by the company's annalist and surgeon, Croaker. Not a senior officer, but not a grunt either, he serves as the perfect narrator of the book's calamitous and epic events. He's rarely in on the plotting out of the Company's next missions, but he's usually in a position to participate in the more important aspects of them.
There's a sizable epic fantasy-sized cast in The Black Company, but by focusing so intently on a single character, Croaker, the story's told on a very human scale. Croaker's primary concerns, as a member of the company and as its doctor, are for the lives of his brothers-in-arms, more than for the concerns of empire. Through him we get a feel for the most prominent of the company's soldiers and wizards. We see huge events from the perspective of someone effected by them but without any significant control over them. This is not a book about the destinies of kings and princes or heroes and wizards, but men who carry spears, grumble about bad rations, and worry about paying off their debts from losing at cards.
---