The Great Pulp Gathering: That Time Jack Williamson, L. Sprague de Camp, Frank Belknap Long, Edmond Hamilton, John W. Campbell, Manly Wade Wellman, Otis Adelbert Kline and others met at Mort Weisinger's House in 1937
The Great Pulp Gathering: That Time Jack Williamson, L. Sprague de Camp, Frank Belknap Long, Edmond Hamilton, John W. Campbell, Manly Wade Wellman, Otis Adelbert Kline and others met at Mort Weisinger's House in 1937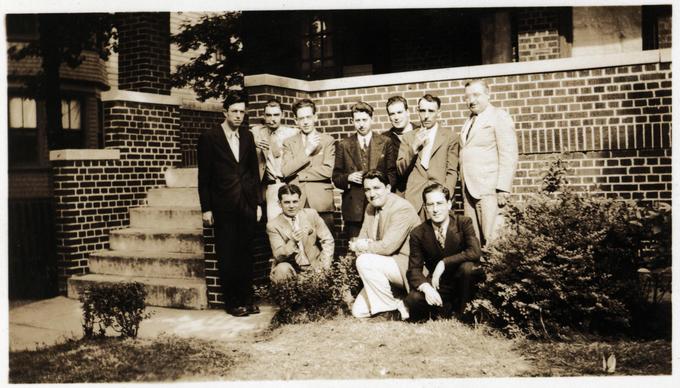 From time to time I've posted in various places material I acquired at an auction many years ago from the estate of Jack Darrow. In the 1930's, Darrow (whose real name was Clifford Kornoelje) was pretty much science fiction fan #2 behind Forry Ackerman.
Darrow's best friend was science fiction pulp author Otto Binder – who, with his brother, Earl, formed half of the writing tandem of Eando Binder (their other brother was pulp/comic artist Jack Binder). By 1936 however, although the byline often continued to read Eando, the stories were written solely by Otto. In 1939, Binder also began working in comics, particularly for Captain Marvel and the other Fawcett titles, though he would eventually work for all the major publishers. Among the material in Darrow's estate was a box of correspondence between him and Binder about a foot thick.
Among these letters was one from Binder to Darrow, dated July 10, 1937, which was accompanied by two snapshots. On the back of each, Binder writes that these are photos of "science fiction authors at Mort Weisinger's home June 1937" (the home was in New Jersey). At the time, Weisinger was the editor of Thrilling Wonder Stories.
[Click the pics for bigger versions.]
I've seen the snapshot above, which isn't cropped at the bottom, reproduced elsewhere (although it's always been cropped when I've seen it), but in some appearances it notes that the photo was taken outside of TWS's/Standard's offices, while in other cases it states that it was taken in Chicago, probably at the home of Otis Adelbert Kline. Neither of these is the case. I've not seen the other snapshot (below) reproduced before.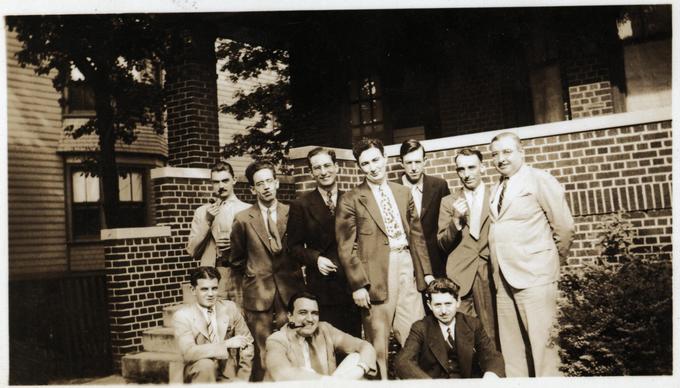 In the second last paragraph of that July 10 letter, Binder says, "Am enclosing two group snaps of the stf gathering at Mort's. Unfortunately, Campbell and Quinn came too late to be photoed, but all us others are there. Recognize them all?"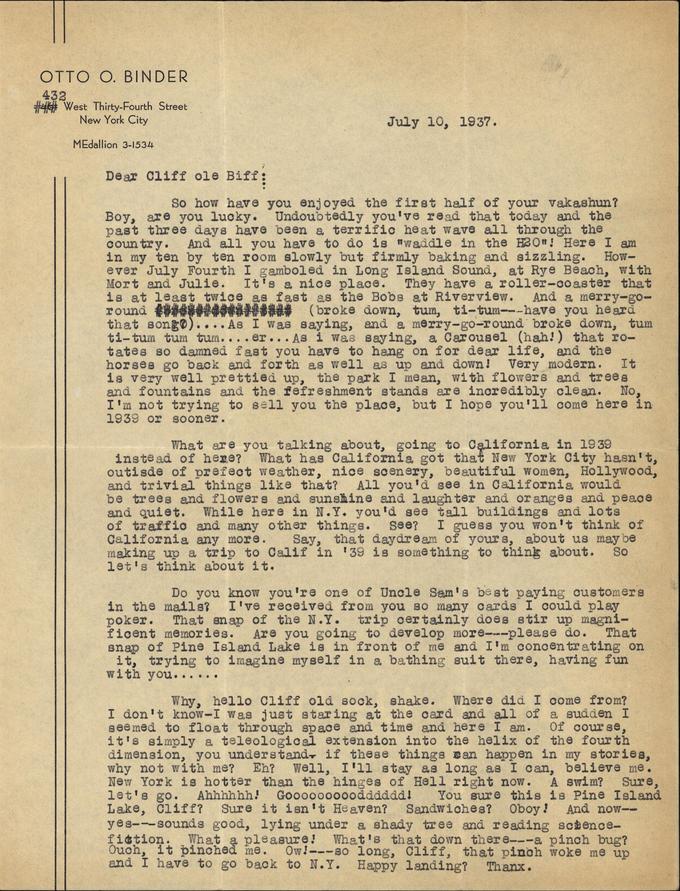 On July 25, 1937, Darrow wrote back, "I recognize Kline, Mort, Williamson, Hamilton & Julie on those snaps. Who are the others – that is – how can I identify them? Who, especially, is that villainous looking Plutonian in the lower left hand of the group. [Darrow is referring to Binder.] How did he (or it) get among all those humans?" It was in response to this query that Binder listed, in a letter to Darrow dated August 7, 1937, the folks in the photos.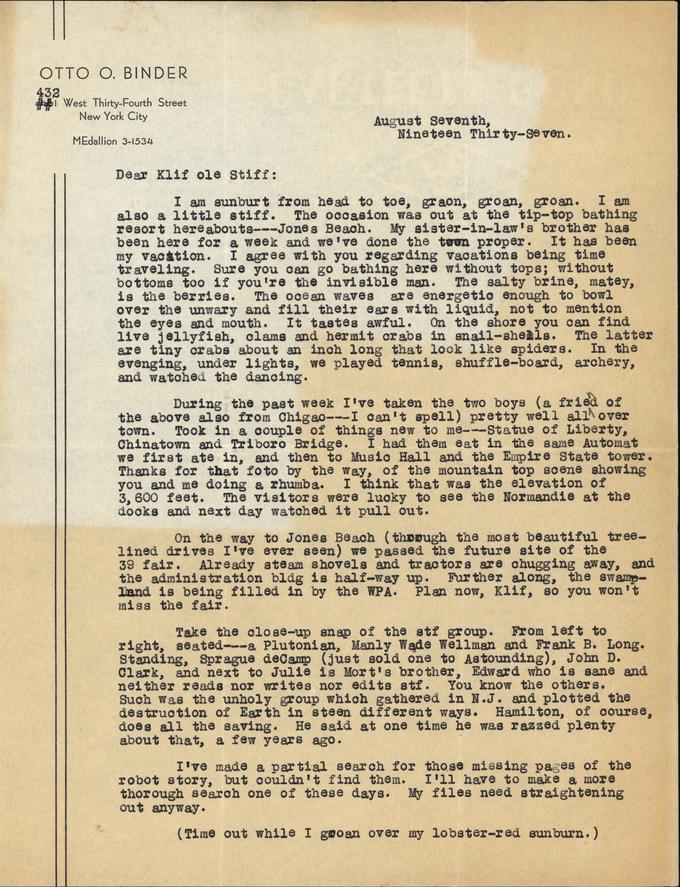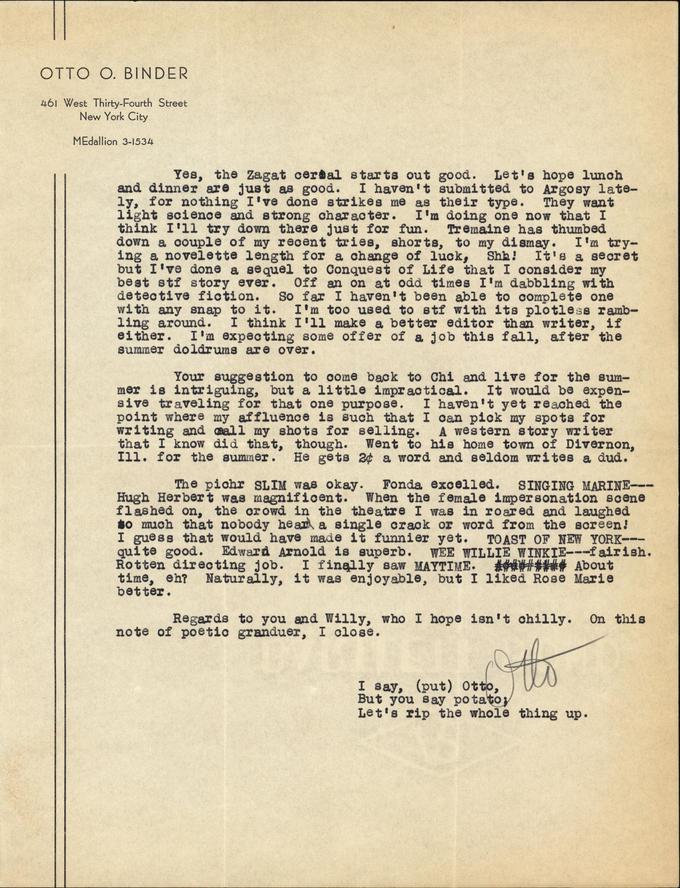 In the uncropped photo at top, folks are as follows.
Top row, left to right – Jack Williamson, L. Sprague de Camp, John D. Clark, Frank Belknap Long, Mort Weisinger, Edmond Hamilton and Otis Adelbert Kline.

Bottom row, left to right – Otto Binder, Manly Wade Wellman and Julius Schwartz.
At the time, all were involved in the SF pulp field as either authors, editors or agents, and many moved into the comic field as well within a few years.
In the cropped one, the folks are as follows:
Top row, left to right – L. Sprague de Camp, John D. Clark, Julius Schwartz, Edward Weisinger (not involved in SF), Jack Williamson, Edmond Hamilton and Otis Adelbert Kline.

Bottom row, left to right – Otto Binder, Manly Wade Wellman and Frank Belknap Long.
I'm assuming that the first photo was taken by Edward Weisinger (who's not in the picture), while the second was taken by Mort Weisinger (as Edward takes his place in the group).
However, the most interesting letter in the group is one dated June 6, 1937 from Binder to Darrow. In this letter, Binder talks about the party at Mort's that had happened the previous day, June 5, which was captured in these snapshots. Among the interesting information contained in these two pages is that the entire group was not photographed – "unfortunately Campbell and Quinn arrived when it was getting dark, so they were not photoed." Certainly, those interested in the early days of SF fandom wish that John Campbell – not yet editor of Astounding – and Seabury Quinn had arrived on time to be photographed!
At the start of the letter, Binder mentions the participants. Hugh Davidson is a pseudonym for Hamilton, as Gordon A. Giles is for Binder and Karl van Kampen is for Campbell. He omits mention of Wellman, but recognizes his error on page 2 and mentions him. Apparently Hamilton was the champion Monopoly player, triumphing over Williamson, Weisinger and Schwartz. The arguments between Campbell and Clark, on the one side, and Hamilton, Williamson and Binder, on the other, on the merits of exact science vs. pseudo-science in SF stories must have been a very interesting conversation! The SF authors also cooked up a plot for a SF story.
But read for yourself – here is Binder's June 6, 1937 letter covering what had to be one of the more interesting gatherings of SF fans at the time.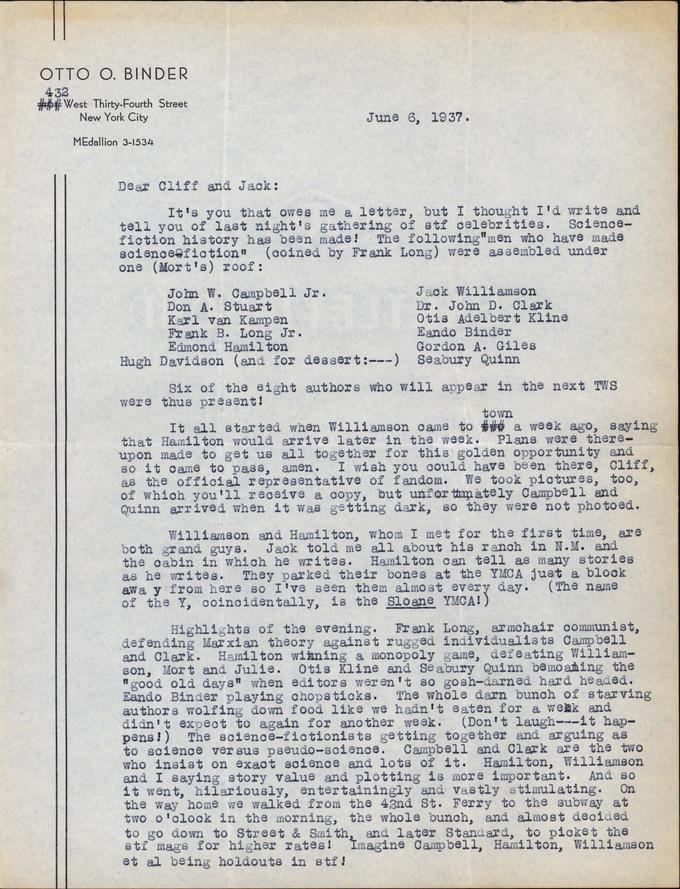 ---
Doug is a collector of pulps, as well as of pulp, science fiction and fantasy art. He co-founded and co-organizes the Windy City Pulp and Paper Convention. For many years his Tattered Pages Press published the pulp fanzine Pulp Vault, as well as other books on the pulps. He was one of the authors of The Adventure House Guide to Pulps, and has edited several pulp anthologies, including the Best of Adventure series. His book, Uncovered: The Hidden Art Of The Girlie Pulps, an in-depth study of the spicy pulps and their art, was named ForeWord Magazine's 2003 Popular Culture Book of the Year. In 2013, Bob Weinberg, Bob Garcia and he collaborated on The Collectors' Book of Virgil Finlay, a collection of Finlay's gorgeous art.