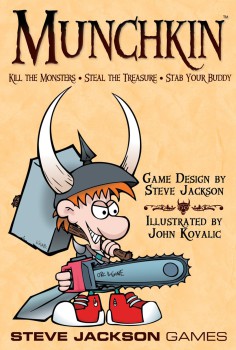 How was my day, you asked? Well, I'll tell you. My Halfling wizard and I spent the last hour fleeing from a Gazebo, leveling up by way of a Drooling Slime, and staying alive by means of the Kneepads Of Allure and a (basic but useful) Huge Rock.
What on earth could cause such havoc and silliness? Surely not Dungeons & Dragons?
Nope. It's D&D's hell-spawn little brat of a brother, the card game Munchkin. Now possibly I'm late to the table on this (I often am), but Munchkin has to be the geekiest, most asinine, not to mention juvenile, card game going. It's also a diverting homage to AD&D, and better yet, it makes both kids and grown-ups laugh.
Consider Munchkin's very own press: "…the mega-hit card game about dungeon adventure… with none of that stupid role-playing stuff."
Of course D&D remains a clear progenitor, and possibly Munchkin owes something to Magic: the Gathering, but it strikes me that Munchkin's most direct sire is a horse of a very different color, the irreverent and insouciant Killer Bunnies, which, if you've never played it, is a must for any gaming fan's bucket list.
That said, you'll need a lot of patience (or a sensai) to figure out how to play Killer Bunnies. But. Once you've "mastered" this obscenely complicated, impossible-to-predict killing spree of a game, enjoyment and strategy abound. I'd even be willing to state in a court of law, no less, that killing rabbits has never been so pleasurable, or so downright wicked neat. After all, who wouldn't want to do in a (purple) Congenial Bunny while wielding a piece of flying burnt toast?
---