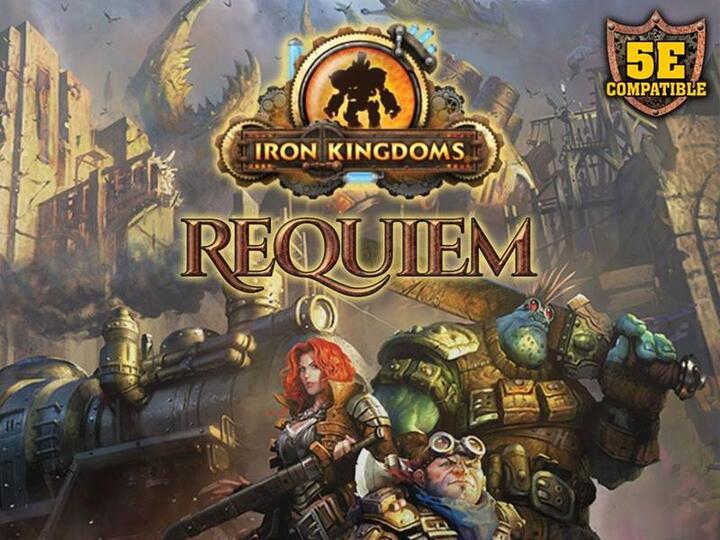 Privateer Press began in the gaming industry in 2001, creating the Iron Kingdoms campaign setting for the third edition of Dungeons & Dragons. Their first trilogy of adventures in this steampunk-themed fantasy setting received Ennies for "Best World" and "Best Art." That began a series of roleplaying supplements for their setting … and that setting evolved into the basis of the miniature wargame Warmachine, for which they are now best known. They eventually published a new edition of their game, built around their own gaming ruleset, rather than using Dungeons & Dragons as the mechanical basis of the game.
Their big announcements every year come out earlier in the summer than Gen Con, at their own Lock & Load convention. This year, the convention was of course remote, but they still had a lot of announcements … including that they were releasing a new edition of Iron Kingdoms, which would return to using Dungeons & Dragons as the rule system, although this time the game would be 5E compatible. The game, called Iron Kingdoms: Requiem, is being funded and initially released via Kickstarter, though the date for when that will start hasn't yet been announced.
Back in February, I talked about the massive setting changes that are taking place in the Iron Kingdoms setting this year. The Requiem setting is built in the aftermath of the Oblivion campaign. The nations have somewhat of a truce developed, having joined forces to battle the major threat of the Infernals that was introduced in that campaign. And Warmachine will also be continuing its evolution through 2021, with new models coming out and the storyline progressing… no doubt in ways that resonate with their Requiem releases.
---