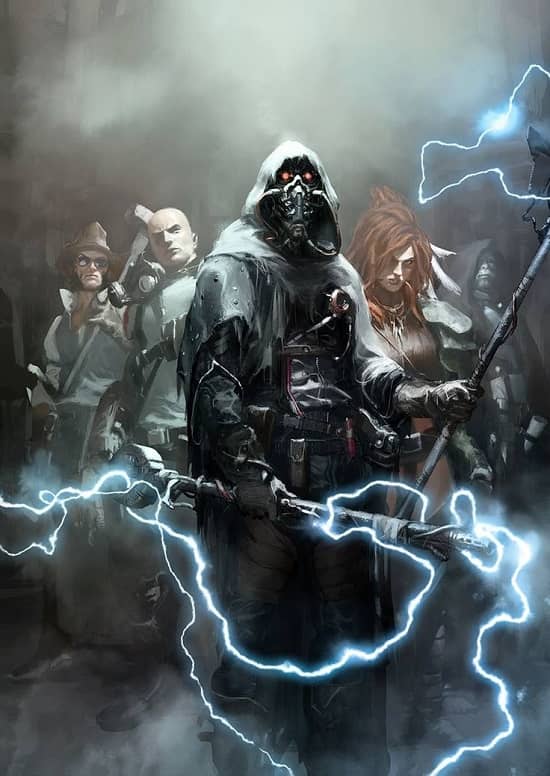 I've been meaning to write a review of Degenesis, the doorstop of a post-apocalyptic RPG from the "there has to be a story behind that name for your company" SIXMOREVODKA creative team for a while now. The main problem holding me back is that I haven't played it yet with people, just dinked around testing things. Luckily, John's editorial standards enjoy a certain amount of flexibility when it comes to old friends, and let ye who have not passed judgement on a game without playing it cast the first stone.
There's another reason I feel safe recommending this beast. The art alone is worth the purchase of the slipcased two-volume edition of rules Katharsis and worldbook Primal Punk (Retailing at USD "If you have to ask you can't afford it"). I've never seen a game with this level art throughout. Page after page of imagery usually reserved for a couple of splash pages in most game books.
What is this world? Refreshingly, it's set in Europe and North Africa five hundred years after a 2073 meteor storm changed the face of the world (called the "Eshaton" but I think they meant "Eschaton"). Maybe the year is a hat tip to Fallout, I dunno, but Earth went through hundreds of years of cloudy hell and now there are a few hints of a Renaissance for a radically altered world. To make matters worse, the meteors brought with them a spore-like form of life called "Primer" that is radically altering flora, fauna, and us. Humans who have been taken over by the Primer (the process is generally called Sepsis) eventually become Psychonauts or Abberants, two names for the same deadly syndrome. Some of the spores carrying the primer have been deactivated or neutralized for use in drugs called Burn, because if thousands of years of human history have proved anything, it's that people will try to get high by any means necessary. A final existential confrontation of homo sapiens vs homo degenesis is building.
---