Roleplaying in the World of The Expanse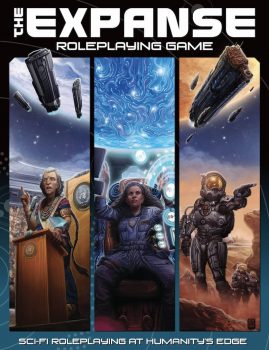 I have heard it said that a number of the central ideas in James S. A. Corey's The Expanse series were first developed for a tabletop RPG campaign (a series of adventures that usually tell a coherent story arc). I have been unable to validate this, but one find any number of chats positing the game they were playing. And the Foreword for The Expanse RPG does say "for a long run, it was a roleplaying game campaign." Which RPG, I have not heard definitively stated.
James S. A. Corey is the pen name of authors Ty Franck and Daniel Abraham. What we do know for certain is that they originally pitched The Expanse for an MMPORG (I'm assuming something akin to World of Warcraft). Failing that, they hoped to make a tabletop RPG, and then decided to write the novels, the first of which was Leviathan Wakes in 2011. The ninth and final novel of the series, Leviathan Falls, releases in November this year. The series has exploded in popularity, spawning eight stories and novellas (the last of which is will appear in March 2022), a TV series (entering the sixth and final season in December on Amazon Prime), a board game, comics, and — yes — its own tabletop RPG. Full circle in a way.