To Boldly Go – Star Trekking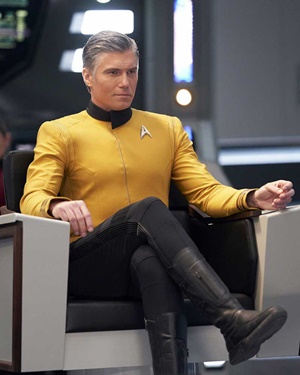 I like Star Trek well enough, but I've never really been a Trekkie. I watched reruns of The Original Series, growing up; Then the movies (that first one was terrible). I liked The Next Generation and it has remained a favorite, including the movies. John deLancie's Q is my favorite character across the entire franchise (even making up for Whoopi Goldberg). Deep Space Nine was okay, though I gave up on it before the end. I doubt I've seen half of Voyager – Kate Mulgrew (Mrs. Columbo) didn't work for me at all. And I haven't even seen the pilot of Enterprise. I like Scott Bakula, but it just didn't appeal. I haven't read any of the books, though my buddy David Marcum loves them (I read a ton of fantasy, but not much scifi).
The past month-plus, I've been on quite a Star Trek binge. I find myself watching episodes of Discovery, Picard, Lower Decks, ST Continues, and The Original Series. And overall, it's been great!
I got CBS All Access last summer to watch season one of Lower Decks. I liked it. I didn't bother with Picard, or Discovery. Just wasn't interested in live-action Star Trek. I preferred Galaxy Quest, and the TERRIFIC documentary (streaming on Prime), Never Surrender.
Rewatching the beginning of Twin Peaks on Paramount+ (CBS All Access was rebranded), I kept seeing the icons for Picard and Discovery. Late one night, I decided, 'Why not?' and I watched the first ten minutes of Picard, with as much interest as watching paint dry. It was dull: Battlestar Galactica-pacing dull (I gave up on season one of that show. I don't know how it could have moved any slower). Clicked over to Discovery.