Cinema of Swords Book Announcement!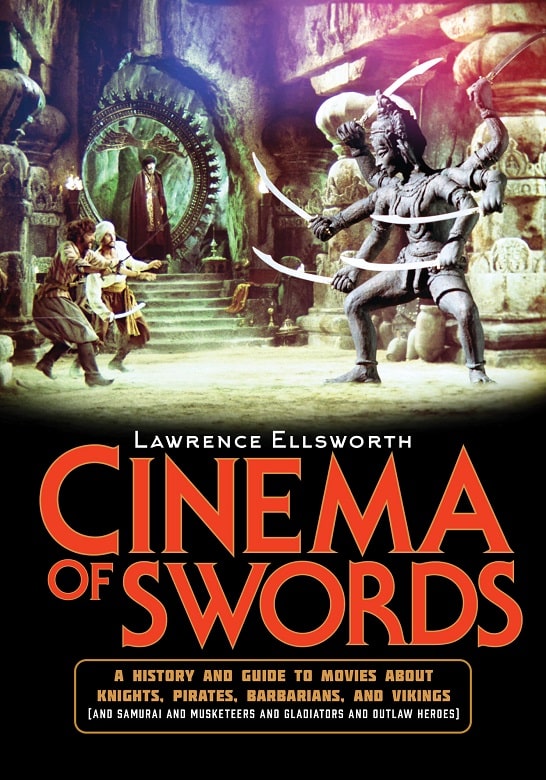 Cinema of Swords by Lawrence Ellsworth (Applause, June 15, 2023)
Hellooooo, Black Gate! If you're a regular reader, you've seen my circa-weekly Cinema of Swords articles about swordplay adventure films, but this week we're here to talk about the full Cinema of Swords volume coming your way this summer, 2023, from Applause Books. This happy event is thanks in large measure to your support and that of Black Gate's esteemed editor John O'Neill, so thank you! For an author, every new book is an anxious roll of the dice, and it's a thrill and a relief when your work actually makes it to publication.
So, what will you find in Cinema of Swords? The book's mouthful of a subtitle is "A Popular Guide to Movies about Knights, Pirates, Samurai, and Vikings (And Barbarians, Musketeers, Gladiators, and Outlaw Heroes) from the Silent Era through The Princess Bride." Fully illustrated, it compiles 400+ informative short reviews of live-action movies and TV shows on those subjects up through the '80s, where I stopped because that's all I could fit into one volume. I included only films and shows that an interested person can find on streaming services or disc without paying a fortune, so long out-of-print or otherwise unavailable titles didn't make the cut.
Reviews are listed alphabetically, but in addition to a straight title index, the book includes genre indexes so you can easily find films related to a specific interest. Conveniently, that also provides a way to give you a fuller taste of the book's contents. Let's see what we've got.