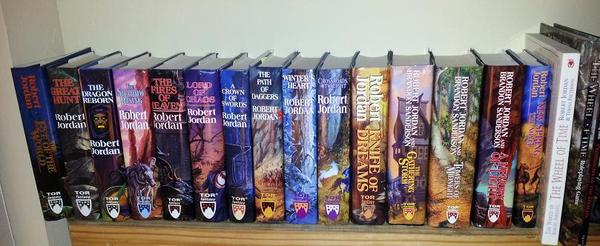 What's up with the Big Fat Fantasy books? Books that crest a thousand pages, books that fell forests, books that travel in savage packs of series. We wait three years, five years, ten years for the next volume. Meanwhile, the scope of what the author must remind readers about between installments expands  (a storytelling problem anatomized over here by Edward Carmien). We click over to the fan-run online encyclopedia to remind ourselves who the characters are, both because it's been so long since the last volume, and because the cast size is just that large.
Yet many of us love such books. In my case — and maybe yours, too — not just a few odd specimens of the type, but the type itself.
Thomas Parker laid out all the objections that can be leveled against the sprawl of our genre's most popular novels, not as an outsider but precisely as an insider shocked at what has become normal to him. (Embrace the tongue-in-cheek hyperbole and just go with it — the main point's still sincere.)
Someone please tell me. Why? Why do we do this to ourselves, we devotees of science fiction, horror, and (especially) fantasy? What did we do to deserve this? What crime did we commit in some previous existence that we now have to expiate with such bitter tears? Judge, I deserve to know! I demand answers!
If readers are asking themselves that question in that way, even in jest, you can bet the authors are, too, often with a greater level of frustration.
I have to marshal all my hubris to say this in public, but guys, I think I might have the answer. Seriously, not just an answer, but maybe the central answer.
---