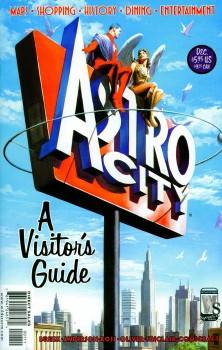 This is mostly an homage to Kurt Busiek and Astro City, and to one story in particular, but buckle in because we're going to cover a lot of rambling ground getting there in a sort of stream-of-consciousness way, taking in stuff by random association — sort of like the streets of Astro City itself…
Kurt Busiek's Astro City is one of my favorite superhero comics. It consistently delivers brilliant, funny, poignant, human stories in a colorful, wonderfully idiosyncratic comic-book world. It is Busiek's magnum opus — like Bendis's Powers, it towers above his other work for the big publishers using their branded characters. He brings the sensibilities he honed in the groundbreaking Marvel miniseries Marvels to his own universe and, beneath all the ZAP! BANG! POW!, weaves tales you will never forget.
What Marvels did that was so fresh in 1994 is it "lowered the camera" from the god-like supers knocking each other through buildings and focused in on the ordinary humans down here at street level, wide-eyed and slack-jawed, watching it happen. What impact did the existence of such powers have on their day-to-day lives?
In Astro City the camera is completely unfettered, ranging to the heights to reveal very human dramas among people who have the power to level cities and then zooming down to the alleys to follow a day in the life of a two-bit petty thief who is really a pretty ordinary, decent human being (with the exception that his skin is covered with a steel alloy). Through the course of following Carl Donewicz, aka Steeljack — in the classic story "The Tarnished Angel" — we come to sympathize with and like him, and even find ourselves rooting for him: just once, could one of his heists go off without a hitch and not be foiled by The Jack-in-the-Box? And in Astro City, where narratives don't always follow the comic-book formula, he does have his day. A fun, feel-good story, that one.
And then there are Astro City stories that rip your heart out. "The Nearness of You," I contend, is among the great American short stories of the late twentieth century, and I think it could be anthologized as such. (Wizard Magazine does rank it number 6 on their list of "100 Greatest Single Issue Comic Books Since You Were Born.") Publishers these days would have no problem formatting a four-color comic story into their prose collections. But should they? It is, after all, a comic book.
---