Wanderings on Writing by Jane Lindskold: Enter to Win a Signed Copy!
Wanderings on Writing by Jane Lindskold: Enter to Win a Signed Copy!
It's been a while since I've posted, but I am back! In the months since you last heard from me I started up a ebook and paperback formatting company, and we've formatted some very cool stuff. The coolest, I will post about here on the site (note, this is not all I will post about and I do not benefit commercially from these postings. This is all stuff I want to shout from the rooftops because of its coolness.)
First up is: Wanderings on Writing by Jane Lindskold, which is a compilation of essays about writing, plotting, storycrafting, characterization and much, much more. She is giving away a signed copy here –> a Rafflecopter giveaway.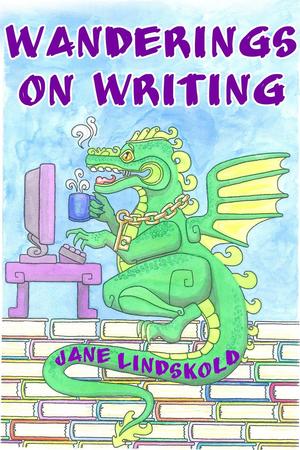 She and I had way too much fun making that cover from some original art provided by Tori Hanson. The book's description in Jane's own words:
Whether You Live to Write or Write to Live, This is the Book for You…

Wanderings on Writing is not just a "how to write book." It's also a window into how one writer has managed to fit writing in around the demands of "real" life.

Over fifty essays address topics as diverse as hooking a reader, presenting conflict, creating vivid characters, and research strategies. Throughout, Lindskold provides examples of the unique challenges faced by writers of science fiction and fantasy. Lindskold also examines less commonly addressed topics, such as making time to write and organizing a developing project.
Jane Lindskold is a New York Times bestselling, award-winning author. She has had published over twenty novels and sixty-some short stories, as well as numerous works of non-fiction.
If you haven't already, click the link at the top of this post and enter the giveaway for a signed copy!
---
Emily Mah's website is at emilymah.com.