Nero Wolfe's Brownstone: Play Ball – The Mets in 'Please Pass the Guilt'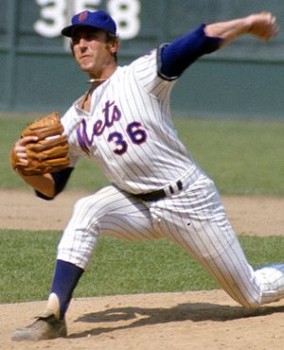 Archie Goodwin was a fan of America's national pastime, and the Wolfe Corpus is full of baseball references. One story is even shades of the 1919 Black Sox scandal! In 2020, you're going to see a lot of Nero Wolfe Wolfe here at Black Gate (assuming I don't get canned before then). Since today is Opening Day, here's a little Archie and baseball. Play ball!
Since the Nero Wolfe tales were all essentially set in the year that Rex Stout wrote them, we can answer the question I'm about to posit simply by looking at the publication date. Except, as I'll show, it couldn't have been 1973. So that approach is out.
Baseball references can be found throughout the Corpus. Archie was a Giants fan – at least he was until Horace Stoneham abandoned Coogan's Bluff for sunny San Francisco — while Saul preferred his games at Ebbets Field in Brooklyn. There's no indication of who Saul rooted for after Dem Bums relocated to Los Angeles, though it's reasonable to assume that he, like Archie, followed the Mets, who played at the Polo Grounds until Shea Stadium was ready.
"This Won't Kill You" took place at game seven of the World Series, with the Giants playing the Red Sox. All players were fictitious, however. In "Please Pass the Guilt" we get the real deal. Archie goes to visit a prospective client as the Mets are hosting the Pirates. Fortunately, she has the game on television, with Hall of Fame slugger Ralph Kiner calling the action.
Over the course of a couple innings, Archie mentions the actions of several Met players. From his comments, we're going to reconstruct the two missing pieces of the lineup that day. Which of course first requires us to identify the year. Which poses a few questions but is no problem for a seasoned baseball investigator.