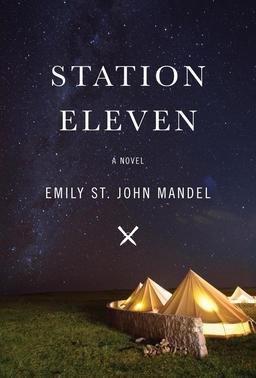 It's great when a book can be summed up by an equation as well as Emily St. John Mandel's Station Eleven.
Like King's The Stand, the world is wiped out by a flu virus that kills ninety-nine percent of the population; like McCarthy's The Road, survivors travel by horse or foot and encounter grim realities of a decimated world. What St. John Mandel brings to the table, however, is an unusual structure and omniscient POV that shouldn't work but somehow does.
Arthur Leander is a famous actor that dies in Toronto during a performance of King Lear. All of the characters the reader follows are in some way related to Arthur. Miranda, his first wife; Elizabeth and Tyler, his second wife and son; Kirsten, a young girl and King Lear actress; Jeevan, a former paparazzo-turned-EMT; and Clark, Arthur's best friend. Even Station Eleven — the graphic novel that Miranda creates — becomes a character of sorts. On the night Arthur dies, an extremely infectious and thorough strain of the swine flu — called the Georgia Flu since it originated in the country of Georgia — descends on Toronto. This flu has a short incubation period (four to five hours) and quick course from onset of illness to death (less than two days). It turns out that Arthur is the lucky one, because most of the world's population is dead inside a month.
The novel jumps between all these characters but spends the majority of its time on Kirsten, the child actor who joins a Traveling Symphony. The Symphony is a theater troupe and orchestra that travels from town to town to perform Shakespeare plays and classical music concerts. The tagline for the Symphony is "because survival is insufficient," which they borrowed from an episode of Star Trek.
---