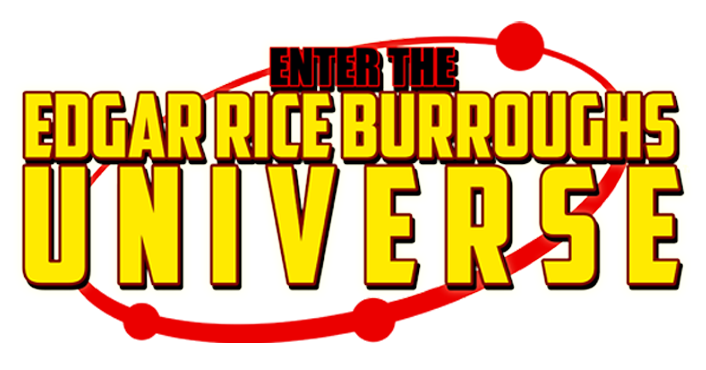 Today at Comic-Con International in San Diego, California, Edgar Rice Burroughs, Inc., announced a new series of authorized, canonical novels featuring the myriad characters and worlds from the works of Master of Adventure: the Edgar Rice Burroughs Universe. The new series, which will debut in 2020, represents a number of publishing "firsts" that, as Director of Publishing at ERB, Inc., I am particularly excited to share with Black Gate readers.
The very first first, and the most important, actually begins with an achievement of Mr. Burroughs, who created the first expansive, fully cohesive literary universe. Of course, there were other authors who crossed over their own characters between their novels and series — Jules Verne and H. Rider Haggard, for example — but no one before ERB had made such interconnections to the degree that he did. As early as the years of 1913 to 1916 — when writing novels such as The Mad King, The Eternal Lover, The Mucker, The Oakdale Affair, and, arguably, The Man-Eater, the latter featuring a brief cameo from a certain "Mrs. Clayton" at a Central African estate — Burroughs began weaving an intricate tapestry of internal references connecting seemingly disparate works. Soon thereafter came references to Barsoom and John Carter in the "alternate future" continuity of The Moon Maid (written in 1919).
Then, in 1928, while writing Tanar of Pellucidar, Burroughs introduced a character named Jason Gridley, who had invented a transmitter-receiver device that utilized the "Gridley Wave," thus permitting communication between the Earth's surface and the world of Pellucidar at its core. Gridley went on to appear or be mentioned in seven more novels, ultimately connecting four of Burroughs' major series and placing them within the same continuity: the Pellucidar, Tarzan, Barsoom (Mars), and Amtor (Venus) series. These crossovers, combined with the earlier connections Burroughs had made between his novels, eventually created an interconnected universe that encompassed more than sixty books.
---