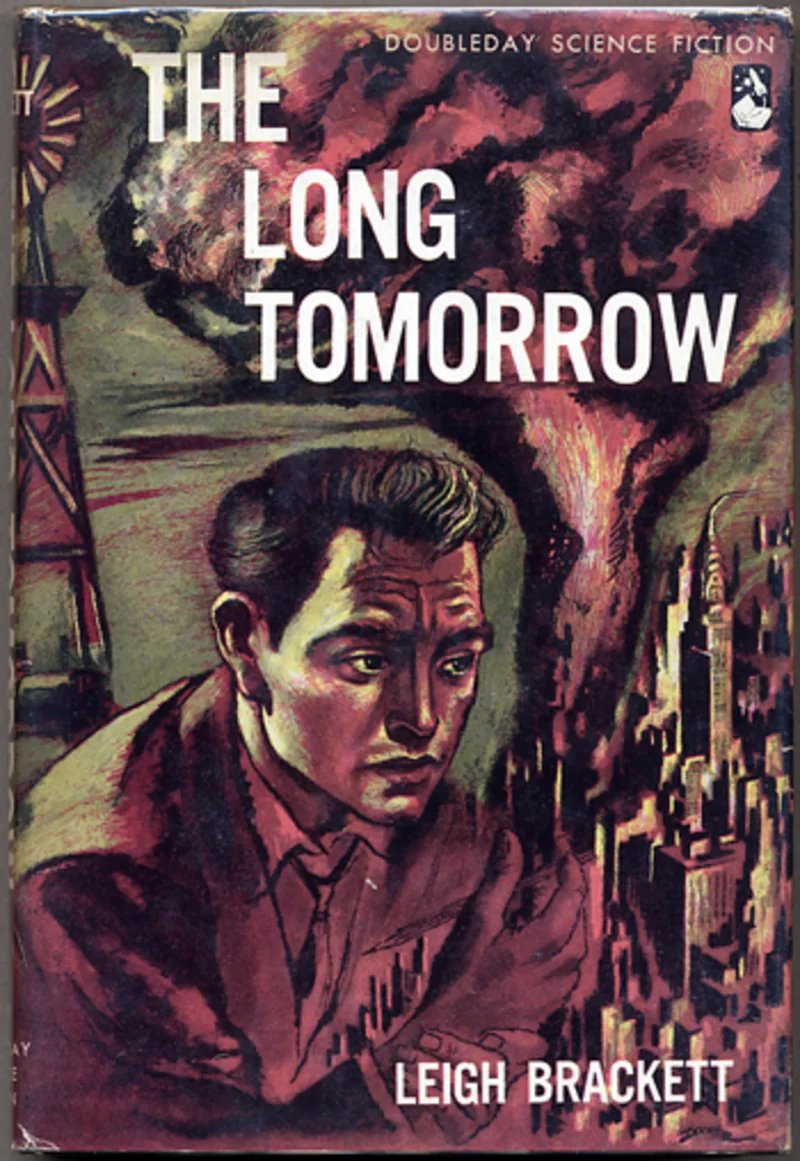 The Long Tomorrow by Leigh Brackett; First Edition: Doubleday, 1955.
Cover art Irv Docktor. (Click to enlarge)
The Long Tomorrow
by Leigh Brackett
Doubleday (222 pages, $2.95, hardcover, 1955)
Cover art Irv Docktor
This novel, first of all, is one of a handful of highly regarded 1950s novels that deal with the aftermath of nuclear war, a theme very much of concern in that post-World War II era. Others include, of course, Walter M. Miller Jr.'s A Canticle for Leibowitz; John Wyndham's Re-Birth aka The Chrysalids; Pat Frank's Alas, Babylon, and Nevil Shute's On the Beach, not to mention analogous novels about life after pandemic (George R. Stewart's Earth Abides) or alien invasion (John Wyndham's The Day of the Triffids and The Kraken Wakes/Out of the Deeps), and so on.

Second of all, this novel is by a writer otherwise not known for serious science fiction; Brackett wrote some detective novels and did some notable film work (see for details SFE), but she was known in the SF field for a large body of "planetary romances" in the Edgar Rice Burroughs mode, tales of sword-and-sorcery and romance on Mars or equivalent worlds. (Several volumes of these stories have been published by Haffner Press.) The Long Tomorrow, in contrast, is a sober post-apocalypse novel about rural survivors of nuclear war, a couple generations on, and how they deal with that legacy.
The novel was a Hugo finalist in 1956 (Heinlein's Double Star won). If it were published today, it would be classified as YA, young adult, since the protagonist, as the story begins, is 14 years old; even though the themes of the book are about the most adult conceivable — the fate of the human race in the face of unavoidable technology.
---