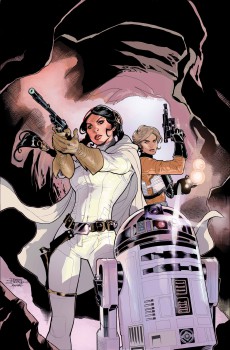 I've had a chance to e-chat with Marvel Comics editorial staff Xander Jarowey and Jake Thomas, as well as the indie comic creators from Mirror Comics. Now, I'm e-sitting down with Heather Antos, a newly-minted Assistant Editor at Marvel who also spent a year editing indie comics.
Heather got noticed by Marvel with her biggest indie credit, a comic anthology called Unlawful Good: An Anthology of Crime, which mixed together the innovations of creator-owned, anthology format, and Kickstarter crowd-funding. Crowd-funding takes a lot of work; check out its completed Kickstarter page and youtube promo video.
Kickstarter in prose as well as in comics is still relatively new as a business model, so New York Comic Con invited her to speak on a panel, which led to her hiring as assistant editor on Night of the Living Deadpool, Star Wars, Darth Vader, Deadpool and others.
---
So, some of your indie editor work still hasn't come out yet. Are you able to talk about any of those works? Can you talk about Unlawful Good and how that was different for the industry?
Sure! My time in the industry as an editor is actually quite short. It was a little over a year ago that I began freelance editing. In fact, the whole point of UNLAWFUL GOOD was a bit of an experiment with myself to see even if comic editing was something I was capable of (I was a recent college grad trying to find 'my place in the world').
---