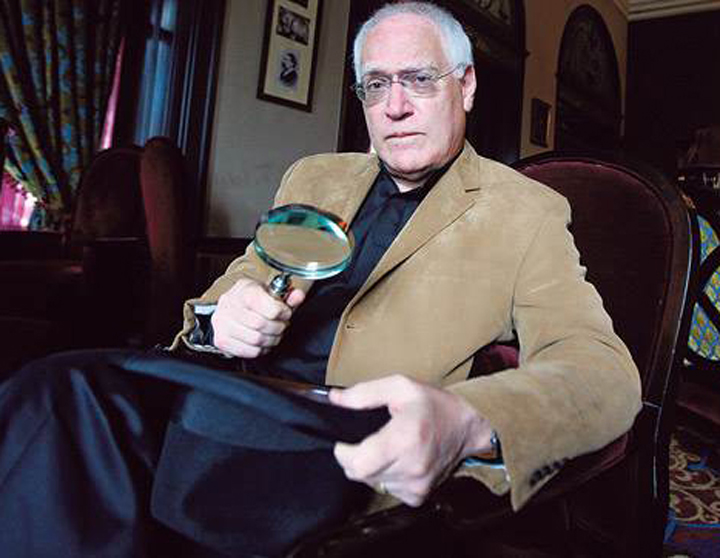 Leslie Klinger in Sherlock mode
An Interview with Leslie S. Klinger
Crowens: What drew you to the Victorian era? That seems to be the common thread for most of your books except for your annotated graphic novels.
Klinger: When I was young, I was a big science fiction reader. In my second year of law school, my girlfriend bought me a copy of the William S. Baring-Gould Annotated Sherlock Holmes. I was hooked. Like most people, I probably read one or two stories as a kid, paid little attention to them, and wasn't really interested in mysteries. Then I started reading this, and I enjoyed the footnotes — the idea that there was this scholarship. One of my responses to the Baring-Gould edition was a weird one: Some day when I'm old and retired, maybe I'll be the person who will update it. I became immersed and decided I was going to become a Sherlockian.
In 1976, there was a classified ad in the Baker Street Journal placed by somebody selling his collection of 300 books, a real collection, not like the junk I'd been buying. It was very expensive… like thirty-five hundred dollars. I talked it over with my wife. For that time that was a lot of money. She said, "You're the kind of person who should be a collector. Go for it."
Suddenly I had the core of a really good collection and became known in some small circles as a nut about Sherlock Holmes. I started giving talks about Sherlock Holmes, and I got invited to a dinner at the BSI back in 70s. It was one of those bucket list things where I never thought about it again. In 1995 a friend arranged for another invitation. I went to the dinner, and I haven't missed one since then.
---