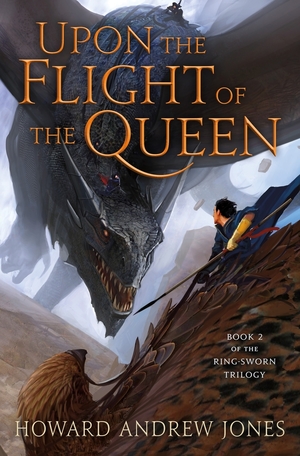 November, 19th is a date worth marking on your calendar. It's the day Upon the Flight of the Queen (St. Martin's Press), the second installment of Howard Andrew Jones' Ring-Sworn Trilogy debuts. I loved For the Killing of Kings, the first book. You can read my review of it here. It's a terrific swords & sorcery tale with a heavy dose of swashbuckling. If you haven't read it yet, it should be clear I heartily recommend it. It's felt like an age since my last post here at Black Gate. I'm still not sure when I'll return here with any sort of regularity, but for books like this, I'm willing to make an appearance.
I'm old, so the idea of doing a trailer for a book isn't something I've ever thought of. Apparently it's a thing and it can be pretty cool. Up above is the brand new one for Upon the Flight of the Queen and it was done by Jones' son, Darian Jones, an animator (as well as many other talents as will become clear later). As trailers are a whole new concept for me, I figured I'd ask Darian about himself and how he created the one for Flight.
---
Fletcher: So, Darian, can you please, tell us about yourself and your animation background?
Darian: Hello! Well, like my father, I have always been a performer and a storyteller. As a kid, he and I would be unable to watch a movie or listen to a song without taking it apart and analyzing it together. Animation seemed like the natural marriage of writing, art, and music, all things I loved to create. It started with simple comics during middle school at recess (and anytime the teacher wasn't looking). Then I tried my hand at stop motion using stuffed animals and action figures. Over time I just fell in love with the medium. There is a vast storytelling potential in animation. I believe it is the best way to make any story visually beautiful and expressive. Unlike film, animation grants its creator the most minute control over every detail. I determine exactly what colors I use scene-by-scene. I determine how a character gesticulates and how their face emotes when they speak. I can give them shark teeth or hair made of drifting clouds if I want. My commitment to the study of animation earned me straight As and a position as Lead Animator on our class' student thesis film. My professor said it was not only my skills with the medium but also my ability to negotiate calmly and effectively during times of extreme stress that won me the title. Now I have graduated college and I've been making little animations every chance I get to build my portfolio and, hopefully, win new positions at studios. Until then, I'm doing freelance work for writers and businesses.
---