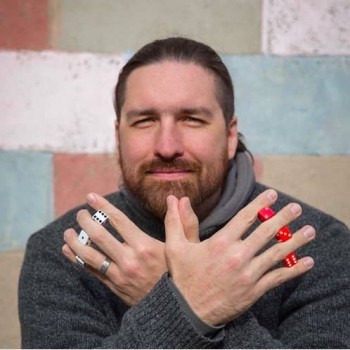 So, our friend Tim Rodriguez came by our home a few weeks back when we were hosting a game-night. We'd thrown the doors open to a bunch of game-lovers of our acquaintance for a night of food and play, and they flocked in with their favorite games (Wari, or Oware, being the game that got the most giggles) and some very fine (I was told) single malt whiskey. (Or maybe it was double-barreled? Something. I don't know; I was too busy making lasagna.)
Anyway, Tim brought some new Backstory Cards to playtest. Most of us (including me) who volunteered to playtest with him hadn't role-played in, well, ever. Or at least for years, the fog of memory obscuring most of the details.
. . . But since we were just testing the cards for story-potential and not playing an actual game, it seemed to work out well enough, and pretty soon we were all, like, a gaggle of giant fungal glow-in-the-dark monster crabs running around ravaged urban landscapes bringing down mobsters. You know. Like you do.
And sometime in all the chaos, Tim may have mentioned something about a new Kickstarter project.
---