Gary Con Report: A Virtual Tour of Black Blade Publishing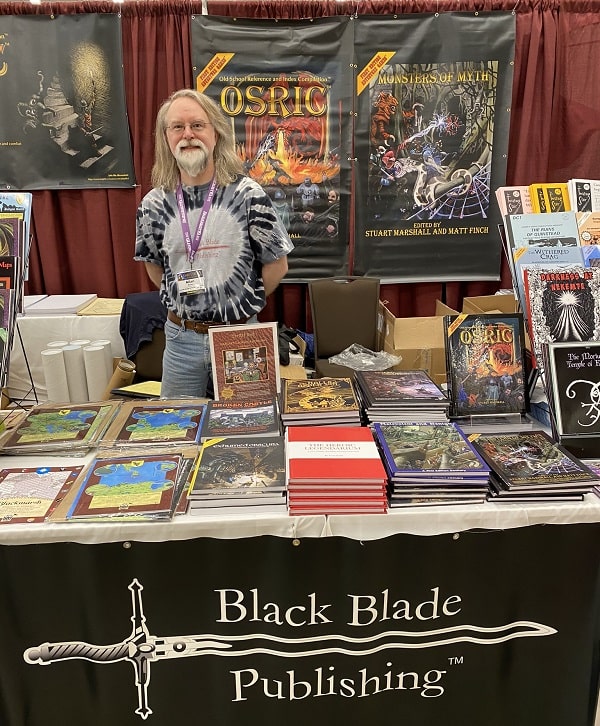 Allan T. Grohe Jr. in the Black Blade Publishing booth,
a mobile pilgrimage site for old school gamers
Gary Con! The tiny annual gathering that grew out the impromptu gaming event at Lake Geneva's American Legion Hall after Gary Gygax's funeral in March 2008 has now been going strong for fifteen years, and has grown into my favorite gaming convention. I attended Gary Con II in 2010 (my photo essay coverage of that ancient event is here), and was frankly astounded at how much it reminded me of the early days of Gen Con (which also took place in Lake Geneva, Wisconsin). Gary Con is a celebration of the life and work of Gary Gygax, co-creator of Dungeons and Dragons, and it has become the most important annual gathering for old-school gamers.
Gary Con XV is usually held across four days at the end of March, and this one took place March 23-26th, 2023. I made the one-hour drove across the state border into Wisconsin to attend on Saturday, March 25. As usual, I spent most of my time at the con wandering the fabulous Dealer's Room, taking in the amazing volume of new and upcoming gaming releases.
One of the highlights of Gary Con every year — perhaps the highlight — is Black Blade Publishing's magically overstocked booth, run by the friendly and knowledgeable Allan T. Grohe Jr. The booth contains half a dozen tables positively groaning under the weight of hundreds of products from dozens of exciting companies. Here's a virtual tour of the booth, with over a dozen photos, and some of my most exciting finds.