There No School Like Old School: Four Against Darkness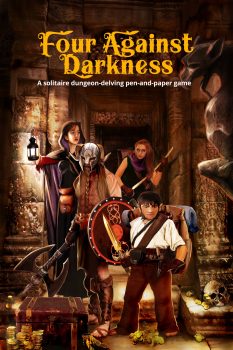 Not all nostalgia trips are created equal. Revisiting a favorite movie or an old neighborhood or some childhood hobby is a great way to reignite that sense of wonder most of us had when we were younger. It's a way of seeing subtle magic that either fades or is drummed out of us as we grow older.
But just about everyone who frequents this site already knows that there's a very dark underside to nostalgia, the sort of thing that breeds resentment and a perpetual backward glance. The sort of nostalgia that brings no joy or sense of wonder. The sort of nostalgia that becomes a destructive addiction.
I'm talking about the people who have been collecting comic books since they were children, but haven't read one in years, just buying and bagging them, stuffing them in boxes never to be seen until they die and their relatives go through their stuff. I'm talking about the Star Trek fans who haven't enjoyed an episode of the show for decades, but continue watching it regularly, just so they can post another Youtube video about how much the franchise sucks since its "glory days." I'm talking about music fans who haven't listened to a new band since they were in college, just replaying the same few hundred albums over and over again, convinced that nothing new is good. And I'm talking about "old school gamers" who never play the game any longer and only post long rants about how the game has grown too P.C., too woke, or too whatever the latest term for "politics that are different from mine."
I discovered the OSR (Old School Revival, if you didn't know) movement a few years ago. And while there certainly are the usual trolls that younger gamers would expect to find there, a lot of it is surprisingly forward-looking. Sure, a lot of OSR enthusiasts insist on playing first edition Dungeons & Dragons just as it was written forty-plus years ago. But plenty of others have taken that bedrock of a rule system and cleaned it up, stripping out what they don't like and adding in new innovations.