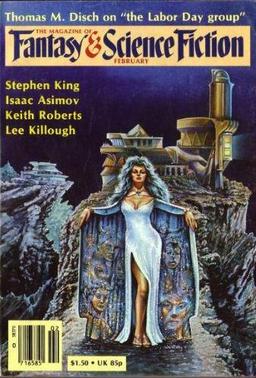 The Magazine of Fantasy & Science Fiction has put some delightful old content on their website for those who care to look, and earlier this month I came across their reprint of Thomas M. Disch's Book column from the February 1981 issue, in which he compares the three Best of the Year volumes published the previous year.
1979 was a marvelous year for short SF, with many stories destined to become classics — including George R.R. Martin's brilliant "Sandkings," and his Hugo Award-winning "The Way of Cross and Dragon," Barry B. Longyear's novella "Enemy Mine," Donald Kingsbury's "The Moon Goddess and the Son," Vonda N. McIntyre's "Fireflood," Orson Scott Card's "Unaccompanied Sonata," Richard Cowper's "Out There Where the Big Ships Go," and many others. Of course, Disch was as curmudgeonly as always.
The annuals are out, and here, if we can trust the amalgamated wisdom of our four editors, are the thirty best stories of 1979. It is in the nature of annual reports to pose the question, Was it a good year? and it pains me, as both a shareholder and a consumer, to answer that for science fiction, as for so many other sectors of the economy, 1979 was not a good year.

Against such a sweeping judgment it may be countered that sf is not a unitary phenomenon nor one easily comparable to a tomato harvest. Sf is a congeries of individual writers, each producing stories of distinct and varying merit. A year of stories is as arbitrary a measure as mileage in painting. Nevertheless, that is how the matter is arranged, not only by anthologists but by those who organize the two prize-giving systems, SFWA, which awards the Nebulas, and Fandom, which gathers once a year to hand out Hugos. The overlap between the contents of the annuals and the short-lists for the prizes is so great that one may fairly surmise that something like cause-and-effect is at work. As the nominating procedures are conducted in plain view, it seems certain that the editors will keep their eyes open for the likeliest contenders, since the annual that most successfully second-guesses the awards nominees has a clear advantage over its rivals.
Tomato harvest! At least he makes me laugh.
---