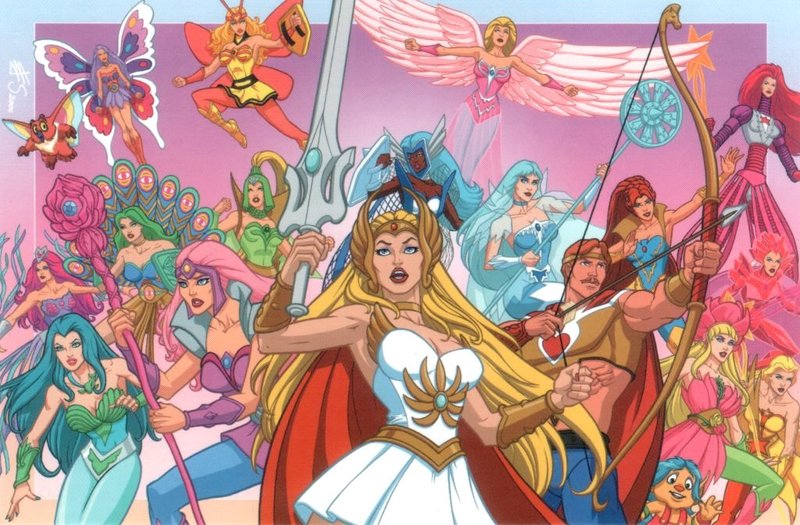 The 1985 cartoon She-Ra: Princess of Power was a spin-off of He Man and the Masters of the Universe aimed at young girls. It ran for 2 seasons, 93 episodes, and was canceled in 1986. Both series were produced by Filmation in conjunction with toymaker Mattel.

WHAT FOLLOWS IS AN OFFSCREEN CONVERSATION FROM A SECRET RECORDING OF SOME OF THE SUPPORTING CAST. 

This is a partial transcript of video obtained from the memory files of one of Hordak's captured Hover Robot spies. It has never been declassified or released on Etheria or Eternia, and we are publishing the audio transcript here at Black Gate at great personal risk, like the brave souls in the movie The Post. You're welcome, people of planet Earth!
FLUTTERINA: "Well, since we're dishing gossip, lemme tell you guys — totally off the record — lemme tell you what bothers me about this whole She-Ra charade. I saw her lift a whole lake once."
LOO-KEE: "Huh?"
FLUTTERINA: "A whole lake. With the bedrock beneath it — like a bowl, 'cuz you can't just lift a body of water — and toss it like a mile through the air. A lake. That puts her at what power level? Like a hundred He-Mans? So why doesn't she just stamp out The Horde?"
KOWL: [flaps his ear-wings and hovers excitedly] "Yeah! Every time she 'defeats' Hordak, she just lets him slip away. Sometimes she sees him off with a shake of her finger and a 'Don't you ever get up to this sort of mischief again'!"
FLUTTERINA: "It is kind of demented, isn't it? Like she just likes toying with him, dragging out a cruel game for her own perverse pleasure."
---