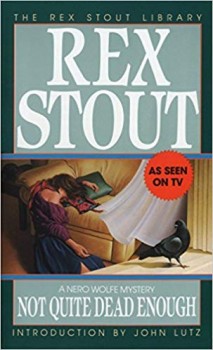 I have written a LOT about Sherlock Holmes and Solar Pons — some of it here at Black Gate. I even write newsletters about each one. And I had a pretty neat hardboiled/pulp column here. But my favorite mystery series, bar none, is Rex Stout's Nero Wolfe. I've read and re-read each story multiple times and never tire of them. I even adapted one of the old Sidney Greenstreet radio shows into a pastiche (more of those are coming).
The genesis of Hither Came Conan (which I'm sure you're following here at Black Gate) was actually an essay I wrote for my first (and so far only) Nero Wolfe Newsletter: 3 Good Things. Since I have far more writing projects (including a similar Robert E. Howard Newsletter) planned than, you know, actually written, issue two of The Brownstone of Nero Wolfe isn't in the immediate future. So, as time allows, I'm going to write up some new 3 Good Reasons entries and post them here under the Nero Wolfe's Brownstone moniker. I'd read and write REH and Wolfe just about all day, if I could. So, here we go…
Welcome to the first installment of 3 Reasons. With a goal of eventually tackling every tale of the Corpus, I'll give three reasons why the particular story at hand is the best Nero Wolfe of them all. Since I'm writing over seventy 'Best Story' essays, the point isn't actually to pick one – just to point out some of what is good in every adventure featuring Wolfe and Archie. And I'll toss in one reason it's not the best story. Now — These essays will contain SPOILERS. You have been warned!
The Story
It's World War II and Archie is 'Major Goodwin', working for military intelligence. The Army wants Nero Wolfe to help with a particularly tricky issue, and the corpulent detective won't talk to anyone. Archie is assigned back to the Brownstone to talk some sense into Wolfe. He finds the world's most ordered household routine turned upside down and is dragged into a case brought to his attention by Lily Rowan.
---