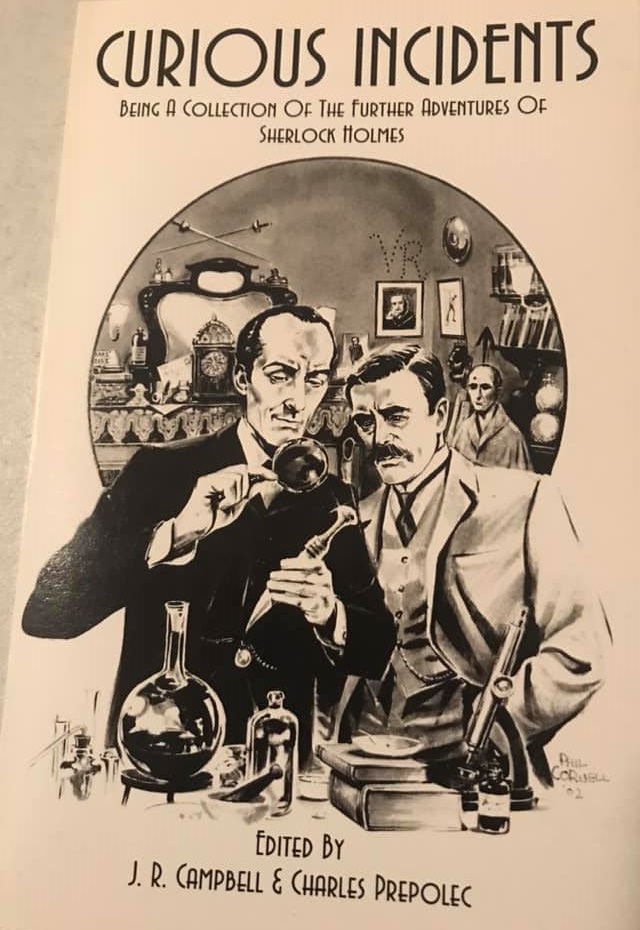 Twenty years ago, I had a short story published for the first time. Charles Prepolec and J.R. Campbell had not yet put out their four Gaslight collections of Holmes horror stories. Their initial book outing was a little collection called Curious Incidents. For some reason that escapes me now, I thought it would be clever to have a story in which Arthur Conan Doyle plays Dr. Watson. The part that made it really clever, was that he would be assisting William Gillette as Holmes. And they'd be solving one of Watson's untold cases! I've since gone on to write 'straight' Holmes pastiches – several of them published. As well as short stories featuring Solar Pons, and others with Nero Wolfe and Archie Goodwin. But getting my name in print began with a twist on Sherlock Holmes.
It was a blustery evening in the Fall of 1901 when I received an unexpected visitor to my hotel room. I had come down to London to meet with my editor at The Strand, Martin Greenhough Smith. Dining at the Westminster Palace Hotel, where the fare is always excellent, we had discussed some particulars relating to the new Sherlock Holmes story that I had, somewhat reluctantly, agreed to provide him with. Returning to my home in Southsea upon the morn, I was still debating upon the merit of bringing Holmes back to life, albeit for only one more adventure.
I arose at the knock upon my door and opened it. To my considerable surprise, I found myself gazing upon the face of Sherlock Holmes. Well, not quite Sherlock Holmes, but the man who had become most identified with him on two continents. The talented actor William Gillette had come to pay his compliments to me.
I shook his hand and relieved him of his wet coat and cap. I bade him make himself comfortable in the over-stuffed armchair by the lamp and poured him a warming glass of good brandy. William Gillette was a famous actor in America. He had starred in several plays and was quite popular. In 1899 he had rewritten an offering of my own, entitled it 'Sherlock Holmes – A Drama in Four Acts,' and achieved new levels of success. It had been the toast of New York City and every show had played to a full house. He had recently brought it across the ocean and presented it at our own esteemed Lyceum Theater. It came as no surprise that it was an even bigger smash here in London. Though I considered these detective stories as less important than my other writings, Sherlock Holmes was immensely popular and, I had to admit, financially profitable.
Ensconced in my own chair, Gillette regaled me with his tales of Holmes in America. He certainly made an excellent portrait of the sleuth. Of course, Sidney Paget had drawn a more handsome Holmes than I described, but that had probably been for the best, as it attracted more female readers to the stories. Gillette was tall and lean, with a very distinctive profile. His nose wasn't quite the hawkish affair that I had pictured, but I could easily see how playgoers had come to identify his visage with that of Sherlock Holmes.
---