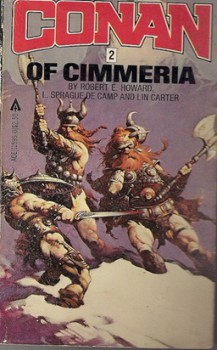 Today's post is actually about Robert E. Howard's Conan, but (in a stunning surprise) it's got some Sherlock Holmes at the foundation. No, Conan never met the great detective…
Hopefully you've been checking in on our summer series, Discovering Robert E. Howard. There are plenty more posts coming, so stay tuned. While I very much like Howard and his works, I came late to his stories and I'm certainly no expert.
There is one area I've found…curious, which relates to the "official" status that seems to be accorded to the authorized pastiches written since Howard's death. It's quite different in the Holmes world.
There are sixty official Sherlock Holmes tales. Period. Fifty-six short stories and four novels (more novellas, really), all penned by Sir Arthur Conan Doyle and published during his lifetime. There are two Holmes short-shorts, "How Watson Learned the Trick" and "The Field Bazaar" and there is no disputing that they were written by Doyle. But they are not included (by anyone, I believe) in the official count.
You, oh enlightened one, know that the Doyle Estate tried to include a sixty-first story, found among ACD's papers by a researcher, but it turned out to have been written by Arthur Whitaker.
To quote myself, from my first Solar Pons post here at Black Gate:
Parodies are stories that poke fun at Holmes. But the more serious Holmes tales, those that attempt to portray Sir Arthur Conan Doyle's detective to varying levels, are called pastiches. Just about the earliest 'serious' attempt at a Holmes copy was by Vincent Starrett, who wrote "The Adventure of the Unique Hamlet" in 1920.
Doyle's son Adrian, sitting at his father's very desk, produced The Exploits of Sherlock Holmes (half of the stories were co-written with John Dickson Carr, who would quit mid-project).
---