What I'm Reading: November 2023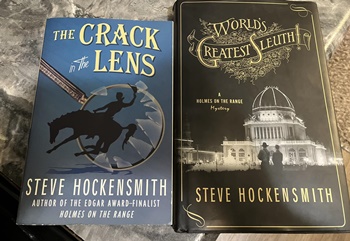 I've been juggling reading with catching up on a bunch of TV/streaming stuff. But I've worked in a couple of good reads.
I thought about a post on series' I'm behind on in my reading. I probably will do one – sadly, it would be VERY long. But I did just finish two novels in one such, and I started a third.
HOLMES ON THE RANGE
I wrote this essay back in 2019 on Steve Hockensmith's Sherlock Holmes-influenced cowboy brothers. Dear Mr. Holmes is a collection of the seven short stories that kicked off the series. And just last month, the seventh novel – Hunters of the Dead– came out.
I had read the first three novels and the short stories. But book four – The Crack in the Lens – came out in 2009. I was WAAAAY behind. So last week I read Crack… – and then immediately tore through The World's Greatest Sleuth!. Now I'm on book six, The Double-A Western Detective Agency.
Check out my prior essay for a more in-depth look at the series. But the premise is that brothers Gustav (Old Red) and Otto (Big Red) Amlingmeyer, are trail-riding cowpunchers in the Old West. This is during the time of Sherlock Holmes' Adventures and Memoirs. Gustav can't read. So, while they're sitting around the campfire at night, Otto reads aloud the Holmes stories from a dog-eared magazine.
Gustav is totally enthralled with Holmes' methods and sets out to do some deducifyin' on the trail. And these two fall into malice and mayhem like a spinster in one of Agatha Christie's villages. Gustav is the brains, and Otto is the brawn.