An Open Letter to Amy Farrah-Fowler, Ph. D.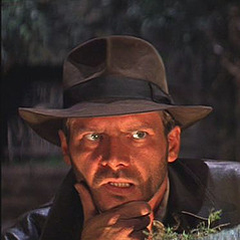 Dear Dr. Farrah-Fowler,
Regarding your erroneous conclusion that Indiana Jones played no role in the outcome of Raiders of the Lost Ark, I can only express disappointment that your usual disciplined reason failed you in this instance.
Let us explore your thesis and remove Indiana Jones entirely from the equation. The year is 1936 and the Nazis are exploring a sand-covered ruin of a largish ancient Egyptian city (Tannis, a major religious center, was comparable to Thebes) in search of the Ark of the Covenant. Without the headpiece to the staff of Ra, brute manpower would not have been equal to the task before them in the short time available to the Nazis. The only similar ancient city destroyed by catastrophe and quickly preserved in such a manner is that of Pompeii. As you are no doubt aware, Pompeii has been excavated and explored off and on since 1748, and intensively between 1924-1961, yet we still have not progressed much outside the main streets or into second floors and basements. The Nazis, in theory, would have until the outbreak of war in September 1939 at the very latest to carry out their dig, a span of 3 years. Unless you posit the British Army would have been willing to let a detachment of Afrika Korps poke around Egypt within spitting distance of the Nile in wartime. If you believe that, I have a piece of the True Cross made out of Georgia Sweetgum you may be interested in buying.
I think we can dispense with the idea that the Nazis would have found the Ark without the headpiece to the Staff of Ra.