Come Visit Port Iris
Come Visit Port Iris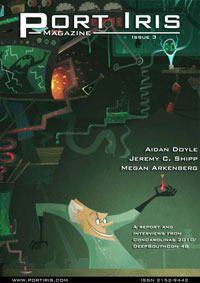 OK, there's gotta be a more creative headline when your name is Port Iris magazine, but that's the best I could come up with.
Editor Casey Seda dropped us a note this week, saying:
I have not come across Black Gate until recently, but when I did, I had to subscribe to your RSS feed immediately. As an editor of my own speculative fiction magazine, I like to see the opinions of readers for other magazines. Our magazine has released its 3rd quarterly issue and is available for free in web and PDF formats.
I was intrigued enough to drop by their website. Port Iris is an extremely attractive publication, and in the Submission Guidelines Casey says he's "specifically looking for science fiction and fantasy, but I am open to almost anything. Cross-genre is acceptable too." Sounds like a recipe for an interesting magazine.
Issue 3 contains three short stories, "The Father of the Riverborn," by Megan Arkenberg, "Salary Ninja," by Aidan Doyle, and "Watching," by Jeremy C. Shipp, as well as interviews with A.J. Hartley, Davey Beauchamp, and DJ Torch.
You can find the latest issue here. Check it out and let us know what you think.