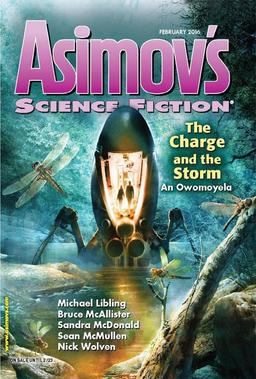 In her editorial in the latest issue of Asimov's Science Fiction, Sheila Williams explains why SF often gets a bad rap for predicting the future.
As I write this, I am awash in the flood of published reminisces about Back to the Future Part II's journey into the future…. Most of these ruminations seem to be rather disappointed with the real 2015… They claim that these special effects from a late eighties flight of fantasy were somehow promised to all of us, but the future didn't deliver.

I've seen these sort of complaints levied at science fiction on numerous occasions. Robots don't have positronic brains, dilithium crystals are not a thing, and settlements on the Moon and Mars remain a distant dream. Yet anyone who's at all conversant with SF soon realizes that most science fiction is descriptive rather than predictive…

For all his forward thinking, Isaac was as much a product of his time as any writer. Although he eventually became an outspoken advocate for women's rights, his early fiction described a society that wasn't very different from his own… While I'd love to have an FTL drive that would take me to Terminus and Trantor, I don't want the future to look like the world of 1951, and I don't expect it to look like 2016. I don't fault the young man who created that society unaware of the actual changes in mores and social structure that lay ahead anymore than I'd fault today's writers for not getting their future facts straight.

I'm glad that our prospects are still unknown. I wouldn't mind a jetpack, but I'm happy that so far we aren't standing on Nevil Shute's beach waiting for death from nuclear fallout or from Racoona Sheldon's screwfly solution.
The first interview I ever did, as a young internet blogger for SF Site in 1997, was a phone interview with the late writer and editor Algis Budrys. He argued the exact same thing. "Why should SF predict anything?… SF is for speculating, not predicting," he told me. I debated the point at the time, but over the years I've come to see that he — and Sheila — are right.
Read Sheila's complete editorial here.
---