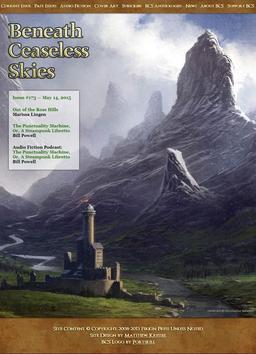 Beneath Ceaseless Skies 173 looks like another solid issue, with two short stories and a podcast.
"Out of the Rose Hills" by Marissa Lingen
The shadow woman's face was also made of shadows, so it was not visible as a face. But the shadows moved in a way that suggested an indulgent smile.

"The Punctuality Machine, Or, A Steampunk Libretto" by Bill Powell
WHITLOCK: (aside) An identical response! Perhaps free will is a mere illusion. On the other hand, she's an automaton.
Marissa Lingen's short fiction has appeared in Analog, Asimov's, Apex, Lightspeed, and many other places. Her previous stories for BCS include "A House of Gold and Steel" (issue 162) and "On the Weaponization of Flora and Fauna" (issue #129). Bill Powell is a graduate of the Odyssey Workshop who blogs at billpowell.org.
Issue 173 was published on May 14. Read it online completely free here.
Beneath Ceaseless Skies is edited by Scott H. Andrews and published twice a month by Firkin Press. Issues are available completely free online; you can also get a free e-mail or RSS subscription.
---