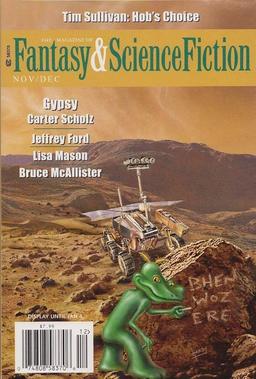 The November/December issue of F&SF is packed with lots of great stories, including tales from Robert Reed, Jeffrey Ford, Carter Scholz, Bruce McAllister, Naomi Kritzer and others.
Robert Turner at Tangent Online enjoyed the issue, particularly the stories by Ford, Scholz, and Kritzer:
In "The Winter Wraith" Jeffrey Ford puts together a tale of dread based only on an old Christmas tree and some uncanny events tied to being home alone in winter. The language is evocative and effectively paints the picture of the house and the narrative voice. The inconclusive nature of the story fits well with the tone and provides the reader with an enjoyable frisson as the tale ends…

"Gypsy" by Carter Scholz is a novella length work that is well worth the time needed to digest. Starting from the standard refugees-from-a-dying-Earth narrative, Scholz creates a believable world in which desperate geniuses make a last ditch attempt to settle a new planet. The differing POV's and the way in which they create a patchwork story is well done and provides a satisfying read. The story is at its best as the various characters deal with entropy over the course of their trip.

In "Cleanout" by Naomi Kritzer three sisters are faced with the task of cleaning out their mother's home after she has a stroke. As they do, they come across hints that their immigrant parents came from further away than they had suspected. The story mixes the stresses and concerns of contemporary life with elements of magical realism and the conclusion is pitch perfect.
Here's the complete Table of Contents.
---