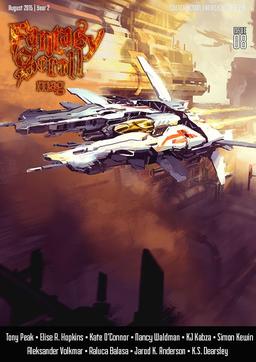 The eighth issue of the online-only Fantasy Scroll Magazine, cover dated August 2015, is now available.
There's lots of news from Fantasy Scroll this month — starting with their big Year One anthology, Dragons, Droids and Doom, which contains every story from their first year, including tales by Ken Liu, Piers Anthony, Rachel Pollack, Hank Quense, William Meikle, Cat Rambo, and Mike Resnick. It is edited by Iulian Ionescu and Frederick Doot, and will be available in trade paperback and digital format in November.
In his editorial, Iulian Ionescu provides his usual sneak peek of the contents of issue #8. Here's a snippet:
Here we come to the rescue with another packed issue, filled with monsters, aliens, knights, spaceships, and dragons. We start strong with Tony Peak's "The Light Comes," a story of struggle in a world where a strange disease takes lives regardless of age. This is Tony's second appearance in FSM and we're really glad to see him back.

"Minor Disasters" by Elise R. Hopkins reminds us of the fragile world we live in and how everything can turn to dust in the blink of an eye. Kate O'Connor's "White Horse" is next, following the life of a soldier and his encounters with a magical white steed.

Next is "ReMemories" by Nancy Waldman, a moving story about a future where humankind can record, store, and manipulate the mind's memories. Alexander Volkmar's story, "Gunman on the Wall" reminds us of the constant need to believe that things are better on the other side.
Here's the complete table of contents.
---