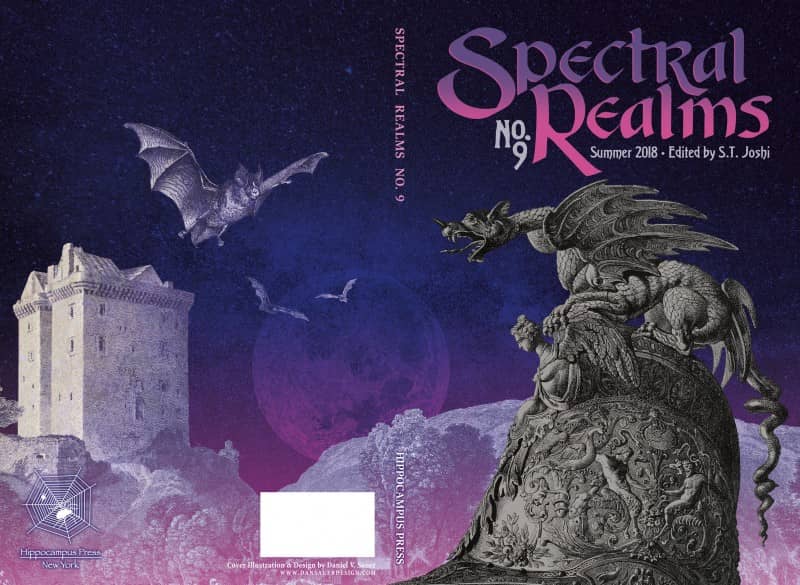 I'm not much a poetry buff, I admit. But I want to be.
Coincidentally, I'm also a huge fan of Hippocampus Press, whom I first discovered when I stumbled on their amazing booth at the World Fantasy Convention in 2015. I've been sampling more and more of their wares over the years. BG blogger James McGlothlin famously labeled them "A very excellent publisher, and at the forefront all things Lovecraftian and weird – new and old," but in the last few years they've been expanding well beyond their original Lovecraft-esoterica focus with popular titles such as Simon Strantzas' collection Burnt Black Suns, John Langan's acclaimed The Wide, Carnivorous Sky, and John Langan's upcoming Sefira and Other Betrayals.
One way to make modern poetry more accessible to casual readers like me is to package it in an attractive and easy-to-read package, and that's precisely what Hippocampus has done with their bi-annual weird poetry journal Spectral Realms. It's been published since Summer 2014, and the 9th issue (above) includes poems by John Shirley, Ashley Dioses, Fred Chappell, Darrell Schweitzer, Wade German, K. A. Opperman, Jessica Amanda Salmonson, and many others. As usual, it also includes a few classic weird poems and non-fiction articles as well.
Issues are perfect bound, 130+ pages, and retail for $10 — and frequently have terrific art, like the wraparound piece above by Daniel V. Sauer. You can order copies (with free shipping) right from their website, as well as through online booksellers like Amazon.
---