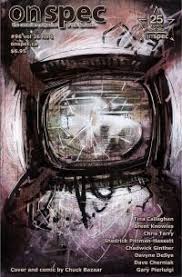 As promised, readers, I've got a few more interviews coming down the pipe this year with writers and editors in the SFF community. Recently I had the opportunity to chat via email with Diane Walton, managing editor of On Spec Magazine, after meeting her in person at Can*Con. Had a blast digging into her past and the history of the magazine. Check it out below!
---
Brandon: This is going to sound like a slightly generic question to start, but it genuinely interests me. What first got you into science fiction and fantasy? Was there a particular work or author that hooked your interest, and when was that?
Diane: It sort of began in Grade 7. The kids in my class all seemed to be voracious readers — the girls had their Nancy Drew and Trixie Belden and Dana Girls mysteries, while the boys had Hardy Boys and Tom Swift. At a certain point, we just naturally began to trade books, to get a fresh supply. So I kind of started reading SF with Tom Swift by default.
Interestingly enough, at that time, there was no stigma of the "these are 'boy books' and those are 'girl books'" kind. We were equal opportunity readers.
The following year when I was 13, my family moved to a new community, the charming city of Belleville, ON.  My dad and I both took out library cards at the branch down the street from our house, and made a once a week jaunt to get the 8 books we were each allowed.
I can't recall precisely when it happened, but one day I was bored with the "girl and her horse" stories, and so I curiously picked up a book with a rocket ship on the cover. The author was Andre Norton, and the book was called The Stars Are Ours!
---