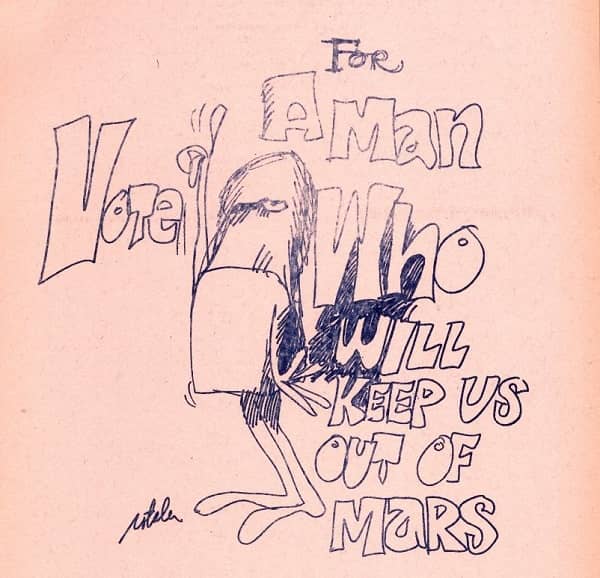 The Locus Awards have been presented since 1971. In that first year, there was an award for Best Fan Artist, and another for Best Fan Cartoonist. William Rotsler won the latter, and that was the only year of that award. The Best Fan Artist award continued through 1975 (since then there has only been a Locus Award for Best Artist.) Alicia Austin won the first Best Fan Artist Locus Award, and William Rotsler won in 1972 and 1973. Tim Kirk won the final two Locus Awards for Best Fan Artist.
William Rotsler was born in 1926 and died in 1997. He began doing illustrations for fan magazines by the mid '40s, and indeed he won a Retro Hugo in 1996 for Best Fan Artist for that work from 50 years before. (As with many Retro Hugos, I suspect he won that award more for his later notoriety than for any knowledge voters in 1996 had of that earlier work.) Rotsler was a highly regarded fan artist by the late 1960s at least, when he began consistently appearing on Hugo ballots. He won the Hugo for Best Fan Artist in 1975, 1979, 1996, and 1997.
Like many fans who first made their mark in fanzines, Rotsler later became a well-regarded professional. What's interesting about Rotsler is that in fandom he was best known as an artist – but he made his mark as a professional as a writer. His best known work is probably Patron of the Arts, which was a Nebula, Hugo, and Locus nominee in its first appearance as a novelette in 1972. He expanded it to a novel in 1974. He also collaborated with Gregory Benford on the novel Shiva Descending (1980). His other fiction is less well remembered – much of it was work for hire, in such universes as Star Trek, Marvel, Planet of the Apes, and Tom Swift.
---