Forry Ackerman's First SF Art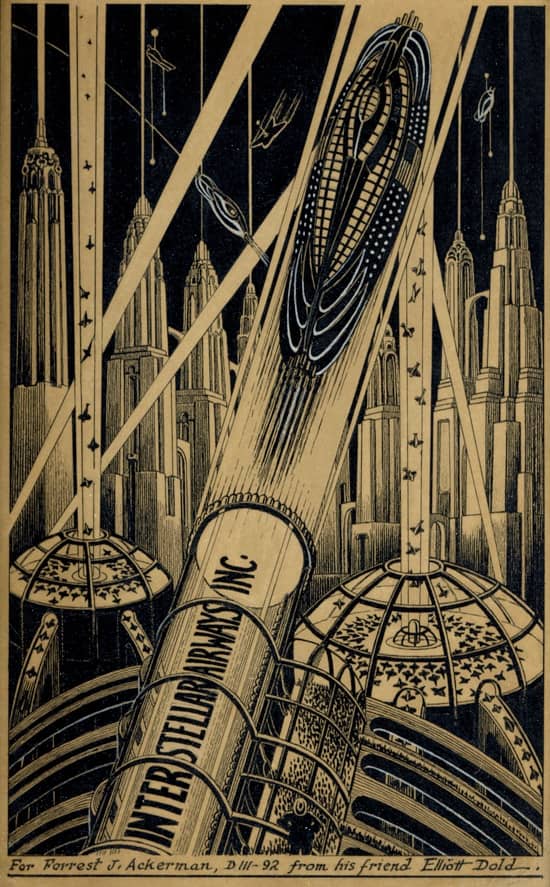 The Midnight Mail Takes Off for Mars, by Elliott Dold.
From Miracle Science and Fantasy Stories, April-May 1931
I've written from time to time about original science fiction art delivered to us by our Friendly Neighborhood Mailman.
Among the various original black and white interior illustrations we own from the science fiction pulps, this is our earliest, appearing 90 years ago. By artist Elliott Dold, it ran as a frontispiece in the April-May 1931 issue of Miracle Science and Fantasy Stories. It was not for any particular story; instead it was a one page feature showing "An Incident of the Future: The Midnight Mail Takes Off for Mars."
Dold was the art editor of this short-lived title; the April-May 1931 issue was the first of only two. He appears to have been the editor as well, though some sources state that Dold's brother, Douglas, was the editor. Both Elliott and Douglas, as well as the publisher of Miracle, Harold Hersey, had worked together previously over at the Clayton pulp chain. Elliott and Douglas each had a story appear in Miracle; Douglas' in the first issue, Elliott's in the second, dated June-July 1931. In an interview in the October-November 1934 issue of Fantasy Magazine, Elliott discusses how Miracle was his brainchild – he'd talked Hersey into publishing it, and obtained all the stories, as well as doing all the art. He blamed its cessation on an illness which made it impossible for him to work on it. Perhaps coincidentally, during this same period his brother Douglas passed away, on May 6, 1931.