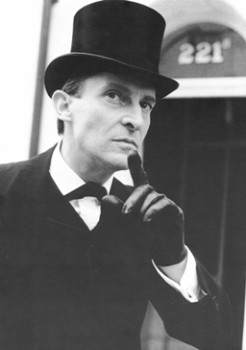 For several decades, Basil Rathbone, star of fourteen Holmes films in the thirties and forties, was generally the most recognizable and popular screen Holmes. And of course today, Benedict Cumberbatch and Robert Downey Jr are internationally recognized for their turns as the master detective.
But in between Rathbone and Cumberbatch, one actor (with apologies to Peter Cushing) stood above all other portrayers of Sherlock Holmes. And that was Jeremy Brett.
This is number one of a three part series looking at the first part (The Adventures) of the Granada television series, which ran in full from 1984 to 1994. To many fans, Brett is simply THE Holmes. So…
In 1980, Michael Cox was a producer at Granada, one of the Independent Television (ITV) contractors in England. At the same time in America, Charlton Heston was starring as Sherlock Holmes in the stage play, The Crucifer of Blood. His Watson was a handsome Englishman named Jeremy Brett.
The following year, Cox proposed an authentic Sherlock Holmes series; one that was as true to the original tales as could commercially be done in the television format. His idea was received positively, but Cox was told that an essential element of the deal would be a pre-sale agreement with American television. This would secure "up-front" money, which would be invested into the series. WGBH in Boston, host of the popular PBS series, Mystery!, was an ideal candidate for the partnership.
---