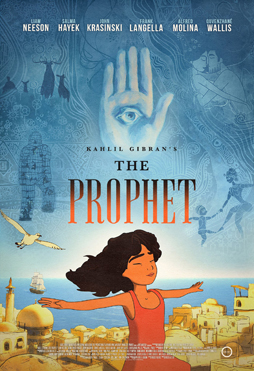 Sunday, August 2, was a day I'd been waiting for and slightly dreading. I was planning to see five films, one after the other. All of them at the large Hall Theatre, except for the second, a presentation of short animated films at the De Sève. It would kick off at 12:30 with Kahlil Gibran's The Prophet, a cartoon adaptation of the classic book. The Outer Limits of Animation 2015 showcase would follow. Then Experimenter, a biopic about controversial psychologist Stanley Milgram, he of the notorious fake electroshock experiments. Then Ninja the Monster — as its title suggests, a film about a confrontation between a ninja and a monster. Finally would come Strayer's Chronicle, a novel adaptation about a group of alienated teenagers with strange powers fighting to protect a world that hates and fears them. I was fairly sure it was possible to make a good movie out of that sort of material. But I had a lot of film to watch before I'd get to see it.
The Prophet is a co-production from Canada, France, and Lebanon, produced by Selma Hayek. It follows a poet named Mustafa (voiced by Liam Neeson) held captive by Turks on an island far from his homeland. He's given the news he can go home — but do the Turks have a hidden plan? A determined little girl, Almitra (Quvenzhané Wallis), wants to protect Mustafa, while her mother Kamila (Hayek) is more worried about Almitra. Mustafa makes his way from his home to the docks, stopped along the way by peasants who praise him and ask him to speak of subjects that matter to them.
That's the general outline of events, but the movie's easy to view as an anthology: when Mustafa gives a speech, the realistic art of the story fades to be replaced by a highly distinct vision of some kind. Each of these sequences has a different director. The frame sequence, with Mustafa and Almitra and Kamila, is directed by Roger Allers. The directors of the inset sequences are Paul Brizzi, Gaëtan Brizzi, Joan C. Gratz, Mohammed Saeed Harib, Tomm Moore, Nina Paley, Bill Plympton, Joann Sfar, and Michal Socha. Each of the segments they create are at the very least effective and fun to watch, while the best are stunning.
---