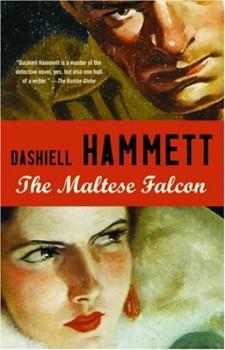 Last week marked the 86th anniversary of Dashiell Hammett's The Maltese Falcon in book form. It had been serialized the year before in the pages of Black Mask Magazine. Hammett gets my vote for best writer of the hard-boiled genre. And I am quite the fan of Red Harvest (the uncredited source for Bruce Willis' under-appreciated gangster film, Last Man Standing) and of the Continental Op stories (well worth reading). But I happen to think that The Maltese Falcon is the best private eye novel yet to be written. Period.
Sam Spade (who looked like a blonde Satan) also appeared in three short stories, which I wrote about in a prior post here at Black Gate. Sadly, they aren't particularly memorable and definitely aren't in the upper half of Hammett's works. In 2009, Joe Gores wrote Spade and Archer, an authorized prequel. I love Gores' Daniel Kearney Associates series of books, but I'm still saving this Sam Spade gem for a future read.
A great deal has been written about Hammett's novel and about Spade himself, including William Maynard's post here. It's certainly worthy of a post all by itself. But I'm going to focus on the media Falcon: specifically the third of three filmed versions. It's far and away the best known and I'm guessing that many people who haven't actually read the book have seen the movie.
---