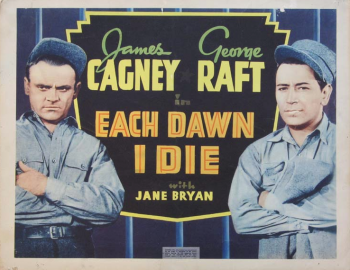 "You're the second guy I've met within hours who seems to think a gat in the hand means a world by the tail." – Phillip Marlowe in Raymond Chandler's The Big Sleep
(Gat — Prohibition Era term for a gun. Shortened version of Gatling Gun)
So, TCM was afloat in hardboiled/noir/crime flicks, with Edward G. Robinson was the May Star of the Month. June was at least just as good, with Ann Sheridan in the spotlight. Alas – July's Star is Tony Curtis. Good actor, who made some fun movies. But there's less of our favored genres with him in the spotlight. Fortunately, TCM is still an excellent network, and we have some things to look forward to:
MONDAY, JULY 6
9:00 AM – Jailbreak
Also called Murder in the Big House, this 1936 crime film is about a reporter who goes inside a prison to solve a murder. And the lead is Barton MacLane, who is probably my favorite Warners supporting actor in the gangster/crime heyday. He popped up in good movie after good movie, such as The Maltese Falcon, High Sierra, Treasure of the Sierra Madre, Manpower, and All Through the Night. He was the second-lead in the Torchy Blaine movies (his character was actually the main one in Frederick Nebel's short stories). He did get the lead in some B-movies, but they're not around much. So tune in and see him out front for a change.
2:15 PM – Each Dawn I Die
Quite a performance by James Cagney as a crusading reporter who undergoes quite a personality change when he's framed and imprisoned. This was George Raft's first movie after signing with Warners. The first thing he did was bump Bogart from the part of Hood Stacey.
---