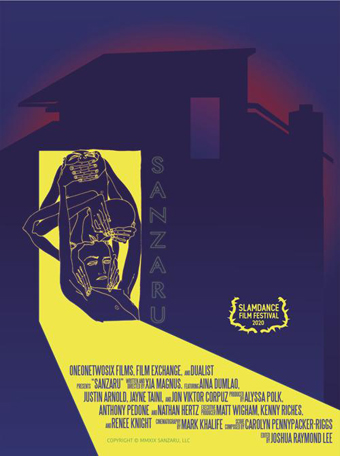 The Japanese image of the three wise monkeys is as early as the 16th century: one monkey with hands over eyes, the next with hands over ears, the third with hands over mouth. See no evil, hear no evil, speak no evil; thus the monkeys' names, Mizaru, Kikazaru, and Iwazaru, 'not-seeing,' 'not-hearing,' and 'not-speaking.' There's a pun in Japanase on zaru, not, and saru, monkey, so collectively the trio's simply 'three monkeys,' or sanzaru.
Thus the title of Sanzaru, an American horror movie that played at Fantasia. It's one of several ghost stories from this year's festival: one of several films about a house, and an old person dying, and the family that returns to them. In this case, though, the point-of-view character is the patient's nurse. Dena Regan (Jayne Taini) is an old woman dying in her Texas estate, and a Filipino nurse named Evelyn (Aina Dumlao) has moved in to care for her. Along with Evelyn comes her young nephew Amos (Jon Viktor Corpuz); also present on the estate is Dena's son Clem (Justin Arnold), and as well Dena's daughter Susan (Tomorrow Shea) visits for a minor part in the story. Things go missing; Clem sinks further and further into depression; Dena's mind deteriorates; old secrets come to life. And there are presences in the house from beyond the grave.
We know from early on that there are ghosts; we get their perspective in an early scene. We know that one of them is named Mr. Sanzaru, but the relevance of the name doesn't become clear until much later in the movie. And it is then we understand or fully feel the themes of the story: the importance of knowing and confronting wrong things, not just to stop wrong things from happening but to be able to move on from them.
The number of ghost stories at Fantasia 2020 gave me the chance to see how similar material takes different shapes in different stories; to see how the genre works. Every story has a specific tone, partly a mechanical function of pacing and lighting and editing rhythms, and partly from the character of the specific haunted location. But different stories have different themes, different things on their mind. Sanzaru's interest is in secrets and how they come out; in how dark things in the past, left to fester, can limit the future.
---