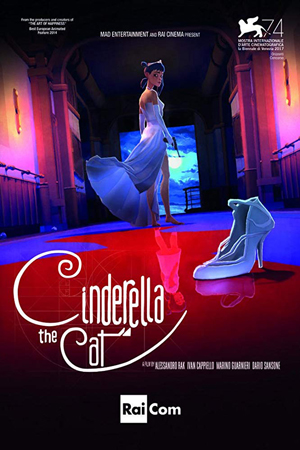 I had three films on my schedule for Monday, July 30. First, an animated science-fictional retelling of Cinderella for adults, called Cinderella the Cat. Then I'd hurry from the J.A. De Sève Theatre to the Centre Cinéma Impérial, where Fantasia was presenting a documentary from the early 80s about bandes dessinées: Pourquoi l'étrange Monsieur Zolock s'intéressait-il tant à la bande dessinée? Then I'd run back to the Hall Theatre for a presentation of Sion Sono's Tokyo Vampire Hotel, a kinetic horror-action film with campy apocalyptic overtones. Even for Fantasia, it was going to be a strange day.
Cinderella the Cat (originally Gatta Cenerentola) had less to do with the tale that inspired it than you might think. In the near future, a genius inventor's created a ship that can create holograms and which will be the Science and Memory Hub for the city of Naples, where it is docked — for that is the home of its inventor. This man, Vittorio Basile (voice of Mariano Rigillo), has a young daughter named Mia (who is essentially mute throughout the film), and is about to marry a glamorous woman named Angelica (Maria Pia Calzone). Unfortunately, Angelica is under the thumb of a mob boss named Salvatore (Massimiliano Gallo). Vittorio ends up dead at Salvatore's hands, and Angelica takes control of the ship. Years later, the ship's been turned into a night-club, Vittorio's former bodyguard Primo Genito (Alessandro Gassman) has become an undercover cop out for revenge, and Mia's about to reach the age where she'll take control of her inheritance — if Angelica, and Mia's six stepsisters, don't put an end to her first.
The plot's intriguing, but what has to be said at once is that this is a beautiful film that does stunning things with light. More than that, there are ghostly holograms, fireworks, bits of ash (or cinders), always stuff moving on screen, giving texture to the images and scenes. The effects for all these things work, creating a sense of motion and shadow. Watercolours and 3D CG mix astonishingly well. Characters are animated, with expansive body language, especially Salvatore, gesturing wildly and always seeming to play to an audience whether he's on or off stage. I will say that I didn't get much of a sense of the ship as a place, because it holds too many environments within it — bedrooms, a stage, a broken and flooded hold, any number of corridors, on and on. It's almost a weird lush techno-gothic castle, but sprawls a little too much. Still, the world of the film's stylish, a noirish, shadowed place with obvious science-fictional touches but also a retro sense. It works in vaguely the same way the Dini-Timm Batman Animated Series did — using bits of past fashions and prop designs to create a setting with a reality all its own.
---