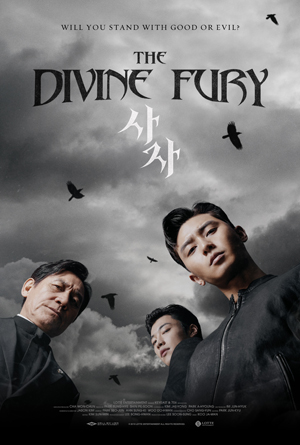 All good things must come to an end, they say, and for me Fantasia 2019 ended at the Hall Theatre with the Korean action-horror movie The Divine Fury (사자, romanised as Saja, literally Emissary). Directed by Kim Joo-hwan, it follows Yong-hu (Park Seo-jun), a champion MMA fighter who lost his father under mysterious circumstances at a young age. In the present, when mysterious wounds appear on his hands and he is attacked by a demonic force, a blind shaman guides him to exorcist Father Ahn (Ahn Sung-ki), who tells him the wounds are stigmata and give him great power in fighting demons. The two team up, reluctantly on the part of Yong-hu, who holds a grudge against Christianity after the death of his father. But there are dark forces at work in Seoul, and Yong-hu must use all his skills to defeat the forces of hell on earth.
There are a lot of good ideas in this movie. And a lot of the time it looks very nice, with lovely shots of Seoul by night, and glossy, richly-coloured cinematography. Unfortunately the action and horror elements are not blended well, and character beats don't come off as powerfully as they should.
Let's start with the action bits. After a long introductory sequence showing Yong-hu as a boy and the death of his father at the hands of demons, we get our first fight. Note that the intro's failed to build any real narrative momentum, and even the appearance of the demon is only brief. The actual fight we see with the adult Yong-hu looks like it'll be more exciting; but then it too ends quickly. There is a plot reason for this, but the scene sets a pattern for the rest of the film. Yong-hu finds himself battling demons, and his power ends each exorcism before any real sense of dread can emerge. The set-pieces are thus brief and don't develop into anything significant, even when plot's being advanced.
The climax is easily the most kinetic and visually interesting sequence of the movie, a well-shot brawl that does have its own internal structure: Yong-hu defeats some flunkies to make his way to the boss, and then both hero and villain level up as the fight goes on. The problem is that the combatants don't have anything to say to each other, literally and figuratively. The spectacular visuals feel empty, as Yong-hu doesn't seem to be dealing with any particular character issue in the fight. The staging's fine, but there's no particular sense that there's an internal logic that dictates when Yong-hu's done enough to end the conflict. Basically, there comes a point when he hits the bad guy enough that the bad guy goes down and stays down.
---