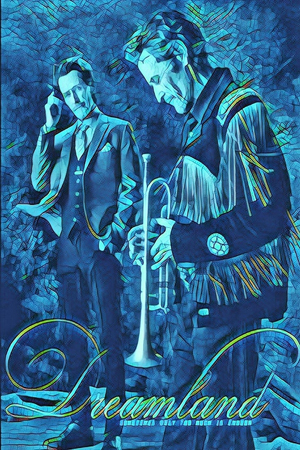 I have fond memories of Bruce McDonald's rock n'roll road movies from the 1990s, specifically Roadkill, Highway 61 Revisited, and Hard Core Logo. It had been a while since I'd seen one of his films (one drifts away from artists, sometimes, like friends we once knew), but I began July 15 at Fantasia in the De Sève Theatre getting reacquainted with McDonald's art by way of his new movie Dreamland, at Fantasia presented as Bruce McDonald's Dreamland.
Written by Tony Burgess and Patrick Whistler, the movie takes place in a European city in which politically powerful aristocrats live in a walled palace while gangsters and assassins roam the streets below. Johnny (Stephen McHattie) is a hitman working for a small-time crime boss, Hercules (Henry Rollins, excellent and electric) who wants to send a message to a trumpet-playing jazz Maestro (also played by McHattie). If his drug addiction doesn't kill him, the Maestro will be performing for the Countess (Juliette Lewis) who rules the city; her brother, a vampire, is getting married to an unwilling and very underage girl, kidnapped and sold to him by Hercules. Trafficking in young girls is a line Johnny always refused to cross. What will he do now?
I've seen reviews criticising the movie for being over-dreamy and not especially linear. I do not understand this. In many ways it struck me as a straightforward story with a few surreal elements — the setting and the vampire, in particular, as well as the dual-casting of McHattie. The plot's solid, even workmanlike, as characters make moral choices and move the story along to the wedding that marks the big finish of the film. There's absolutely nothing wrong with any of this, but I wouldn't call the violent noirish crime plot especially bizarre.
I would say it's done well. The story moves nicely, and mixes a range of genres with no obvious sense of strain. Oddly, for a film in which crime and horror elements dominate, it's remarkably light if never exactly cheerful. It is witty, and unpredictable, and entertaining. McHattie alone makes the film worthwhile, playing both the guarded, sharp, and somehow beaten-down Johnny, and the bitter, ruthless Maestro. Scenes in which the two characters meet come off perfectly.
---