Goth Chick News: Constantine 2 is Finally (Almost) a Reality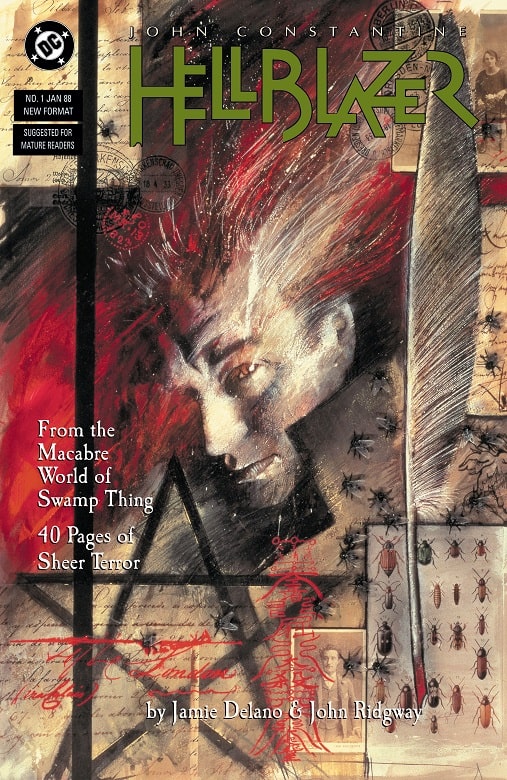 Cover of Hellblazer #1 (January, 1988.). Art by Dave McKean
Everyone has a couple. You know, the movie or movies that serve as your mental comfort food. In the same way that you might long for Mac and Cheese or a PB&J when the world gets on your nerves, I bet you have movies you rewatch for the same reason. When asked, some of my day-job coworkers mentioned When Harry Met Sally, the original Star Wars, and Anchorman as films they put on to lift their spirits.
As you could probably guess, my go-to movies are slightly left of center. My top three in no particular order are Jaws (1975), the first Blade (1998) movie and Constantine (2005). I haven't looked too closely as to why these stories provide me such a soothing mental distraction, or even what they have in common. But thankfully they are all streaming because I damaged more than one DVD of each taking them with me when I used to travel long stretches for work. I mean, nothing says "sweet home Chicago" like Bruce the shark.
Whereas both Jaws and Blade had more than one sequel, such as they were, Constantine did not. Based on a DC Comics character who first appeared in his own comic Hellblazer in 1988, John Constantine would go on to star in 300 issues, earning him third place in Empire's 50 Greatest Comic Characters of All Time. So, it was not for lack of source material that we haven't seen Keanu Reeves reprising his rendition of the cynical, chain-smoking occult detective, until now.