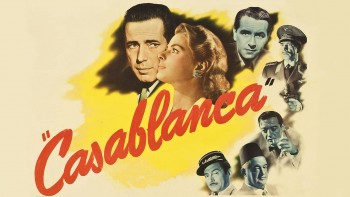 Now, I think that Casablanca is the greatest movie ever. I've seen it far more times than any other movie, and I rarely pass up a chance to sit down and watch it again when TCM runs it. I had never seen a Humphrey Bogart movie until my early twenties. Then, I went to the Ohio Theater, an amazing place on the National  Register of Historic Places, to see Casablanca on a HUGE screen. There was even organ music during the intermission. I was hooked for life and I now own almost every movie Bogart appeared in. I'm a virtual Cliff Claven of Casablanca trivia, and I've even written two short stories centered around the movie.
Frederick Stephani was a screenwriter who had penned the first Flash Gordon movie that Buster Crabbe starred in. He also did the screenplay for Johnny Holiday, a hardboiled movie starring William Bendix. After the success of Casablanca, Warners had him write a treatment for a sequel, working title Brazzaville – after the Free French garrison that Renault suggests he and Rick visit as they walk away from the airport at the close of the film.
BRAZZAVILLE – CASABLANCA SEQUEL
Rick and Renault drive to Rick's Cafe to find some unhappy Germans waiting for them. The Germans demand that Renault either arrest Rick, or turn him over to them. Rick says he'd rather be arrested. I can see Bogart wryly saying that. Renault smiles and looks at his watch; it's 6:00.
He asks his aide, presumably Lt. Casselle, how long it takes to get a cable to, and a response from, Vichy. He is told, 'six hours.' He asks the Germans what charge is to be made against Rick. That's reminiscent of him telling Strasser he has no reason to shut down the cafe in Casablanca. The Germans tell him some trumped up charges. Unlike the incident with Strasser, he stands up to them. He explains that Casablanca is still a free territory and they need to substantiate their charges. He adds that anyone can prefer charges, but if they can't be proven, it will cause trouble for Renault.
The Germans, knowing that Renault is with Vichy, are confident, but don't see the wink that he gives Rick. Rick then levels some made up charges against them! Rains decides he likes Rick's charges better and arrests the Germans. They are furious and threaten vengeance. Renault offers to let them use the cables to contact Vichy to complain (Nobody plays cool and urbane like Claude Rains). Bogart is bemused.
Later, in Rains' office, Bogart tries to find out what Louis is up to, but Renault puts him off and tells him to concentrate on their chess games. Renault is unconcerned by his very unhappy German prisoners.
---