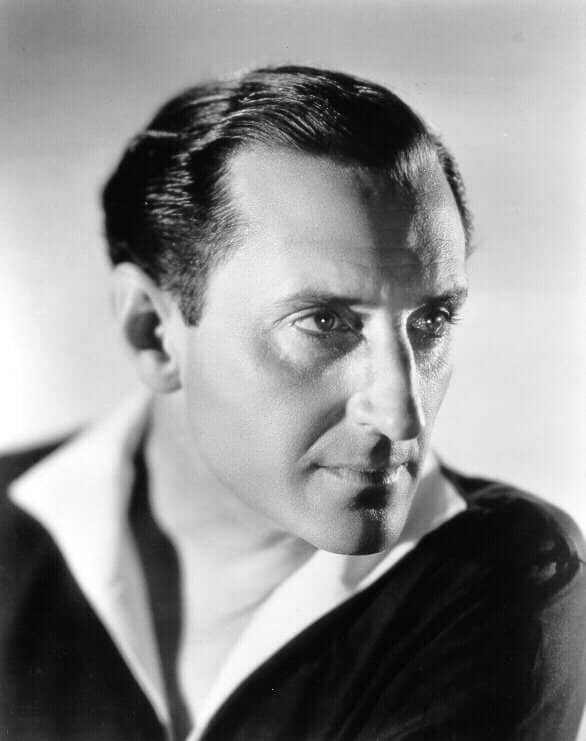 Basil Rathbone
If I say the name Basil Rathbone, I have a very good chance of guessing exactly what you'll think (if you're old enough, that is — if you're below a certain age, you may only think, "Who?"); ten will get you twenty you'll think "Sherlock Holmes," the character that Rathbone indelibly portrayed in fourteen films from 1939 to 1946, so successfully that for many people his name has become synonymous with the character.
And if by some chance you don't think of Holmes, you'll almost certainly think of the greatest swordsman in Hollywood, the piercing-eyed, hawk-visaged athlete who figured in some of the screen's most thrilling duels, most famously against John Barrymore and Leslie Howard in Romeo and Juliet (1936), Errol Flynn in Captain Blood (1935) and The Adventures of Robin Hood (1938), and Tyrone Power in The Mark of Zorro (1940), the latter battle the most exciting swordfight in movie history, in my opinion.
In addition to these swashbuckling villains, in his almost fifty year film career Rathbone applied his singular talents to bringing many other characters to vivid life. Some of his most memorable non-action roles are his icily sadistic Mr. Murdstone in David Copperfield, his brutally indifferent Marquis St. Evrémonde in A Tale of Two Cities, his rigid, fatally conventional Alexi Karenin in Anna Karenina (all in 1935 — studio era Hollywood worked its players hard), and his witty, cynical Richard III in Tower of London (1939), with Vincent Price as his brother Clarence and Boris Karloff as his murderous, club-footed henchman, Mord; truly, they don't make 'em like that anymore!
---