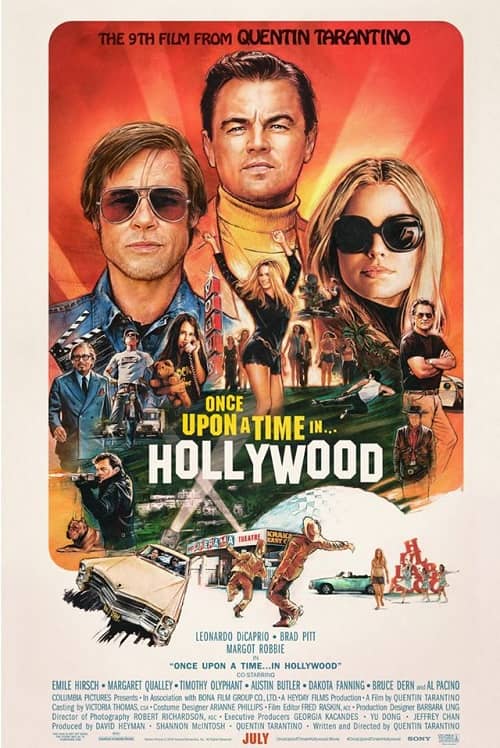 The other day the nice man from UPS brought me something that I had been looking forward to receiving for quite a while: a Blu-ray of Quentin Tarantino's ninth film, Once Upon a Time in…Hollywood, which I had pre-ordered months ago on the first day it became possible to do so. I had seen it three times in the theater and wanted to be able to watch it again with minimal delay. (It's only the third movie I have ever seen that many times as a paying customer, the other two being Raging Bull and Magnolia.)
I have very contradictory feelings about Quentin Tarantino. He's an acknowledged "major director" – one of the few we have left – whose excesses can make every film feel like a guilty pleasure. A technical master who too often displays the emotional maturity of a fourteen-year-old, at his best Tarantino can still be a dynamite filmmaker, and I enjoyed Once Upon a Time more than any movie I've seen in years. I think it's Tarantino's strongest work since Jackie Brown.
Set in Hollywood in 1969, the movie follows semi-washed up TV western star Rick Dalton (Leonardo DiCaprio) and his buddy, stunt double, and factotum, Cliff Booth (Brad Pitt) as they try to keep Rick's head above water in the wake of the cancellation of his series, Bounty Law. (At one point Rick and Cliff spend a short time in Italy making spaghetti westerns, and in true Tarantino fashion, we get to see posters and footage from these epics, along with pitch-perfect clips from fake episodes of Bounty Law, Lancer, and The F.B.I. The last two were real shows that Rick was doing guest shots on.) During the course of these efforts, this entertainment industry duo crosses paths with another group emblematic of 1969 LA, those ultimate devils of the 20th Century American imagination, the Manson Family.
---