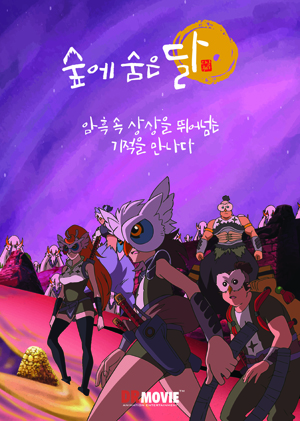 My second film of July 28 screened at the De Sève Cinema. It was an animated film from Korea with a Japanese director, Takahiro Umehara, and it was stunning. Watching early scenes of The Moon in the Hidden Woods (Sup-e Sum-eun Dal, 숲에 숨은 달) I wondered where the movie could go from its opening act — it had already shown us a major city, fights, desert nomads, monsters, a wild variety of costumes and architecture and technologies and designs. Surely, I thought, it would have to slow down. It did; and then built back up again.
Long ago, in another world, the moon disappeared and its place was usurped by Muju, the red sky. The world's been wasting away ever since, but as the film proper opens there is another usurpation, as the ambitious Count Tar claims a throne and the rightful Princess, Navillera, flees rather than be forced to marry him (voice talent for the film includes Lee Jihyon, Jung Yoojung, and Kim Yul, but I cannot find a cast list attaching actors to roles). In the metropolis of Trade City she comes across a drumming contest, and falls in with one of the rival groups, which is led by a youth named Janggu (the word, incidentally, for a specific kind of Korean drum). Helped by Janggu's allies they flee through a wasteland where terrible Shadows come out under the red sky, and end up at the drummers' village — where they find a clue that hints at the salvation of the world, to be found deep within the mysterious Hidden Woods.
The movie's not just constantly visually creative, but a fascinating mix of sensibilities. There's a post-apocalyptic feel here, as this world has been rebuilt in the shadow of a great tragedy, but there is also steampunk in its technology. And a traditional mythic fantasy feel in the way the social structure's set up (the casual acceptance of monarchy, for example) and in the use of elements like music and community ritual. Above all the worldbuilding is incredibly rich in the way different places are not just designed differently but also mix different visual elements. Cities feel like cities, with a variety of fashions and cultures.
Character design is relatively realistic, but with a cartooniness that plays well in comic moments. Still, this is far from the anime approach of simply-drawn characters against a hyper-realistic background. The film's all of a piece, and there's an almost relaxing reliance on traditional 2D drawn imagery over 3D CGI. There is some well-used computer imagery, but the look of the movie's traditional. It is in fact a thoroughly well-done children's or YA film, something that plays well for adults but (I would think) particularly speaks to a younger audience. Navillera and Janggu are our leads, the people about whom the tale revolves. The other characters are well-drawn, but relatively uncomplicated. There is a slight implication of some of the adult characters having a relationship that might play differently to older viewers, in terms of their emotional tone, but that's left understated.
---