Ellsworth's Cinema of Swords: Flynn's Last Flourishes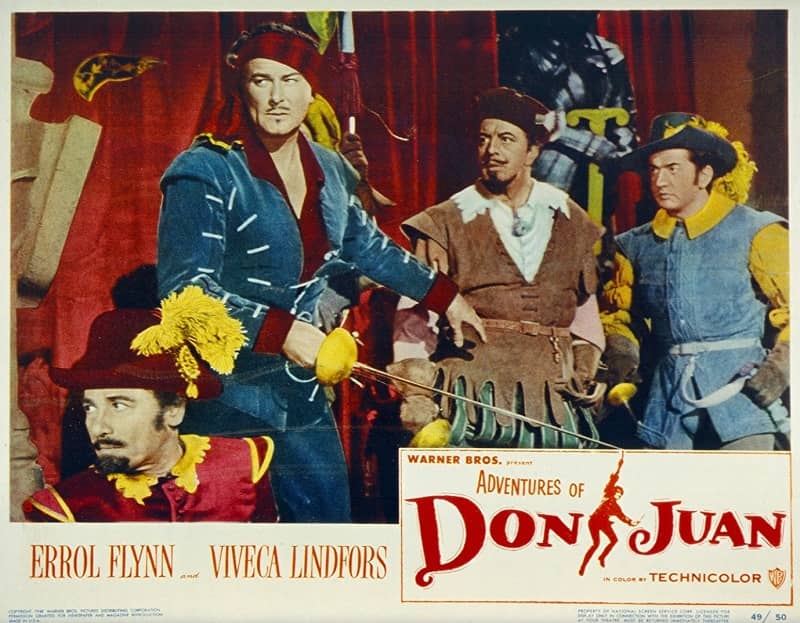 The Adventures of Don Juan (Warner Bros, 1948)
Errol Flynn's late-career swashbucklers are widely considered mediocre efforts, desperate attempts by an aging and fading star to recapture his youthful popularity, but that sells the films short. It's true that by the late Forties, Flynn could no longer match the vigor and charm of his performances in Captain Blood (1935), The Adventures of Robin Hood (1938), and The Sea Hawk (1940) … but really, who could? Compared to any other standard, Flynn's later sword-slingers are average at worst and mostly better than that. Flynn wasn't keen to make most of these pictures; he was well aware that he wasn't the athletic rascal he'd been almost twenty years before, but he was still a solid leading man and now and then the old charm shone through. Enjoy these films for what they have to offer, and you won't be sorry.
The Adventures of Don Juan
Rating: ***
Origin: USA, 1948
Director: Vincent Sherman
Source: Warner Bros. DVD
Errol Flynn had given up doing swashbucklers after The Sea Hawk (1940), but with the revival of the historical adventure genre in the late '40s, Warner Bros. gave him a sword and put him back in trunk-hose for The Adventures of Don Juan. It must be said, Flynn doesn't seem entirely comfortable in the role of Don Juan de Maraña, the scandal-plagued womanizing rogue who is forced to give up his naughty ways and turn over a new leaf. After disgracing himself by plucking forbidden fruit at the English Court, Don Juan is summoned back to Madrid by the Queen of Spain (Viveca Lindfors) and commanded to reform. And, however improbably, he does, because his soul is purified for the first time by his true love … for the queen herself. (No, really.) Unfortunately, purged of the rakish qualities that made the character distinctive, Don Juan becomes a conventional noble who gets entangled in conventional court intrigues, saving the queen from a conventional treasonous minister by foiling his conventional plot at the last minute—as usual.