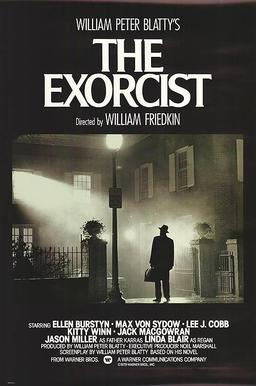 William Friedkin's 1973 film The Exorcist was a landmark in horror cinema, a cultural phenomenon, and (if adjusting for inflation) the ninth highest-grossing film of all time. I remember hearing stories about it from relatives who described the mixture of fascination and revulsion with which the movie-going public met The Exorcist at the time.
I also remember skulking around the library in search of William Blatty's novel, just to try and figure out what was so awesome about the story, but as I also kept getting caught it wasn't until many years later that I both read and watched The Exorcist.
As you may or may not recall, the film makes minimal use of music — a stylistic choice which ran contrary to the norm of the 70's when nearly every film regardless of genre, gave birth to a soundtrack album.
Of the little music used in the film, most famous is Mike Oldfield's "Tubular Bells," which went on to become a smash so huge that it essentially birthed the Virgin empire.
Before Friedkin settled on Oldfield's masterpiece, he had originally commissioned a score from Lalo Schifrin, who had famously done soundtrack work for Cool Hand Luke, Dirty Harry, and the instantly recognizable Mission Impossible TV show theme.
This score was used in an advanced trailer which has often been referred to as the "banned trailer." As the stories go, this trailer literally made audiences sick when it was shown.
Check it out for yourself below.
---