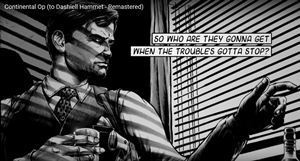 "You're the second guy I've met within hours who seems to think a gat in the hand means a world by the tail." — Phillip Marlowe in Raymond Chandler's The Big Sleep
Somebody asked me if I actually write for this column, or just put up the posts for it. I started explaining the work involved in pitching the concept, recruiting guest posters, editing the posts, promoting the column through Back Deck Pulp posts on my FB page….then I gave up and said, "Yes, I do write this column. In fact, I wrote this coming Monday's post."
That wasn't exactly a bold prediction, since I didn't have a guest post in hand. Although, my essay on the excellent Joe Gores isn't nearly done, so there was that. But I got it all worked out in the end!
Rory Gallagher was a world-class guitarist from Ireland who died of liver problems in 1995 at the age of 47. In 1987, he recorded a song entitled, "The Continental Op," which was included on his Defender album. There's also a song called "Kickback City" on that album and the lyrics are very much in the style of Raymond Chandler and other pulpsters who depicted the corruption and hopelessness of urban cities. And you could take the story of "Loanshark Blues" and you'd have a pretty good character for a hardbacked PI story. I recommend giving Defender a listen.
But we're here to talk about his tribute to Dashiell Hammett, "The Continental Op."
If you've come here to A (Black) Gat in the Hand, you probably already know about The Op. While The Thin Man and The Maltese Falcon are Hammett's best-known works, it's the Op that made him the father of the hardboiled school. In seven years, he wrote over three dozen tales featuring the nameless private eye for the Continental Detective Agency. I don't think any other PI series has equaled the Continental Op stories.
The Op stories are readily available and are cornerstone hardboiled reading. All of the stories were recently collected in The Big Book of Continental Op Stories.
I cannot give Gallagher enough kudos for writing a song about the Continental Op, then providing a video that absolutely captures the hardboiled, pulp feel. The black and white, graphic novel style is pure throwback. You could almost storyboard a movie from it. Some of the frames fly by so fast, I had to rewatch them several times. But the overall effect works.
Watch the video. Then work through the rest of the post with me. It should be fun.
---