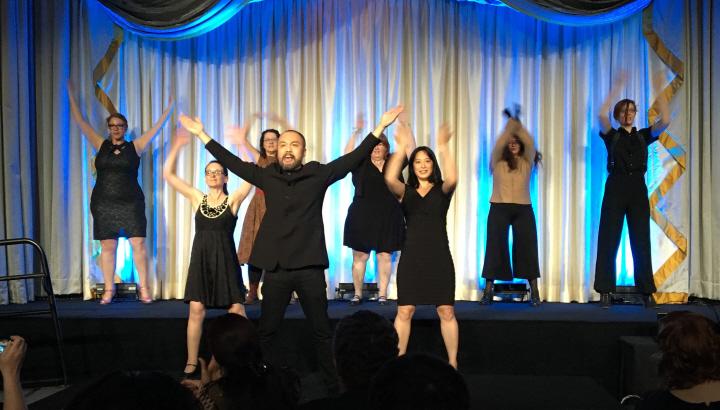 Henry Lien and the Eunuchs of the Forbidden City
perform the brilliant "Radio SFWA" at the 2016 Nebula Awards
I attended the 2016 Nebula Awards banquet here in Chicago on Saturday night, and I thought that meant I'd be able to announce the winners in a timely fashion. Instead, I wasted my time hobnobbing with winners, nominees, and just all around cool people until very late in the evening, got home at 2:15 am, and fell asleep for roughly 24 hours. So I've been scooped by every website in the industry (and even some periodicals that only publish monthly).
Ah, that's okay. For those loyal readers who steadfastly looked away when other sites reported the winners, and waited with confidence for the Black Gate report, thank you (both of you.)
The highlight of the weekend was the awards ceremony, hosted by the genuinely hilarious John Hodgman (from The Daily Show). And the surprise highlight of the ceremony was the opening number by Henry Lien and the Eunuchs of the Forbidden City, "Radio SFWA," which I've been humming non-stop for the past two days. You don't attend an SF conference expecting to hear live pop music, much less an 80s New Wave/Space Disco anthem that doubles as a recruitment tool for the Science Fiction and Fantasy Writers of America, but that's exactly what it was. I'm a 52 year-old guy who can't dance, but at the end I was on my feet, pounding my hands together and ready to jump into the mosh pit.
Songwriter, lead singer and front man Henry Lien is some kind of genius. Listen to the whole thing here (be sure to read the hilariously brilliant lyrics by clicking "Show More"), and read the background here.
---