Vanguard Dream! A Sampling of Bushiroad Media, Part II
Vanguard Dream! A Sampling of Bushiroad Media, Part II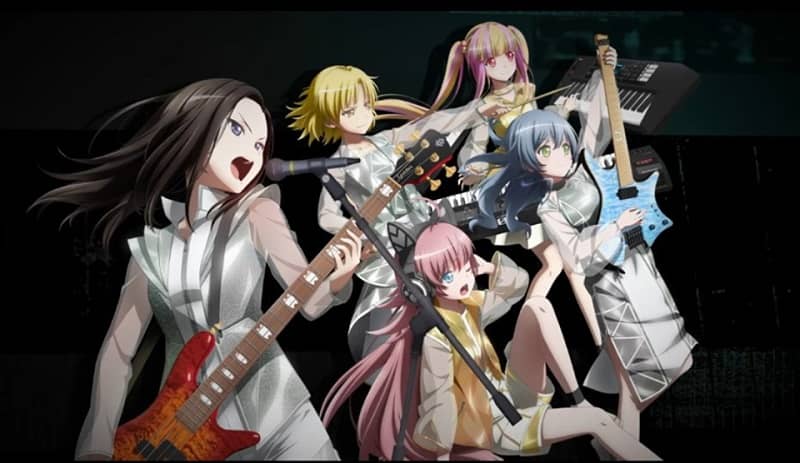 RAISE A SUILEN
Part I of this 3-part survey was an introductory overview of the Bushiroad titles Cardfight!! Vanguard and BanG Dream!, and a look at how how the band Roselia was a feature of both projects. This time we examine how the newer female rock group RAISE A SUILEN is involved in both as well…
RAISE A SUILEN, the newer of the main girl-groups from the BanG Dream! universe, has a style of heavy keyboard-laden rock similar to Roselia, the band they consider their main rival. They also have some very distinct differences (aside from just being a completely separate band, with their own specific songs, I mean). They are not only newer, but their whole means of coming into existence was substantially different.

As mentioned previously, of the starting batch of five main bands only two (Poppin' Party and Roselia) actually stage real-life concerts that people can attend and/or enjoy as on-screen media. To enable performances for the remaining groups, it was decided that a third live group could act as a backing band, and play behind the lead singers of the other groups so they could all be represented onstage… and they were given a provisional name of simply THE THIRD(仮).
As they built up a catalog of original songs and established more of an identity, they eventually adopted their final and official name — RAISE A SUILEN, which essentially means 'raise a curtain' (as in raising a 'stage curtain,' to be more exact).
Although they are introduced at the start of the anime's second season, we see them at a fairly early phase, before they have their permanent guitar player. At this point, they start playing gigs after enlisting the aid of a fill-in guitarist, a childhood friend of the lead singer and bassist… who also happens to be the main guitarist for Poppin' Party.
RAISE A SUILEN — "R・I・O・T" — BanG Dream! 2nd Season
Given how this article has unfolded so far, you might be able to guess what else this band has in common with their rivals Roselia… and that is of course a penchant for providing theme songs for another nifty Bushiroad anime — Cardfight!! Vanguard. In fact, they outdo Roselia by supplying not one, not two, but three themes for the newer reboot series.
But, that's not all!! While Roselia predates them enough to also have contributed a song to the previous season — the fifth/final part of the "G" series episodes (Cardfight!! Vanguard G Z) — the lead singer of RAISE A SUILEN herself goes back even one season further, to provide a song for the fourth "G" season of Vanguard (Cardfight!! Vanguard G NEXT).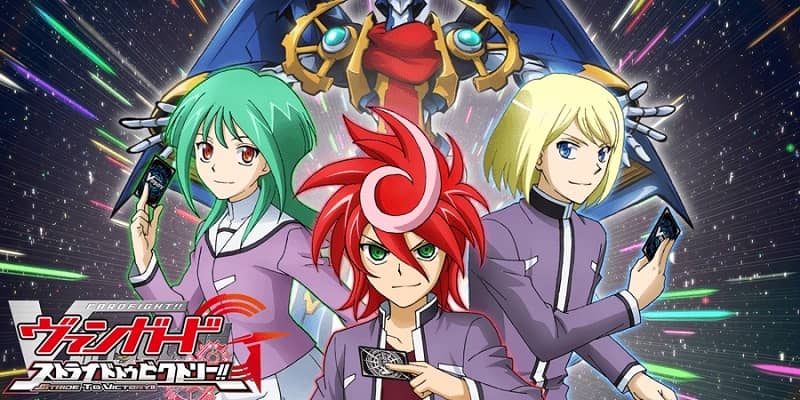 Cardfight!! Vanguard G
For anyone still unsure how Cardfight!! Vanguard G differs from the main series, now might be a good time to say a bit more about that. To start with, it takes place several years after the previous seasons. The game-play is a bit different, as a new set of rules has been added to the game to accompany a new class of cards called 'G-Units.'
These units have a special move called a 'Stride,' which happens in an area called the 'Generation Zone.' You'll hear these terms used many times throughout the series, although the opening stretch of each match is basically the same. Many previous characters reappear, just a bit older now. However, the series primarily follows the newer ones, who make their debut here.
Once again the central figure is a non-player to start, but one with a past link to the game — in this case, it's a link he has no clear memory of, since he was only about four years old when it happened! His name is Chrono Shindou, and as before we follow the gradual transformation of his personality (and his eventual teammates), ultimately leading to his critical role in the destiny of the Earth itself.
Although he's definitely more outgoing than the show's previous protagonist Aichi, Chrono also seems a rather unlikely hero at the start of it all. Even if he is solid and trustworthy, he does have some obvious personality flaws to overcome (as many characters in this show do, really!)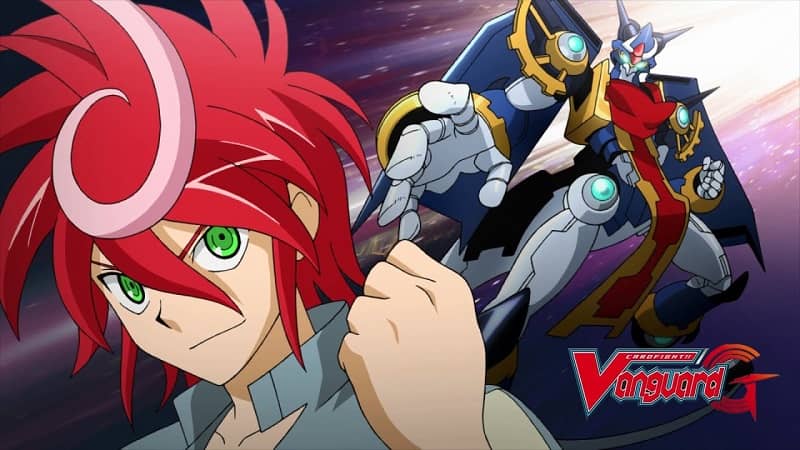 Cardfight!! Vanguard G (Chrono)
Early on he comes off as a bit of an antisocial sourpuss, to some degree. He also has a tendency to avoid engaging with people, in certain problematic situations… He'd rather let a misunderstanding escalate completely out of control than actually defend or justify himself — like it's basically other people's fault if they're stupid enough not to know better. (That's a position for which I do hold a fair amount of sympathy myself, I have to admit!) He can also be a bit of a hothead, if directly challenged over such things… However, when his whole future appears to be reaching a crisis point because of his attitude, he finally begins to consider that a more proactive approach might be more helpful.
When Chrono starts hearing about Vanguard, at first he just scoffs, without even really knowing what it is… (although secretly, he's starting to become intrigued). When a Vanguard deck is anonymously left for him, he's curious enough to get it checked out at the local card shop, where he finds out that not only is it indeed a fully functional deck, but an exceedingly rare one — in fact, he has the only prototype copy known to exist for this 'Gear Chronicle' deck.
And naturally, it's soon apparent that he has a flair for actually playing the game, as well…! The more fantastical elements of the story are only hinted at in the first season, but in subsequent ones we see that he's already had direct contact with the planet Cray that goes far beyond the game itself — marking him as a 'singularity' that can help units from that world transport themselves to Earth.
There are many other new characters brought in during subsequent seasons, including some idol singers! In the main series we meet the idol trio named ULTRARARE (as in 'ultra rare' collectible cards), while in this series we get another Vanguard-sponsoring idol group who are also a bit more than they seem, the duo Rummy Labyrinth — comprised of the somewhat troubled and standoff-ish girl Am, plus spirited sweetie-pie Luna… who is definitely one of the most appealing characters in this whole series.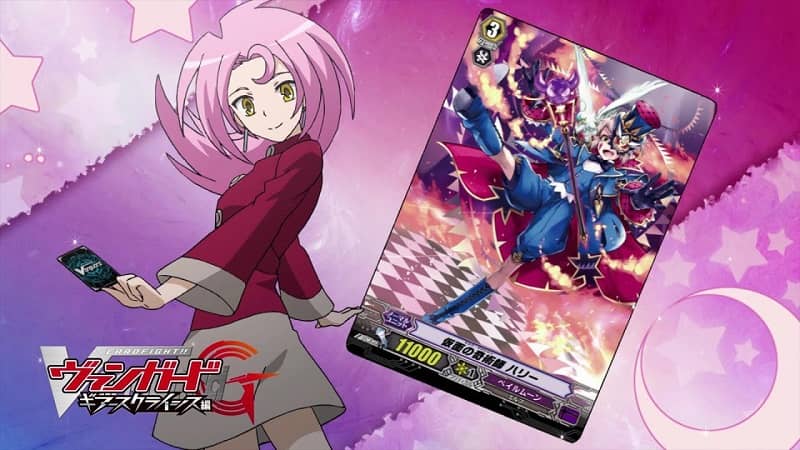 Cardfight!! Vanguard G: GIRS Crisis (Luna)
Another major character worth mentioning — one who carries over from the previous series — is Kouji Ibuki, who now holds a position of power within the official Vanguard Association. He undergoes perhaps the most dramatic turnaround in the story. When he first appeared he not only came across as irksome and arrogant, but we see that his main motivation for playing Vanguard is literally to destroy the experience for everyone around him!!
It's not out of spite, though — he's doing it because he genuinely believes that Vanguard can be dangerous. (And as it turns out, he's not wrong about that!!) Although his 'solution' is a bit short-sighted and destructive, ultimately.
He still seems a shadowy figure, heading into the Cardfight!! Vanguard G series; and he retains some of his disagreeable personality, although now he seems to leverage it in a more deliberate way. As more of the truth comes to light however, he does emerge as one of the most outright heroic characters in the show, risking his life and putting a measure of faith in others that would have been inconceivable previously.
Of course, these sorts of redemptive transformations are a recurring theme for this show in general. Seeing how the characters arrive there is indeed one of the cool things about it.
Cardfight!! Vanguard Trial Deck 07: Kouji Ibuki
Cardfight!! Vanguard Booster Pack Vol. 04: Vilest! Deletor
It is fairly engaging, as long as you come into it knowing it's going to build up from scratch at a slow and natural pace. Although the emphasis is a bit more on drama than card games (let alone the other interplanetary aspects) at first, giving it an almost soap opera feel at times. But I didn't mind that at all, myself…
Admittedly, there are some sillier, more throwaway episodes  that might test your patience a little; but otherwise, it's pretty good, I'll say! And, things do amp up significantly in the second season. (Although with the final "G Z" stretch of the story, it does get a little excessive, or over-the-top in some regards. But it remains interesting enough, in any case!)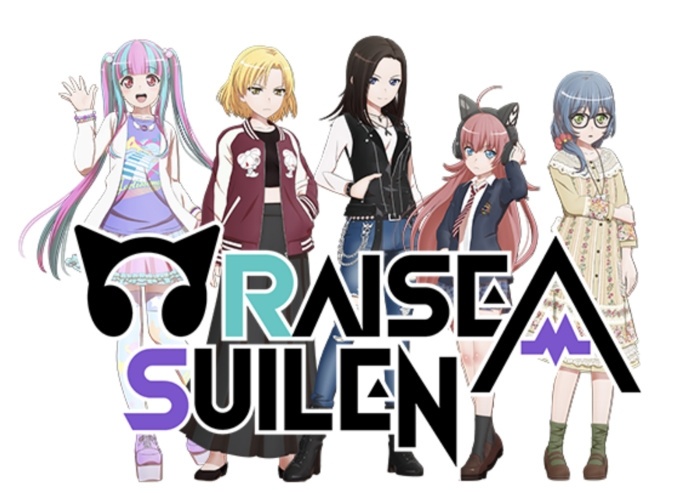 RAISE A SUILEN
So, let's see how the music of RAISE A SUILEN fits into all this!
The members of RAS all use capitalized stage names, with the lead singer (and also bass player) going by the moniker LAYER. Unlike most of the seiyuu that play the characters in these bands, usually known primarily as voice actresses more than singers, LAYER is voiced by a female rock singer who already enjoyed a pre-existing music career — performing under the name Raychell (as she's still known) and signed to the well-known Avex label in Japan, but this is her very first voice-acting role.
Here then is Raychell's song "Are you ready to FIGHT," as it appears for the ending theme, in the latter half of the Cardfight!! Vanguard G NEXT episodes:
Cardfight!! Vanguard G NEXT ENDING — "Are you ready to FIGHT" by Raychell
(The ending sequence has rather an odd art style, I must say — definitely not representative of the general style of the show at all — but not the only occasion where they've gotten a bit fanciful with the endings, I suppose!)
There is also a real-life music video for this song, but unfortunately only posted on YouTube as a shortened teaser version by Avex. But you can check that out and get the general idea… And while you're at it, you might want to take a look at a (somewhat longer) video for another of her tracks as well… So, here they are, below:
Raychell — "Are you ready to FIGHT" (Short Ver.) Music Video
Raychell — "Stay Hungry" (Short Ver.) Music Video
With the group forming considerably later, it wasn't until the last stretch of the main Vanguard reboot series (episodes 39-52) that RAISE A SUILEN got to do a theme song for it. But they make up for the lost time quite effectively… not only quickly following it up with two more themes, but also by kicking things off with possibly my favorite song from this group — "UNSTOPPABLE."
An interesting art style again with this ending, showcasing the main male characters, one by one… but you're not really experiencing it of course, unless you turn it up LOUD!!
Cardfight!! Vanguard 2018 ENDING — "UNSTOPPABLE" by RAISE A SUILEN
For the next season, we have RAISE A SUILEN taking on both the opening AND ending themes, simultaneously… While these fourteen episodes are a direct continuation, they are based on a manga story rather than the original anime series. For other reasons, as well — which I'm really fighting the urge to mention here, since I don't want to give too much away! — they do stand as a distinctly separate arc of the saga. (After these particular events involving Aichi and friends, the series actually jumps back to the previous decade in history, to focus on entirely different matters.)
Without any further ado, here they both are for you — two more rocking tunes from the Cardfight!! Vanguard universe, courtesy of RAISE A SUILEN:
Cardfight!! Vanguard 2019 OPENING — "Invincible Fighter!" by RAISE A SUILEN
Cardfight!! Vanguard 2019 ENDING — "Takin' my Heart" by RAISE A SUILEN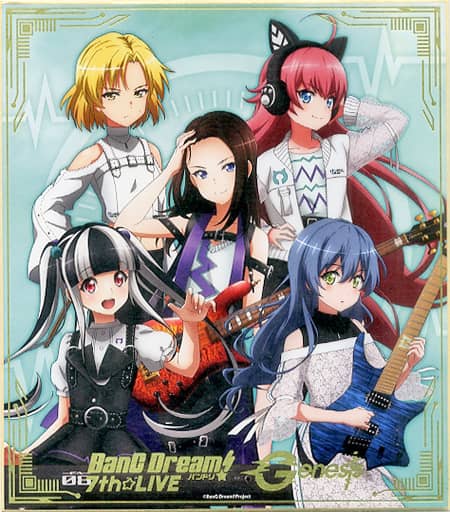 RAISE A SUILEN
Despite their obvious popularity, and integral importance within the BanG Dream! series, RAISE A SUILEN are sadly lacking some of the promotional videos the other groups have, such as character introduction videos. (And half of the time, they are left out of promotions for the overall franchise too. I guess the main five starting bands are still more strongly associated with it, or at least with the video game portion?!) Anyway, as with the other groups, there are five girls in the band's line-up.
Although the lead vocalist/bassist LAYER is the visual frontperson, she is not the group's leader — that is unequivocally the diminutive but in-your-face producer (and DJ) for the group, CHU2!! Although very excitable and prone to acting like a spoiled brat sometimes, she is clearly very accomplished and dedicated to her music, and also something of a perfectionist. So in some ways, she is similar to Roselia's leader Yukina… except with a more immature personality!
The guitarist for RAISE A SUILEN is someone we meet at the very start of the second season. This girl (Rokka) has fairly recently arrived in the city, working part-time at a bathhouse and also at the live venue Galaxy, and she is a very enthusiastic fan of the band Poppin' Party… She is a very shy and gentle girl, even though her style of guitar playing is totally the opposite of that! She is eventually discovered by CHU2 in the third season, and after an initially bumpy transition she is added to the band's line-up under the name LOCK.
Rounding out the group is a tough-seeming (but actually quite nice) drummer called MASKING, as well as the very upbeat and friendly keyboard player named PAREO.
They have a lot of resources for a band just starting out, as CHU2 seems to come from a very wealthy family. In fact, as soon as they have their membership finalized, they are able to quickly get a very professional music video produced (as seen in episode four of the third season), aiding their already rapid rise in popularity. Roselia is the only other group that they even consider to be a serious rival.
RAISE A SUILEN — "EXPOSE 'Burn out!!!'" Music Video
Just like Poppin' Party and Roselia, the real-life version of RAISE A SUILEN also give a very interesting and enjoyable live performance that's well worth checking out. These events rarely take place outside of Japan, unfortunately. But there are concert releases available at least, and video clips online that you can see for yourself, right here:
RAISE A SUILEN — "A DECLARATION OF ×××" from 「BanG Dream! 7th☆LIVE」 Event
RAISE A SUILEN — "UNSTOPPABLE" from 「THE THIRD(仮) 2nd Live」 Event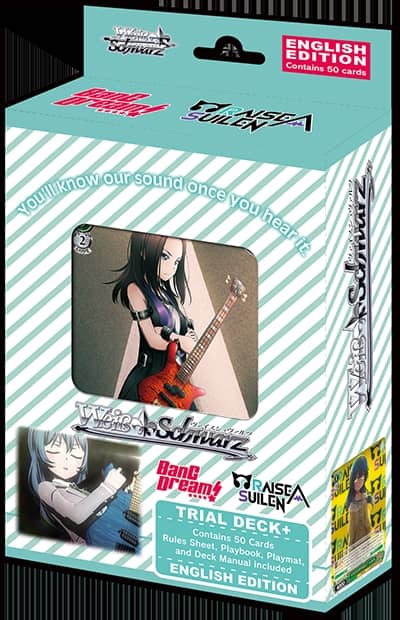 RAISE A SUILEN Trial Deck+
One more thing they have in common with the other performing bands is that they also have been bestowed the honor of appearing in their own official trial deck for the Weiss Schwartz card game! It's the third Trial Deck+ in the BanG Dream! line of releases, following the Roselia deck — which I described here, previously — and the original (now out-of-print) Poppin' Party deck.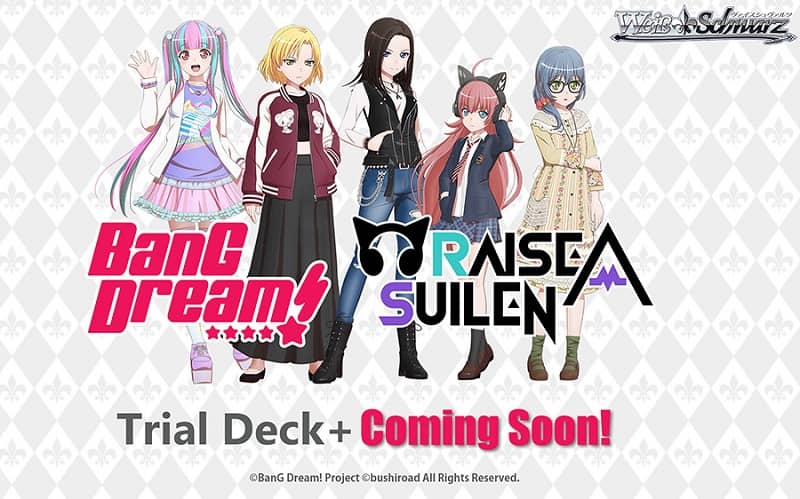 RAISE A SUILEN Trial Deck+
Hopefully there will still be more to come from the group (and the others) beyond the end of the anime season. At this point though, there's just no way to really know. Well, there are a number of new music releases scheduled in the months ahead at least, with even the addition of another new girl-group to the roster; so, it's not ready to stop just yet, anyway. Whatever happens… enjoy it while you can, I guess!
RAISE A SUILEN — History of RAS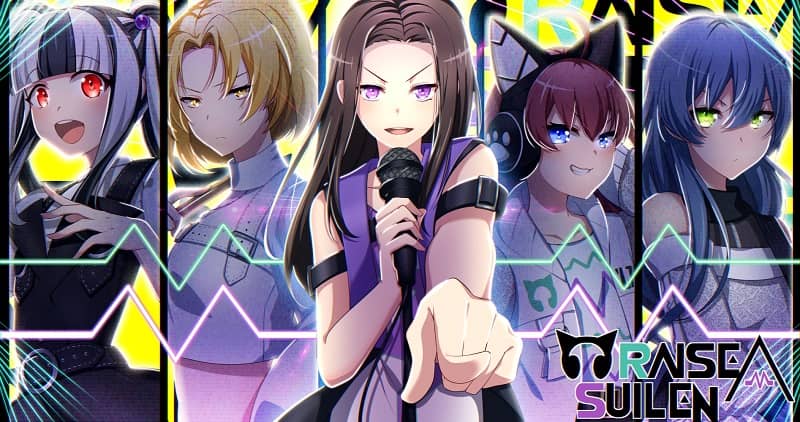 RAISE A SUILEN
In Part III, we have a little look at a couple of newer Bushiroad projects looming on the horizon, and delve into a grab-bag of other related items to wrap things up.
---
John MacMaster lives in Halifax, Nova Scotia. His last article for us was Her Master's Voice: The World of Virtual Idols.