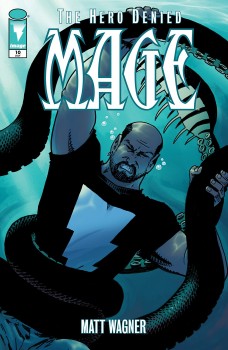 So I might have sold Isis short last issue.
For those of you who are new to the Mage series … honestly, this is a terrible place to jump on. We're two thirds of the way through the final volume of the trilogy. Stop reading and go pick up Mage: The Hero Discovered. You'll be a better person for it.
Anyway, during my critique of last issue, I was a bit harsh towards Isis, Magda's sister. Basically, Kevin informed her that Magda had been kidnapped and that he needed someone to watch his daughter, Miranda, while he went to rescue her. At the time, not only doesn't Isis offer to help Kevin rescue her sister, but she can't even be bothered to watch Miranda, meaning that she'd rather have her niece face off against a pack of demons than take time from her spell transcription work to babysit.
However, in issue #10, we see that Kevin has stopped leaving Miranda in the car while he goes adventuring. Instead, he's bringing her along to help him suss out magical threats. Sure, he's still the one doing the fighting, but Miranda is definitely helping out. So I'm wondering if Isis deliberately turned Miranda away, knowing that she would be able to help Kevin. As we've seen in past volumes, Kevin isn't always that good at teamwork. I guess when you're nigh-invulnerable, you might see other people as little more than targets that need protecting. And we've already seen how much Kevin is surprised by his daughter's resourcefulness, so there's probably an issue of him not believing that she could help him. So Kevin would never choose to take his daughter with him on an adventure, but if he had no choice …
This issue opens with Magda trying and failing to contact help from outside her penthouse prison. Meanwhile, Hugo is staring into a bottomless pit that lies beyond the door to that prison. We've actually seen this same setup in the Styx Casino way back in Hero Discovered. But unlike Kevin, Hugo has no fear of heights, so he spends a lot more time staring into the abyss, eventually noticing that there are vague creatures flittering around in it.
---