Nero Wolfe's Brownstone: No Voting Day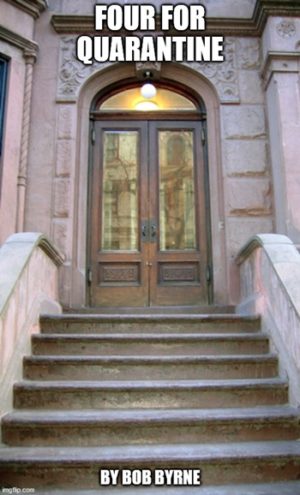 Last week, I mentioned that I wrote over 40,000 words about Archie Goodwin and Nero Wolfe enduring Stay at Home together. And that the series was inspired by how I felt on the day that Ohio postponed its Primary Voting Day. That scene is below. So, if you're a Nero Wolfe fan, read on. If not – well, you're here for my weekly column, so read on anyway!
The elevator made its usual groans of protest as it carried Wolfe's one-seventh of a ton down from the rooftop plant rooms, where he spent two hours in the morning, and two more in the afternoon, with Theodore Horstmann, tending to 10,000 orchids. It was my personal opinion that the elevator needed more than a two hour recovery period period after having to move him from the ground floor to the roof level. Gravity was not its friend. No man ever followed routine like Nero Wolfe. Mycroft Holmes looked like an undisciplined lout compared to my employer. Every morning at 11 AM, he came down from the plant rooms, entered the office, greeted me with "Good morning, Archie," crossed to his desk, and followed a routine there. So imagine my surprise, sitting at my own desk, when I heard him turn and take two steps down the hall, towards the front door, or the kitchen. I looked up as silence settled in the hall. He had stopped. "Archie, stop this foolishness. Why is the car not ready? Get out here." While I am by no means a sigher in Wolfe's class, working for him has made me a pretty good one. I let one out, got to my feet, and went out of the office. It was Election Day: except, it wasn't. There were only a few things guaranteed to get Nero Wolfe to venture out of his office and undertake a journey into the wild world outside. And Sunday Mass wasn't one of them. But he had never failed to sally forth to vote since I had come to work for him. He viewed voting as his side of a solemn contract with the government. But this April 28th, 2020, was different. The coronavirus pandemic had started parts of America into shutdown mode the prior month. Those who thought that pre-emptive action was a good thing touted the governor of my old home state, Ohio, as the kind of leader we needed in Washington. Others, who probably would have said we should stay out of World War II, thought that it was too soon. Regardless of which side you were on, by early April, it was clear that America was in trouble. Rumors were that Ft. Knox was switching its gold reserves over to toilet paper, because it was harder to find.
…