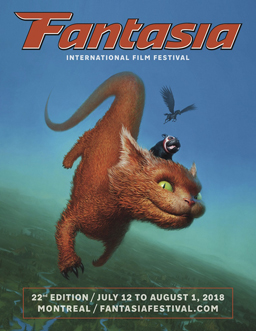 Fantasy's described by fantasy: consider John Crowley's Little, Big, a novel about a faerieland where the further in you go the bigger the land becomes. A powerful image, it echoes the way fascinations gain in depth and scope the more you explore them. How familiar experiences can become strange the more you dig deeper into them, birthing mystery, growing weird. Art and story perhaps most of all. So I am about to begin my coverage of the Fantasia International Film Festival for the fifth year here at Black Gate, and I feel I have less of an idea of what I will see than ever. It is a place, a time, a state of mind, where anything can be seen; it is one of those notorious worlds whose only boundaries are that of imagination. And so the more you explore the more you learn how much more there is to explore.
This will be the twenty-second edition of the festival, North America's largest genre film festival, featuring over 130 feature films from around the world. Last year more than 100,000 spectators saw a film at Fantasia, which is impressive in a time of declining theatrical attendance on this continent. But what's most impressive is the range of offerings at Fantasia. Action-adventure films, experimental and underground films, rediscovered classic films — these things are only the beginning. I argued after last year's festival that this is a new golden age of science fiction and fantasy film; spend time going through this year's festival listings and you can see why. Modern genre film is in a complex dialogue with itself across languages and film industries, across years and filmmaking traditions. It is fluid, unpredictable, and international.
I write these posts in a diary format because I think that the experience of attending the festival is worth recording. Over the course of three weeks you see the same people in the media line, you talk with them, you get to know them. And then you see them again the next year. More than that, these are people you talk about films with, agreeing, disagreeing, asking questions, sharing information. I have a number of friends I only see at Fantasia. It's a community that grows over twenty-one days or so, a little like a science-fiction convention — there's even a bar where a lot of the festival community hangs out — but instead of (mainly) discussing works of art, we experience the art and then talk about it informally as opposed to attending a panel.
---