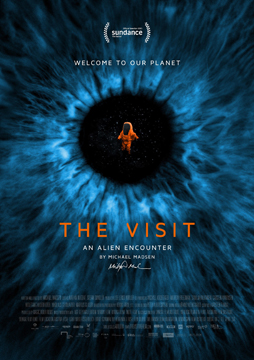 No-one's a perfect critic, and I'll readily confess to being less perfect than most. At any rate, sometimes a film's best appreciated with a certain level of knowledge. Maybe you know too much about the film's subject, and you see nothing new. Or you know too little, and you find yourself lost. In the latter case, at least, you can wonder whether your lack of knowledge is representative of a general audience, if not of whatever audience the artist has in mind. No critic's going to be able to hit the sweet spot of knowing just enough, not every time out. Nobody's perfect.
Monday, July 27, I saw two movies, both in the De Sève Theatre. The first was a documentary called The Visit, examining what would happen if aliens landed on Earth — what the response would be from human governments and scientific organisations. Then I watched a suspense movie called The Demolisher, about a woman stalked by a mentally-disintegrating police officer. And I found myself wrong-footed in the first case by knowing too much and in the second by knowing too little.
Before The Visit a short film screened: "Testimony of the Unspeakable" (in the original French, "Témoignage de l'indicible"). The director, Simon Pernollet, spoke briefly beforehand setting up the film, a story told by one of his friends about his childhood in Mexico and strange things that happened around his family's home. We hear a voice telling several anecdotes about unexplained happenings; the stories have the feel of real experiences, in the way they seem to build up an atmosphere more than a connected set of incidents. Meanwhile, the camera moves around an empty house at night, catching shadows, creating an atmosphere and sense of place. At six minutes long, the film manages to subsist on the spooky magical-realist feeling it evokes without feeling as though it's outstaying its welcome.
---