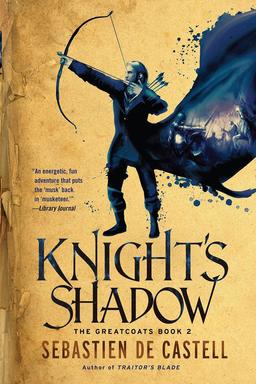 When I reviewed the first book in the Greatcoats series, this was my conclusion:
Is Traitor's Blade destined to be a classic? Well, that's a kind of question I ask myself about books I can get some distance from. I don't want any distance from this book. What I want, just as soon as I finish writing this review, it to read Traitor's Blade again, immediately. And maybe once more right after that.
Now that I've read the second book in this planned series of four, I'm pretty sure de Castell is carving himself an enduring place in the fantasy canon.
Usually when a new author stumbles after a stellar debut, it's on the second book. I wondered whether I'd see that play out here… right until I read the first page. Then I forgot I was wondering or worrying or writing a review, because the stalwart, somewhat cracked hero Falcio Val Mond was tugging me back into his story. I'd follow Falcio anywhere. Okay, so he's an idealist in a world that despaired of those ideals years ago, and he's slowly dying from a little poisoning incident in the last book, but his berserker episodes are much improved, and he hardly ever froths at the mouth anymore.
And he makes us laugh, raucously, especially in the bleak moments when he and we need it most. Yes, I'd definitely still follow him anywhere. In the spirit of lively and surprising storytelling, though, in this volume, some of Falcio's friends and allies stop being so sure they can do the same.
---