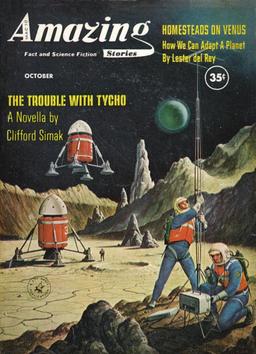 At the 2015 Worldcon, Sasquan, one of the dealers had a nice stash of old magazines. I bought a bunch of Goldsmith-era Amazings and Fantastics. This is one from quite early in Cele Goldsmith's editorial career. Indeed, Norman Lobsenz's editorial calls it "the first issue of the "new" Amazing that we have been talking about."
He adds "There is one problem facing us … the constant shortage of first-rate stories." This is a point he would make other times in editorials (and in the letter column), to a greater degree than I have ever seen from an editor in the pages of a magazine.
The cover here is by Alex Schomburg. The interiors are by two of the greatest artists in the field's history, Virgil Finlay and Ed Emshwiller, and a name I didn't recognize, Bernklau, who seems to have been active in the field only from 1959 to 1961 (in a variety of magazines). He was probably the Art Bernklau who did covers for Beacon Books in the same period.
Besides the editorial, the features include S. E. Cotts' book review column, the Spectroscope; a science article by Lester Del Rey, "Homesteads on Venus," and the lettercol, "Or So You Say."
Cotts opens the book review column be celebrating that the column has more space. There is mention of SF in other media: an article in the National Review ("SF seems a strange bedfellow for such a right-wing magazine" says Cotts – a curious remark), SF on TV (Twilight Zone), on record, and an opera. This last is Harry Martinson's Aniara (music by Karl-Birger Blomdahl). Martinson eventually (quite controversially) shared a Nobel Prize for literature.
---