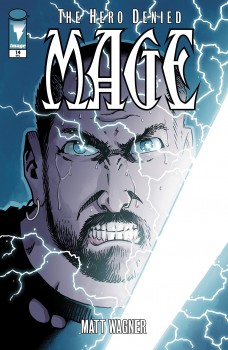 So we're down to the penultimate issue of the entire Mage trilogy. Obviously, I'm not expecting any big reveals until the very last issue, so this one is just going to let things simmer just a little bit further until the boil.
We begin with the reveal that Magda and Hugo did NOT kill a Gracklethorn last issue, instead just knocking her out. When two of her sisters find her, they set her free, then start squabbling about what to do about their prisoners escaping. Their argument is interrupted when Karol walks in holding the Fisher King.
The scene shifts to Hugo and Magda walking through a cavern. Magda mentions that the doorway they entered through disappeared, so they can't go back the way they came. She then reasons that "it had an entrance, which means that it has to have an exit as well." And while that's not technically true, she's likely just saying that to calm her son. Up next, Hugo sees a troll with his magic glasses and knocks it off a cliff with a magic light bulb before it can sneak up on his mother. Before they can go any further, Magda's wedding ring lights up, which apparently signifies that it's detected Kevin nearby.
We cut to a scene of Kevin holding Excalibur, which suggests that the Magda's ring didn't detect him so much as detect the ignition of his magic. After killing what looks like the entire Dungeons & Dragons Monster Manual, Kevin is asked by Mirth if he's all right. It's at this point that Kevin mentions (for I believe the first time in this series) that his hands sometimes hurt after he uses his power. Mirth explains that, while Kevin's power continues to grow, it will become more than he can handle. As Kevin, Mirth, and Miranda continue through the caves, we see the little imp hiding behind a rock, observing them.
Cut back to the Fisher King, who explains that he's finally come out of hiding so that he can bear witness to the "moment of confluence." He does a whole nine-panel spread of shape-shifting to show that he can assume a variety of forms and a variety of names and that none of them really matter. Olga is about to kill him, when Karol reminds her that the Umbra Sprite needs him alive for the ritual. This is the ritual that the Umbra Sprite has been planning since the very beginning of Hero Discovered. Of course, at this point, the Gracklethorns have no idea where their mother is or how to reach her.
---