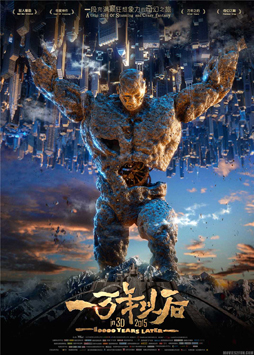 One of the things people don't tell you about getting older is that the more books you read and movies you see, the more likely you are to see those stories echoed in other stories. The new books and movies you come across remind to you of the older books and movies you already know. Sometimes there's good reason for that, as artists try to engage in a dialogue with their forebears. Sometimes you're just seeing things.
Saturday, July 25, was an interesting series of riddles for me at the Fantasia Festival. I saw three movies that day. Teana: 10000 Years Later is a high science-fantasy 3D CGI animated film from China. Crimson Whale is a traditionally-animated post-apocalypse fable from South Korea. And Denmark's The Shamer's Daughter is a live-action adaptation of the first volume of a Danish YA high fantasy. I enjoyed all of them, and saw what seemed to be nods to familiar works within each — though in some cases that might be my imagination running away with me.
Let's start with Teana (AKA 10000 Years Later, originally Yi wan nian yi hou), which screened at the large Hall Theatre. It's one of the most visually spectacular movies I've seen at Fantasia. Bursting with colour and invention, it moves quickly, introduces a ton of characters, creates a world, and tells an epic story with some very pointed social commentary. I've seen some mention online that it's based on a Tibetan fable, but can find no more specific information than that. Personally, I found myself strongly reminded of The Lord of the Rings, as the film seemed to refer to Tolkien while also inverting certain aspects of his story.
---