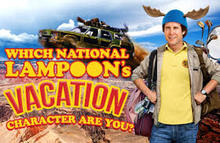 I wonder if there's still a distinction to be made between holidays and vacations?* Back before "holy day" became "holiday" was there even such a thing as a vacation? Or were holy days really enforced vacations, in the sense that for some of them at least no work was allowed? Would that make the Sabbath a vacation as well as a holy day? Hmmm.
I'm fairly certain that while the two words are now considered synonyms (at least in English) the concept of a vacation as a time of recreational activities is a relatively new one. That is, not just a cessation of work on the part of one's self, one's servants and even on occasion one's animals, but the active pursuing of another activity altogether. Did the Romans go on vacation? Did travelling for a holiday start with the "grand tours" of the 18th century? Or with seaside bathing in the 19th?
Since seaside bathing was considered healthy, as was "taking the waters" in resorts like Bath in England, Lanjeron in Spain, and Baden-Baden in Germany was travel to these places a vacation?
---