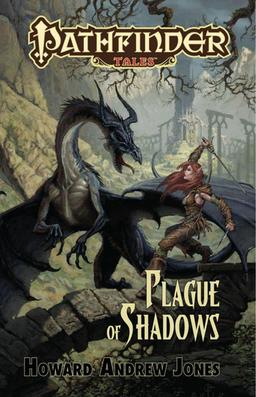 I just read my second Howard Andrew Jones novel: Plague of Shadows (2011), which was the first of his two Pathfinder novels (I read them out of order). In my review of Stalking the Beast (2013) for Black Gate, I raved that it delivered everything I crave from such a tale. It did so with skill and panache, introducing me to characters who have stayed with me. So I was pleased to go back and read the true introduction to Elyana, the Forlorn elven ranger raised by humans, and Drelm, the half-orc who values honor and loyalty more than most humans (let alone most orcs) do.
Knowing that it was a first outing, I went in expecting it to be not quite as good — not as polished or assured, maybe — as its follow-up (indeed, I gave Stalking the Beast a perfect 5-star rating, arguing that sword-and-sorcery RPG tie-in novels just don't get any better than that).
But then I finished the book: And I felt that peculiar sense that only certain works of art engender, as the last sentence echoes away or the curtain falls or the credits roll. It has impressed itself upon you, and you feel enriched but tinged with a bittersweet sadness — the characters have left, and you miss them. The characters have, in some sense, become more real; they have joined your own personal pantheon. With this second visit, Elyana and Drelm grew from being fun, engaging characters in a standalone book into characters about whom I want to read many books!
---