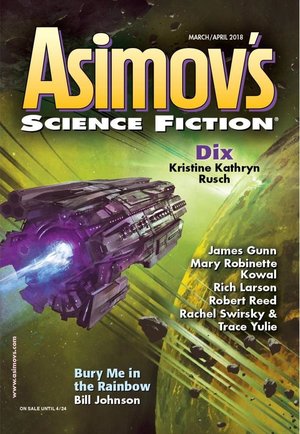 I tell myself that I read Asimov's SF primarily for the fiction, but the fact is that I always flip to the same things first, issue after issue: Sheila Williams' always-thoughtful editorial, and Robert Silverberg's excellent Reflections column. In the March/April issue Bob's article, Rereading Fletcher Pratt, is particularly fascinating, as he discusses Pratt's 1948 fantasy classic The Well of the Unicorn.
I have just reread Well of the Unicorn with the same admiration and delight as before, and find myself regretting that this great fantasy writer is now just about completely unknown to today's readers… Pratt's primary reputation as a writer of historical works carried the book into disaster from the first moment of publication. Instead of taking it to one of the small publishing companies specializing then in fantasy and science fiction, which might not have been receptive to anything so esoteric in manner, he brought it to the mainstream house of William Sloane Associates, a short-lived company with strong literary predilections. They made the catastrophic decision to publish the book not under Pratt's name (which was associated mainly with his works of military history), but under a new byline entirely, "George U. Fletcher," a pseudonym used for the one and only time here. Thus, at a single stroke, the novel was cut off from the readers of Pratt's previous fiction, particularly the well-beloved Harold Shea stories, and from those readers of his books of history who might have been attracted to a work of fantasy that reflected his knowledge of warfare. Bookstores and reviewers thus had no idea of how to deal with the book, and although Sloane put it out in an elegant edition with a handsome jacket and many internal maps, it sank out of sight instantly and not long after publication day arrived at the remainder tables, where I, a high-school student at the time, happily bought a copy for fifty-nine cents. (I knew about the book, despite the opacity of the "Fletcher" byline, because Sprague de Camp had done his old collaborator a favor by reviewing it in Astounding Science Fiction, calling it "a colorful and fast-moving adventure fantasy" that any connoisseur of fantasy would want to have, and hinting broadly and unmistakably at the identity of its author.)

So I laid out my fifty-nine cents (not all that inconsiderable a sum back then) and bought the book, and read it immediately, and loved it, though I was not really a "connoisseur of fantasy" and indeed rather preferred science fiction. I thought it was just grand. And have cherished it ever since.
If you act fast (before the May/June issue arrives on April 24) you can read Bob's complete column online here.
This issue has a "blockbuster novella" from Black Gate author — and my former Motorola colleague — Bill Johnson ("Mama Told Me Not to Come," BG 4), the long-awaited sequel to his Hugo Award-winning story "We Will Drink a Fish Together." Plus a second novella, by Kristine Kathryn Rusch, and stories by Robert Reed, James Gunn, Rich Larson, Mary Robinette Kowal, James Van Pelt, and more. Here's editor Sheila Williams' issue summary.
---