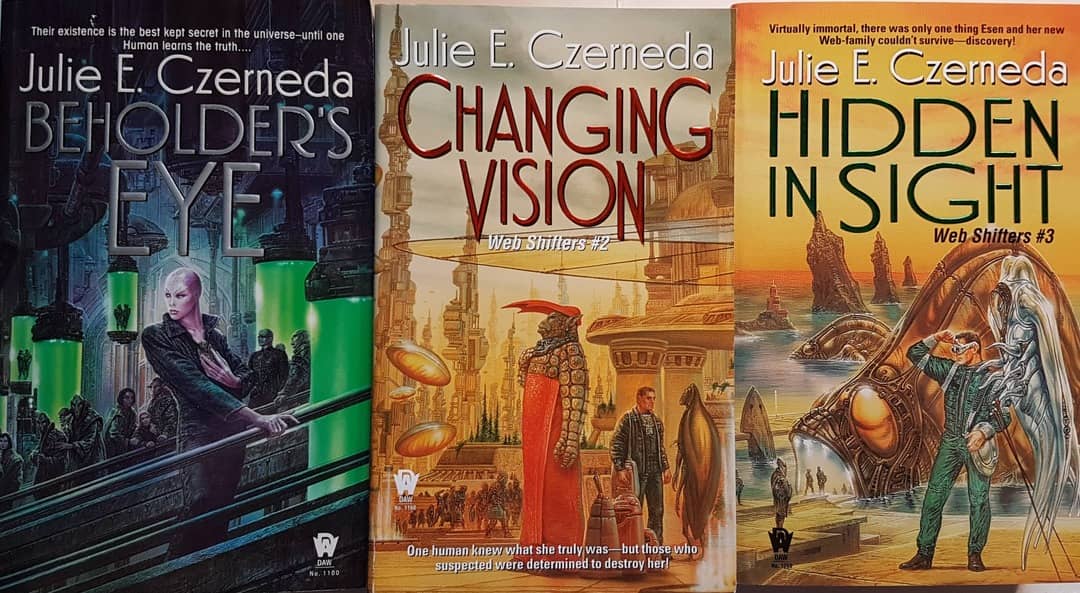 Julie E. Czerneda is one of the leading SF writers of the 21st Century. A biologist by trade, she's brought a unique appreciation for the far-ranging possibilities of extraterrestrial biology to her fiction, and the result has been some of the most joyously alien characters in all of modern SF. One of her most popular characters is Esen-alit-Quar, the alien protagonist of the Web Shifters trilogy (Beholder's Eye, Changing Vision, and Hidden in Sight), published by DAW between 1998-2003. Who or what is Esen? Here's Julie, in an essay she wrote for The Little Red Reviewer.
Short answer? A blob of blue, shaped like a teardrop. Who happens to be a semi-immortal shapeshifter. Who has really good intentions… but is working on her life skills.

Writing Esen's attempts to protect life in the universe – or at least keep it civil – makes me happy and always has. As it turned out, Esen made you happy too, dear readers. I've received more feedback and love from you for the Dear Little Blob than for all my other work combined.

For those unfamiliar with my work, I'm a biologist by training, an optimist by preference, and have been writing the stories I want to read for quite a while now, thanks to Sheila Gilbert and DAW Books. If you read and enjoy my other SF, you'll find Esen's stories funnier, with more aliens and their worlds, but with no less — and sometimes more — heart. I came across this email from Tanya Huff the other day, about Esen's first book. "…this was so much fun. It reminded me of all the reasons why I started reading SF in the first place." Yup. Grinning.
---