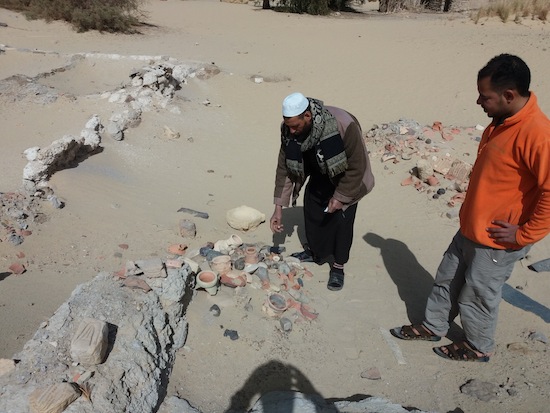 The guard at the Temple of Alexander showing off
some of the stray finds to me and my Bedouin driver
In my last post, I talked about the Egyptian tombs at Bahariya Oasis, some 340 km southwest of Cairo. The oasis was on the fringe of civilization in those days, but became more important during the Greco-Roman period because its well-watered soil didn't flood like the Nile valley and thus was a good place to grow grapes to make wine, something the Greeks and Romans couldn't live without.
The oasis became prosperous during Greek and Roman rule. It gained significance right from the start when Alexander the Great passed through here on the way to Siwa Oasis further to the west, where he had his famous meeting with the oracle of Amun at the sanctuary there, where he was proclaimed the son of the god and thus pharaoh. The temple honors his visit to the oasis and is the largest in the Western Desert, with a two-room sandstone chapel and a temple enclosure with at least 45 rooms and a surrounding wall.
---