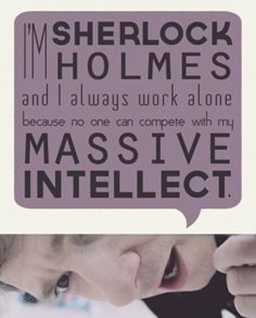 Sherlock Holmes was rather a jerk. His people skills needed some serious work. It's blatantly obvious in Benedict Cumberbatch's over-the-top obnoxiousness in BBC's Sherlock, but it's all over the Canon as well. I wrote about his unwarranted negative attitude towards Dr. Watson's detective work in a previous post. And the Canon is replete with snide comments and remarks at Watson's expense: to say nothing of the official police force's!
"Come at once if convenient – if inconvenient come all the same."
Thus does Sherlock Holmes summon Watson in "The Adventure of the Creeping Man." And Watson obeys. We get a sample of Holmes' imperious attitude from this quote. But Watson's response is also rather telling.
When Grimesby Roylott of Stoke Moran confronted Holmes, he referred to the detective as a "meddler, a busybody and a Scotland Yard jack-in-office." One has to wonder if some villain or policeman in the Canon didn't refer to Watson as Holmes' lapdog, lackey or errand boy?
---