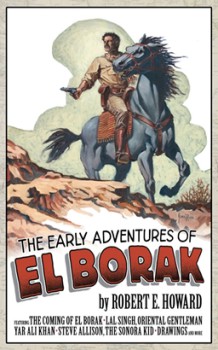 Today, our 'Discovering Robert E. Howard' series talks about my favorite REH stories: those featuring El Borak. David Hardy wrote the introduction to the Robert E. Howard Foundation's The Early Adventures of El Borak and he also contributed what is essentially the afterward to Del Rey's El Borak and Other Desert Adventures.  There's no one better suited to expound on Francis Xavier Gordon, so enough blathering from me. Let's check out 'The Swift.'
---
Francis Xavier Gordon, known from Stamboul to the China Sea as "El Borak"-the Swift-is perhaps the first of Robert E. Howard's characters, and the last. El Borak is one of those distinctive characters that could only come from the fertile imagination of REH. He is a Texas gunslinger from El Paso, an adventurer, who has cast his lot in the deserts and mountains of Arabia and Afghanistan. There's a little bit of John Wesley Hardin in his makeup, a bit of Lawrence of Arabia, and just a touch of Genghis Khan.
Howard described the origin of Gordon and other characters to Alvin Earl Perry: "The first character I ever created was Francis Xavier Gordon, El Borak, the hero of "The Daughter of Erlik Khan" (Top Notch), etc. I don't remember his genesis. He came to life in my mind when I was about ten years old."
That would put El Borak's origins about 1915, the year Rafael Sabatini's pirate novel The Sea Hawk appeared. The titular Sea Hawk is an Englishman who joins the corsairs of the Barbary Coast. There is also a supporting character named El Borak. Howard also noted that Bran Mak Morn, hero of "Worms of the Earth," bore a resemblance to El Borak.
---