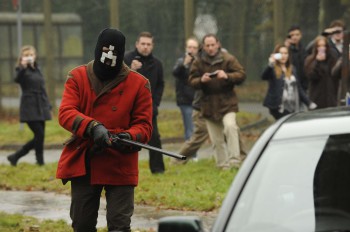 I don't watch television. Or not, let's say, broadcast television. Since the first X-Files video tape showed up, I have, instead, binge-watched episodic TV in irregular, spasmodic doses via VHS, DVD, and Netflix. I watch with my wife, and we're not (to the shows) faithful: if a particular series bores us, we move on. Even Breaking Bad, after three seasons, felt like a joke gone on too long.
But Black Mirror. Holy cats!
It's the best sci-fi you've never heard of.
A British show made for Channel Four, Black Mirror is the brainchild of one Charlie Brooker — whom you haven't heard of, either. The series aired in the UK from 2011 through 2013. Based on that time span, you'd think it was a fabulous success spanning dozens of episodes. Only half true. Black Mirror consists of six shows total (plus a 2014 "Christmas Special," which I have yet to see), and each is self-contained, a hermetic "What If?" often compared to Rod Serling's Twilight Zone. The reference is not especially apt, but like Velcro and old chewing gum, it's a label that seems to have stuck.
---