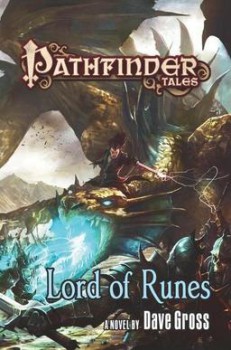 You know, of course, we love us some Pathfinder (the role playing game, not the Viking-American Indian movie) here at Black Gate. And I don't just say that because Managing Editor Howard Andrew Jones has written two novels (with a third coming in October) for their excellent fiction line, Pathfinder Tales.
There have been 30 novels in the series so far. The first (Prince of Wolves), the most recent (The Lord of Runes) and three in between (Master of Devils, Queen of Thorns, King of Chaos) have come from the prolific pen of Dave Gross.
With his tales of half-elven Pathfinder Varian Jeggare and his devil-blooded bodyguard Radovan, Gross has successfully blended the fantasy and mystery genres. Dave has taken some time out of his busy schedule to share some thoughts. Of course, I love the 'Holmes and Watson' references.
You can find more info on the Pathfinder Tales line here, including free web fiction. And here's a link to some Black Gate coverage of the line, including The Lord of Runes. Check out the fine fantasy writing that's taking place in Pathfinder's world of Golarion. Take it away, Dave…
---
As a writer, I hate throwing what Hollywood calls elevator pitches — you know, those snappy "X meets Y" descriptions of a screenplay. We do the same thing in publishing, often still referencing movies rather than books. "It's Star Wars meets Sixteen Candles," or "Ocean's Eleven meets Ghostbusters," or "Casablanca with orcs as the Nazis."
---