Writing "Initial Engagement"
Writing "Initial Engagement"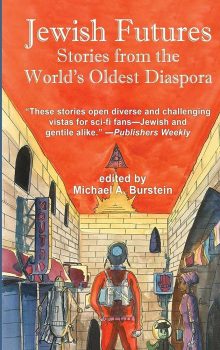 Last year, Michael A. Burstein invited me to write a story for his anthology Jewish Futures. I accepted and began to think of the form that my story would take.
I decided to explore a future in which the Israeli government took a sharp turn to the right, both politically and religiously. This change caused an exodus of secular Jews from Israel. However, rather than having them immigrate to either Europe or the United States, both of which were seeing a rise of antisemitism in my imagined future, they would head to the east.
In 1929, the Soviet government created an area known as the Jewish Autonomous Oblast centered around the town of Birobidzhan. Despite being the first official Jewish region in modern history, the percentage of Jewish population of the J.A.O. was never particularly high and, although many Jewish writers and artists promoted the area, it fell out of favor with the Soviet government, culminating in the Night of the Murdered Poets, when thirteen Jews who had helped promote the J.A.O. at the request of the government were executed for trying to establish a breakaway region when that same government decided the J.A.O. was no longer needed.
Today, Birobidzhan has a flag with some Jewish symbolism, a menorah in front of the train station, and a ramshackle synagogue, Beit T'Shuva. Officially, it is still the Jewish Autonomous Oblast despite a miniscule Jewish population. In my future world, however, in the 2030s, it becomes an alternative home for Jews dissatisfied with the direction Israel had taken.
With the setting in mind, it was time to come up with a story to fit into it, and that is where I was having issues. Every time I started the story, Israel wound up being the villain, which I wanted to avoid. At the time, I was focused on an Israeli dissident who had fled from Israel to Yehudah, my name for the new country founded at the J.A.O. and Israel's demands for his return led to the establishment of official relations between the two countries.
I reached out to one of my rabbis to discuss the idea with him.
As with many people, he was unfamiliar with the Jewish Autonomous Oblast and Birobidhzan. When he listened to my idea, he drew connections between my dissident and the seventeenth century Jewish philosopher Baruch Spinoza, who deemed a heretic was had a write of cherem issued against him when he was 23, a sort of excommunication. He pointed out David Ives' play New Jerusalem, which debuted in 2008 as something I might want to take a look at in addition to any biographies of Spinoza.
Unfortunately, I was still looking at a story that painted Israel as a villain.
And then it clicked for me. There were other ways to portray the differences between Israel and Yehudah.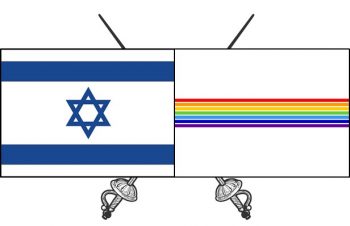 Several years ago, probably during the 2006 Turin Winter Olympics, I was watching the figure skating competition and found myself wanting to watch ice fencing, a sport akin to fencing but conducted on skates, with additional points awarded for grace and artistry. It wasn't just enough to make the five touches before your opponent did, you would gain points by making a touch when coming out of an axel or by avoiding a touch by performing a lutz. While nobody has actually attempted to create ice fencing, this story gave me the opportunity to put my fictional sport before the masses, or at least the readership of Jewish Futures.
Thus was born Pesha Jablonsky Zissel Minsk, Tzipporah Melca, Gavi Damari, and Bernard Ivanovich, the first two named for ancestors, the third named for my daughters, the fourth named for one of my daughters' friends who has made a comment that I found myself echoing in the story, and the last a tribute to a local actor.
I chose to set their ice fencing tournament in Budapest on a whim, but as I researched the city and plotted the story, I realized I had hit paydirt. There is an ice rink within easy walking distance of multiple synagogues, one of which is now a museum. Although I managed to fit the Elizabeth Square Ferris wheel into my story, I'm afraid I couldn't fit in the statue of Peter Falk as Columbo, which is installed a short walk away from where the action takes place.
By the time the story was finished, instead of being a face-off between the governments of Israel and Yehudah, it was the story of two different types of Judaism, orthodox and secular, attempting to understand each other a little bit better. It wasn't the story I originally pitched to Michael, or the story I discussed with my rabbi, but it is a story I rather like.
---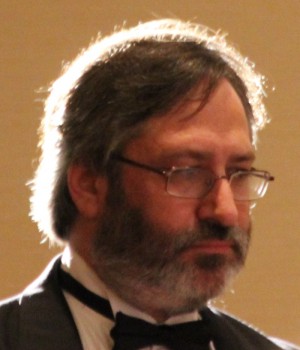 Steven H Silver is a twenty-time Hugo Award nominee and was the publisher of the Hugo-nominated fanzine Argentus as well as the editor and publisher of ISFiC Press for eight years. He has also edited books for DAW, NESFA Press, and ZNB. His most recent anthology is Alternate Peace and his novel After Hastings was published in 2020. Steven has chaired the first Midwest Construction, Windycon three times, and the SFWA Nebula Conference six times. He was programming chair for Chicon 2000 and Vice Chair of Chicon 7.