Writing "Initial Engagement"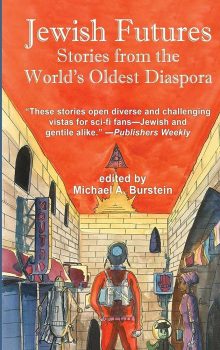 Last year, Michael A. Burstein invited me to write a story for his anthology Jewish Futures. I accepted and began to think of the form that my story would take.
I decided to explore a future in which the Israeli government took a sharp turn to the right, both politically and religiously. This change caused an exodus of secular Jews from Israel. However, rather than having them immigrate to either Europe or the United States, both of which were seeing a rise of antisemitism in my imagined future, they would head to the east.
In 1929, the Soviet government created an area known as the Jewish Autonomous Oblast centered around the town of Birobidzhan. Despite being the first official Jewish region in modern history, the percentage of Jewish population of the J.A.O. was never particularly high and, although many Jewish writers and artists promoted the area, it fell out of favor with the Soviet government, culminating in the Night of the Murdered Poets, when thirteen Jews who had helped promote the J.A.O. at the request of the government were executed for trying to establish a breakaway region when that same government decided the J.A.O. was no longer needed.
Today, Birobidzhan has a flag with some Jewish symbolism, a menorah in front of the train station, and a ramshackle synagogue, Beit T'Shuva. Officially, it is still the Jewish Autonomous Oblast despite a miniscule Jewish population. In my future world, however, in the 2030s, it becomes an alternative home for Jews dissatisfied with the direction Israel had taken.