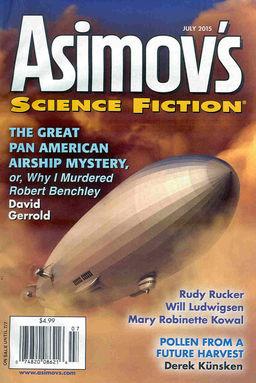 Black Gate blogger Derek Künsken has a big novella in Asimov's Science Fiction this month, and it's already getting great reviews. Clancy Weeks at Tangent Online had this to say about it:
I love a good mystery, and "Pollen From a Future Harvest" by Derek Künsken is indeed a good mystery. Some of that mystery is in parsing the twists and turns related to time travel, along with the prose itself, but it is rewarding nonetheless. Major Okonkwo, of the Sixth Expeditionary Force of the Sub-Saharan Union, is a military auditor — a bookkeeper — and she has been given the open-ended task of auditing the entire base. There are layers, sub-plots, and twists here, but the main issue is dealing with a possible "grandfather paradox" associated with time travel… Something has happened up the line, and Okonkwo needs to find out why, and if it is related to the recent death (some would say murder) of her senior husband. There is an amazing amount of backstory we learn along the way, and rich, multi-layered world-building… a very good and entertaining read.
Derek made the cover this month, for the second time (the first was for his novelette "Schools of Clay" in the February 2014 issue.) I had the chance to meet Derek for the first time at the Nebula Awards weekend here in Chicago from June 4-June 7, where we talked space opera, writing, and conventions. He's a remarkably astute observer of the field, and has a very keen eye on short fiction markets. He also brought me up-to-date on the state of fandom in my home town of Ottawa, which I greatly appreciated. His detailed summary of the Nebula weekend is here.
---