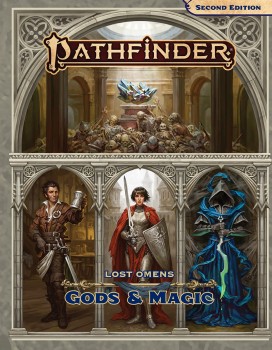 Since GenCon 2019, there have been a number of great resources and supplements coming from Paizo to support their Pathfinder Second Edition roleplaying game. Last November, I covered the first two setting supplements, the Lost Omens Character Guide and Lost Omens World Guide. Players and Gamemasters alike have a slew of options available already, with even more slated to come by the end of the summer.
For those who don't have time to plan or create adventures from scratch, they have one full Adventure Path, Age of Ashes, released, with the second, Extinction Curse, releasing its final volume in the next month. Each 6-volume Adventure Path for Pathfinder Second Edition takes players from level 1 through level 20, creating a truly epic campaign. Age of Ashes (Paizo, Amazon) involves the heroes discovering the secrets of an abandoned Hellknight fortress and its connection to an ancient evil force. Extinction Curse (Paizo, Amazon) is a circus-themed adventure, where the heroes must save the show while also investigating a plot to unleash an ancient curse, with a volume entitled Siege of the Dinosaurs. The upcoming Agents of Edgewatch (Paizo) is a fantasy cop adventure, as the heroes take on the role of law enforcement officers in and around the city of Absalom.
In addition, Paizo also releases a steady stream of smaller adventure scenarios to support the extensive Pathfinder Society Organized Play organization. Those adventures, available exclusively on PDF through Paizo.com, run about 4 hours per scenario, and players who play through them gain chronicle sheets that determine the amount of XP gained, as well as Fame & Reputation with various in-game factions, and of course gold and treasure. Characters also gain a variety of boons from these chronicle sheets, providing unique in-game benefits based on the previous adventures that they have completed. The structure of Pathfinder Society means that players can take the same character across a series of adventures at local game stores and conventions, and have the feel of being part of a larger adventure campaign.
Of course, that all assumes that game stores are open and conventions are taking place … but Paizo and gamers have stepped up to make sure there are opportunities to play, even in the midst of the dreaded "new normal."
---