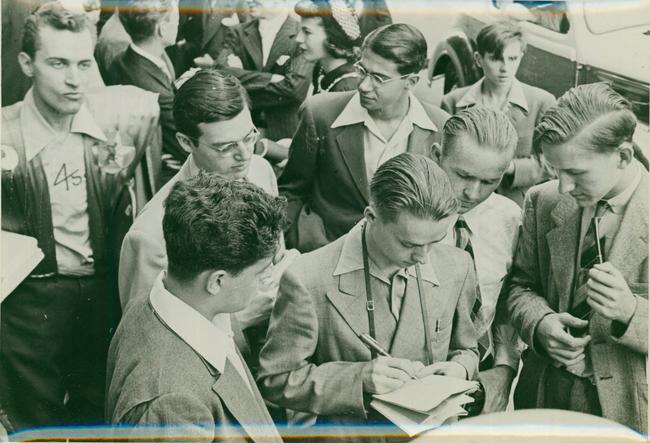 Here's a photo from the first Worldcon, taken by Bill Dellenback. In this one, Jack Darrow is signing something, while P. Schuyler Miller (holding a pipe), looks on. Forrest Ackerman — or 4SJ — looks a little bored. I think the guy standing to Darrow's right, in the foreground, is his good friend Otto Binder, but I'm not certain on that.
I acquired this photo many years ago, along with a whole batch of other material, from the estate of Jack Darrow. In the 1930's, Darrow was pretty much fan #2 behind Ackerman. Among the material in Darrow's estate were a number of photos that had been taken by Bill Dellenback (later staff photographer for the Kinsey Institute) at the first World Con in NY in 1939, which both Darrow and Dellenback attended.
I have a carbon copy of a letter dated August 16, 1939 that Darrow wrote to his friend, Walt Dennis, concerning the first Worldcon. In part, it reads as follows.
---